This year's version of the legendary title promises a return to its roots.
While they say there are only two things certain in life (being death and taxes) I'd like to amend that. A third inevitability can be added to that list, one that comes each year in the form of a revamped Madden experience. This series has become an annual staple for many sports-aholics, and rightfully so. As far as simulators go, you'll never find a more accurate recreation of the action on the gridiron than EA's favorite son. For pale, unathletic fat dudes like me, it's a god-send in many ways. I get to live out my Super Bowl fantasies vicariously through my little digital comrades, all from the safety and comfort of my living room.
Speaking of living room, if you've not picked up an Xbox One yet…now might be the perfect time to do it!
Via the Xbox Wire, Microsoft recently announced a new console bundle that will come packed in with Madden NFL 15 . For $399, fans can purchase the next-gen system and get the latest iteration of the game at the end of this month (August 26 th ). You'll note the pricing does reflect the recent hardware redesign (with the removal of the motion-sensing Kinect technology), which essentially means if you were going to buy a new console anyway, you'll get this year's Madden absolutely free by choosing Xbox! Here is the complete breakdown of what's included in the bundle from Microsoft, via their original blog post:
Download code for Madden NFL 15 on Xbox One
Standard Xbox One console
Standard Xbox One wireless controller
Standard Xbox One chat headset
Special edition Madden NFL 15 packaging
Token for three Madden NFL Ultimate Team Pro Packs
So if gamers do pull the trigger on purchasing a brand-spankin' new Xbox One (or perhaps you already own a next-gen system) what can you expect from the upcoming Madden ?
For me, any good sports title lives or dies based on the presentation. That age old argument about graphics not making a better game simply doesn't apply. Recreating what we see on Sunday afternoons in the most life-like and realistic way is paramount here. The days of the pixelated sprites of Joe Montana Spots Talk Football on the 16-Bit Sega Genesis are over (as fun as they may have been). Now, Madden NFL 15 looks to up the ante by providing innovative camera moves and a wide variety of angles that will help put you right into the heart of the action (not to mention the photorealistic visuals). In addition, the " Show Time " pre-game/half-time feature will feed everyone's inner ESPN junkie. There's no doubt that sitting back and seeing your actual footage (captured from the gameplay and showcased in a highlight reel with running commentary) will do wonders to create an immersive, believable experience.
But that's not all that Madden NFL 15 brings to the table.
A refocus on the defensive game harkens back to a time in Madden 's past that long-time fans will remember fondly. A new Risk/Reward system will point players in the right direction using proximity cones. This guide will instantly tell you if the tackle you're considering is worth it. Based on the situation on the field, you might choose to stick to conservative maneuvers that you know will result in a downed ball carrier. However, if your desperate (and need a turn over badly) you could go for a trickier rundown in the hopes of knocking the pigskin loose. Either way, you'll always know which tackle is going to result in the greater reward vs. the safest bet. And, if you find yourself unable to make the perfect call on the fly, fear not! Not all of us have the deep-rooted knowledge of the complex playbooks that some series veterans possess. So if you get stuck a recommendation system the developers have included will draw from a pool of crowd-tested plays (pulled from an online database) to help ensure certain victory. Also, the Skills Trainer will walk you through your paces with a myriad of drills and advanced regimens, which intends to help you better understand the mechanics of the real game itself. If you've always watched from afar but never had the chops to dive in head first, you'll likely never find a better entry point into Madden than you will with the tools provide here.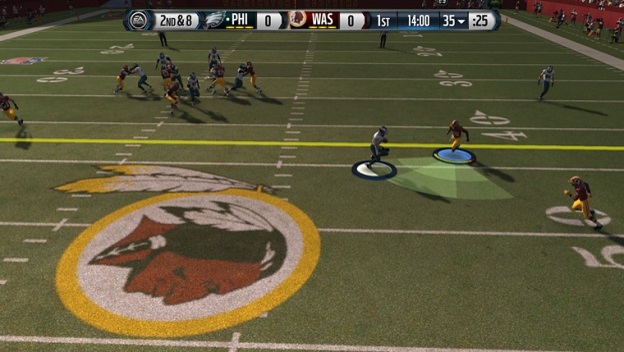 Sure this is a great deal for those in the market to upgrade from their tried and true 360, Madden NFL 2015 is a must-have for just about everyone. No matter if you're already rocking an Xbox One in the entertainment center, or the PS4 is what makes your gaming life blood boil, picking up the new Madden is a good bet for any console. This year's entry may be remembered as one of the great transitional points in the franchise. Don't you want to look back and know you were part of the revolution?
As old Hank Jr. would say…" ARE YOU READY FOR SOME FOOTBALL ?!"