We're all Pro Skaters with Tony
Some games resonate with everyone, regardless of genre. They become touchstones in history. Tony Hawk's Pro Skater and its sequel were everywhere at the time, whether you played on consoles or a handheld, and they always felt so good. So, it's unsurprising that Tony Hawk's Pro Skater 1+2 would be an anticipated release. I mean, people grew up with these games, even if we didn't live that sort of lifestyle. Fortunately for all of us, Vicarious Visions, Beenox, and Activision did it justice. The two games look and feel better than you would ever expect them to.
As the name says, Tony Hawk's Pro Skater 1+2 is a remaster of the original games, but it's handled in such a way that it adds improvements and new elements in such a way that it doesn't disrespect the originals. It never strays too far from what made the games great. You explore different levels, completing classic challenges like finding SKATE and performing tricks while listening to almost all the same music. But, if you pay attention, you see how things are different and, dare I say, have the option to be better. And I'm not just talking about how now Tony Hawk's Pro Skater levels all each have five more challenges for people to complete. Though also, that's pretty great since there are now 714 Challenges in the game to complete.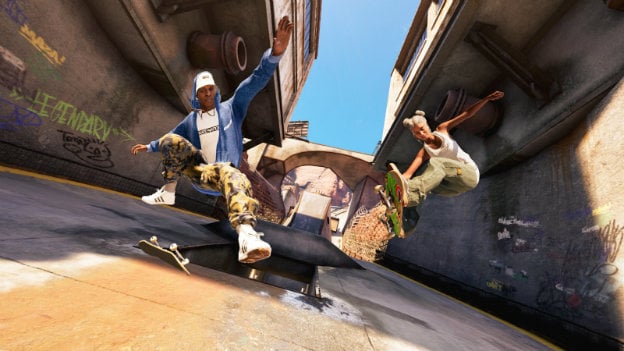 For example, you have a potential for a new bag of tricks and ways to implement them. You can use the original trick system, which is important for people who loved the games. But Tony Hawk's Pro Skater 1+2 has a new one as an option too. You also aren't locked into the analog stick, if you preferred to use a D-pad.  Adding in revert is a huge move that lets you help with combo building in both games. Also, if you do bail, you're immediately back up on your board skating again.
I also can't get over how great the stat point system is. So originally, you would find hidden cash in levels to upgrade your avatar. But now, you have stat points for your skater hidden in levels. So like say you head to the school, you'll find one above the pool. These can be assigned, then reassigned and reallocated in case you're having problems with certain challenges. So you can specifically set up your skater to better approach a task giving you trouble. But then, you can probably approach challenges without tweaking, as elements like wallplants and revert let you completely build up speed or combos to accomplish your goals.
But still, it's great to have that. Especially since Tony Hawk's Pro Skater 1+2 wants you to spend as much time with it as possible. There are Challenge Collections, which show up in Skater, Combo, Multiplayer, Skate Park, and Create-a-Park Challenges. You can check in at any time to see how you're doing. You can focus on ones that best suit you. Say even if you completely ignore Multiplayer Challenges, you have hundreds of different missions to try and complete. All the while, you're also unlocking parts for your custom skater.
Also, how refreshing is it to have a game with a customizable character and park editor and have everything there and able to be earned without paying more for it? In a world where so many games feel like they charge for a slightly different color scheme, having new outfit options makes it an absolute delight. Your effort gives you more to enjoy, which makes you want to play more and earn more. Your creations can be enjoyed alone or shared online, letting you just… savor everything.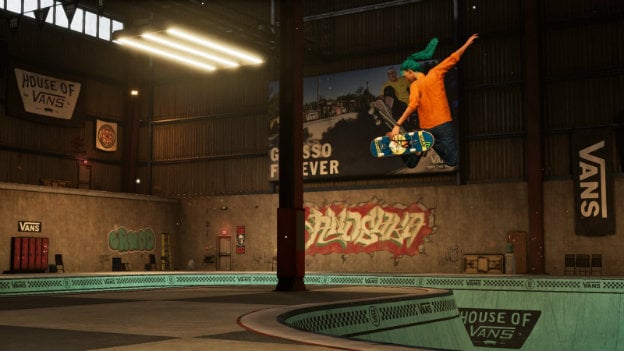 I also like the positive changes to Tony Hawk's Pro Skater 1+2 that add to the games to show how skateboarding has changed. The Mute Air is now the Weddle, in honor of inventor Chris Weddle. We have eight new skaters, like Aori Nishimura, Leticia Bufoni, Lizzie Armanto, and TyShawn Jones, in the game. There are 37 new songs, from groups like A Tribe Called Quest, Less Than Jake, Machine Gun Kelly, Reel Big Fish, and The Ataris. But even though these are changes and additions, they all fit in perfectly. They're a seamless part of the new world.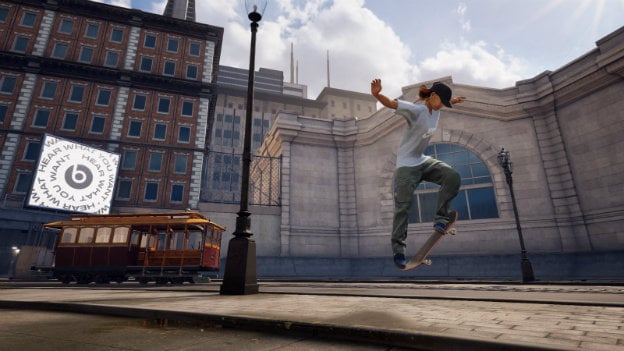 Basically, Tony Hawk's Pro Skater 1+2 is a perfect remaster. It feels the way you expect the game to and has everything I loved about these two games. Everything looks more gorgeous than ever before. You have extra tasks in the original levels. There are incentives to keep going back into all of the levels to complete tasks, unlock new customization options, get stat points, and work toward getting over 700 Challenges done. There's a great multiplayer option. Tony Hawk's Pro Skater 1+2 isn't just as good as you remembered, it's better.
RATING OUT OF 5 RATING DESCRIPTION 4.8 Graphics
The levels look amazing. The new skaters look good too. The custom skaters look okay, but the actual skaters look better 5.0 Control
It is so easy to pull off and chain together great combos in any level 5.0 Music / Sound FX / Voice Acting
This soundtrack is an incredible, wonderful time capsule, and the new additions fit in perfectly 5.0 Play Value
You could play Tony Hawk's Pro Skater 1+2 for 20 hours and still find things to do 4.9 Overall Rating – Must Buy
Not an average. See Rating legend below for a final score breakdown.
Review Rating Legend
0.1 – 1.9 = Avoid
2.5 – 2.9 = Average
3.5 – 3.9 = Good
4.5 – 4.9 = Must Buy
2.0 – 2.4 = Poor
3.0 – 3.4 = Fair
4.0 – 4.4 = Great
5.0 = The Best
Game Features:
Drop back in with the most iconic skateboarding games ever made.

Play Tony Hawk's Pro Skater & Tony Hawk's Pro Skater 2 in one epic collection, rebuilt from the ground up in incredible HD.

All the Pro skaters, levels and tricks are back and fully-remastered, plus more.