Beyond engaging mechanics and reward loops, video games have the ability to manipulate our emotions. One way they do this is through the depiction of dynamic couples whose romantic experiences range from relatable to profoundly unique. Sometimes, they even be a bit upsetting.
By no means are romances rare in video games, but some games just tell better love stories. Here are five of the best.
Uncharted 4: A Thief's End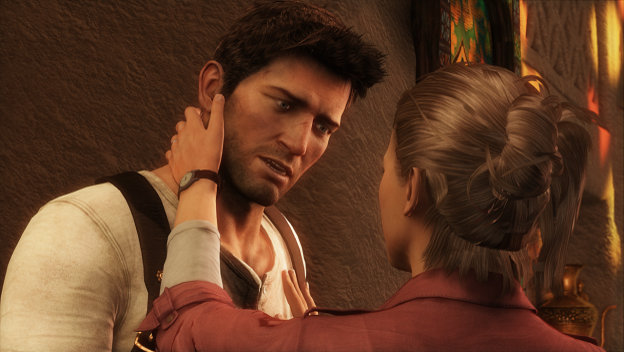 Nathan Drake, the protagonist of the Uncharted series, has had a fun relationship with Elena Fisher. They are both strong, adventurous spirits and she possesses a level of snark that matches his. It's fun to watch their romance evolve, but Uncharted 4: A Thief's End takes the atypical couple and makes them extremely relatable.
In the game's opening moments, the couple are sitting in their living room, talking about their day. Nate's mind is clearly elsewhere, although he is hiding his feelings to protect her. She sees through this. But watching them talk around the elephant in the room as the scene builds, while they intimately eat dinner and smack talk over a game of Crash Bandicoot makes it clear that these two are meant to be.
Final Fantasy X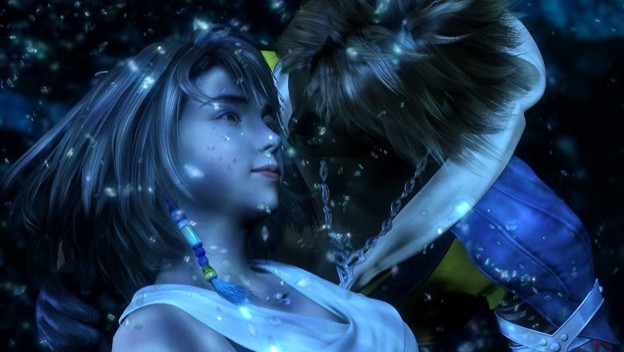 Final Fantasy is a series full of romances. Final Fantasy VII is noteworthy for the way it handles a love triangle without straying into harem anime territory. Final Fantasy VIII is an overly sentimental game where love is supposed to save the protagonist. But Final Fantasy X features a relationship that perfectly complements the plot just as the two characters perfectly complement one another.
The jock-ish Tidus is the game's protagonist and the world is strange to him and different from the Zanarkand he hails from. As such, he doesn't fully grasp the tragic nature of it. On the other end of the spectrum is the delightful summoner, Yuna, who is set to become a martyr to save the world. She tries to keep her spirits up, and Tidus tries to bring a sense of joy to the party even while turmoil rages inside both of them. They embrace one another to survive the journey. By the end of the game's sequel, which puts Yuna in the role of protagonist, the two of them end up saving one another.
Shadow of the Colossus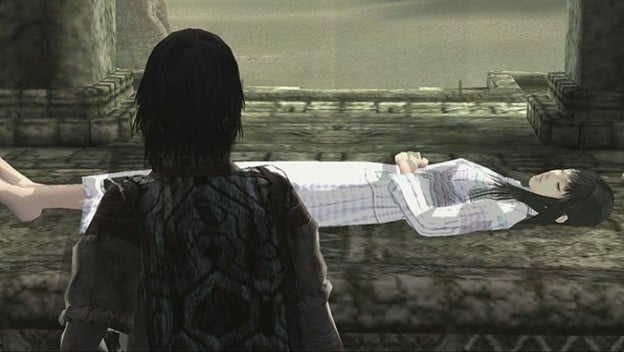 Shadow of the Colossus is a tale of love, undoubtedly, but we are never sure what the nature of that love is. All we can tell from the game is that Wander, the player character, is doing everything he can to save a girl whose body he has carried from another land and placed upon and alter. Her name is Mono.
Society sacrificed Mono and Wander made a deal with evil forces in order to bring her back. Throughout the game, the player slays colossi, many of whom are initially peaceful, as part of a ritual. With each slayed colossus, shadows enter Wander's body.
In the end, he perishes and is reborn as a baby in a pool of water. Mono, now alive, picks him up and carries him away. Aesthetically, their designs compliment one another and a relationship of sorts is implied, but we are never quite privy to the exact details. Mono doesn't seem to respond to Wander's noble steed, so maybe it's a tale of unrequited love. The game warrants a lot of speculation, but the fact that it is depicting love and sacrifice is undeniable.
Xenogears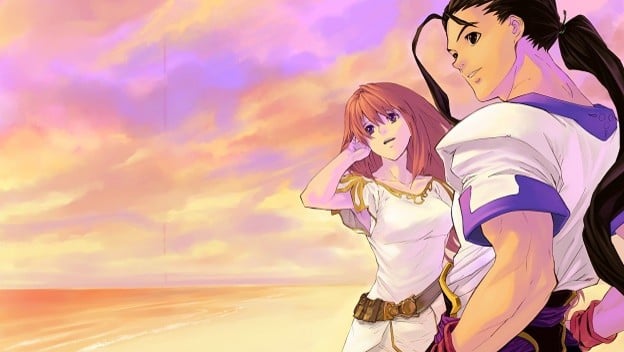 Those who have played Xenogears often don't shut up about Xenogears . If you're friends with this type of person, you've probably been told to play the game, but haven't quite been told why.
The fact is, Xenogears addresses so much in its narrative, taking a deep dive into man's relationship with God, man's relationship with himself, man's relationship with others, and basically every other topic you'd expect to address in a Philosophy 101 course. And it addresses all this through a complicated and surprising narrative that needs to be consumed in its entirety for it to really have an impact.
A portion of the story revolves around the main character, Fei, and his romantic partner, Elly. This love story plays out over centuries, never gets sappy, and always feels sincere, which is a hard thing to do when playing with the idea of "soul mates." What really helps escalate the romance is the way that poetry is hidden in the prosaic dialogue. You really get a sense of these characters and their love becomes the sense of normalcy in the otherwise chaotic, tragic world.
Braid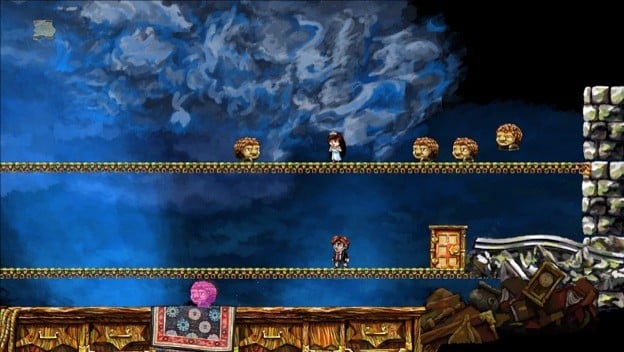 Stripped of its allegory, the indie hit, Braid tells the tale of a man, Tim, trying to win back his princess. To do so, he traverses worlds, manipulating time so that he can fix his mistakes. He also collects puzzle pieces to assemble the greater picture. Whenever the player uses the rewind mechanic, the music turns dissonant, symbolizing some degree of pain that comes with wandering through memories.
In the end, he tracks her down, but can't be with her. The fact of the matter is, his past with her is too messed up and she doesn't want to be with him. That's the nature of love, though. Sometimes you can irreparably break it. Sometimes, you say things you can't take back. And, if you truly love the person, you have to let them move on without you. It's unhealthy to live in the past.