Developers have a choice to make between practical armor, where realistic defensive attributes are at the heart of the design, and other, less practical outfits where curves, tummies, boobs, and butts are the guiding principle behind the aesthetic.
But some outfits offer a compromise; leather. Leather is, at the very least, more defensive than a cloth thong, and possesses the potential to distract the occasional bad guy with a leather fetish. Most importantly, leather is often code for "badass." So here is the official list of CheatCC's Hottest Leather-Clad Hotties of Gaming.
Tifa Lockheart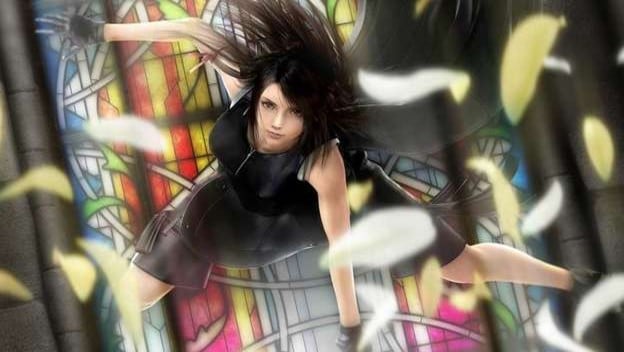 Tifa is the classic choice and is almost as iconic in the realm of nerd fantasy as Lara Croft. In Final Fantasy VII , she is the tough but sensitive, fist fighting, cat fighting, monk of the group. Notably, she covers her booty in a tight pair of leather hot pants. It is almost as if the designers had "sex symbol" in mind when they made her because her victory dance depicts her stretching her arms behind her back to prominently display her ridiculous assets.
In Final Fantasy VII: Advent Children , she trades in the white top for a leather one, so she knows leather makes things better.
Bayonetta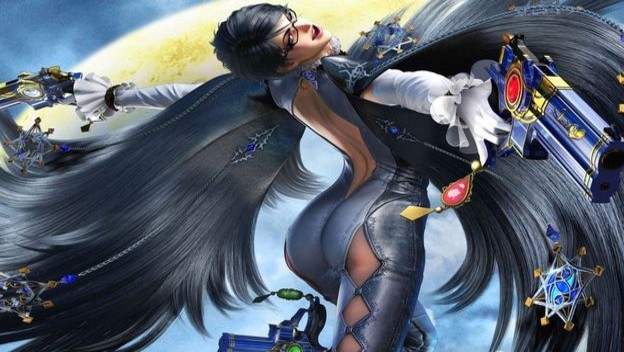 Bayonetta is the femme-fatale protagonist of the Devil May Cry- style action games, Bayonetta . She is a witch with an eye for fashion which she can alter on the fly due to her mystical control of her own hair. What I'm trying to say is this: her clothes are made out of her hair.
But the skintight clothes look like leather, so let's count it as leather. After all, the look is what is important here. In regards to defense, well, she's a super powerful, gun-toting magic wielder so she's probably good on that front.
She does however have a sensible pair of shoes: stiletto heels with shotguns equipped to them. It's the kind of footwear that'll make a baddy say "don't shoot!" but also "please step on me."
Lulu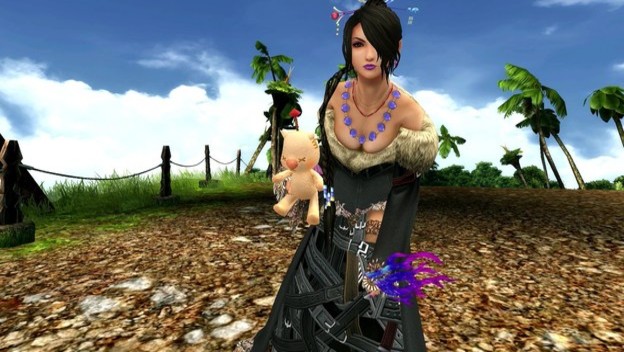 Tifa isn't the only busty, leather-clad vixen flying the Final Fantasy flag; Final Fantasy X 's Lulu is also a fierce competitor in this arena. In the game, she represents the voice of reason, often playing foil to Wakka's religious fanaticism and Tidus' chipper attitude. Basically, she's the party's mom.
This powerful no bs woman wears a dress that barely contains her ample chest. She is also the reigning champion in the Square Enix "Who Can Wear the Most Belts?" competition; Lulu's dress is 80 percent comprised of leather belts. It makes you wonder which designer at Square Enix considers leather belts to be the pinnacle of fashion.
Zero Suit Samus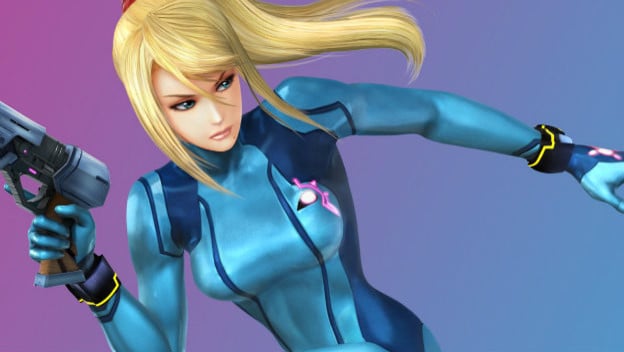 Like the aforementioned Lara Croft and Tifa Lockheart, Samus' feminine qualities combined with her superb battle prowess is legendary among gamers. In her original Metroid game, players could unlock an ending that revealed the hero they had been playing as was… *gasp* a girl! What's more, they could stare at her in a bikini. She was sexy in cloth back when 8-bit limitations were in place.
Nowadays, however, she sports a battle-ready, blue, skin-tight, leather outfit that gives her the flexibility and protection she needs to fend off foes as she flips and tumbles about, performing sky high acrobatic maneuvers. She's also pretty good for smashing characters off the side of the stage in Super Smash Bros . Now that I think about it, so is Bayonetta.
Morrigan Aensland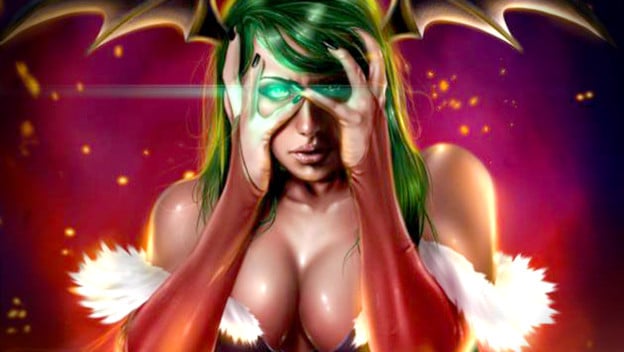 As a succubus, sex is a weapon for Morrigan. The creature she is based on is traditionally known to seduce dreamers, have sex with them, and steal their soul. There are variations on this idea, though.
In Darkstalkers , Morrigan dominates both the vertical and horizontal axis thanks to her wings, launches missiles to zone opponents. Oh, and did I mention that she wears knee high leather boots and what basically looks like a leather swimsuit with a heart shaped hole cut in it? Clearly this is a suitable uniform for her trade.
Of all the girls on this list, Morrigan is probably the one to watch out for although, if you want, it wouldn't hurt to keep an eye on some of the others. Ya dig?
Image Credit: BornTewSlow