Publish Date: Thursday, June 11, 2020
Listen, there are certain stereotypes about gamers' diets. Of course there are the Mountain Dew and Doritos references. Which we can't deny. I mean, there is Game Fuel people keep buying. And sure, there are references to pizza, Hot Pockets, and so on and so forth. But what people for real need are handy ways to cook things efficiently and give quick access to drinks. That's where Uber Appliances can come in, like the Uber Appliance Air Fryer XL or Uber Chill Personal Mini Fridge . Each one is the sort of device that is practical, but also makes life easier.
An air fryer? Shocker, right? It makes plenty of sense. Foods that are quick and easy to eat are a plus when gaming. Especially if you have other people around. Drop a plate of mini corn dogs or popcorn chicken on a coffee table and everyone's set. But the grease part ain't great. These also tend to be foods you might have to order or really watch if you're cooking. The $99.99 Uber Appliance Air Fryer XL helps solve a lot of those problems, because it's getting rid of the grease and letting you drop the food in, push a few buttons, then get back to your guests.
The Uber Appliance Air Fryer XL has a 3lb food capacity and 4.2 quart cooking chamber. It has short and long cooking options and comes with a recipe guide. It has an auto pause, so when you take the basket out, you won't have to worry about it still cooking or causing problems. There are eight presets if you want to make something and not worry about it, so you could instantly have things like chicken or French fries done right. It also has a Cool Down mode, so your food won't be burning hot when it's done. It is dishwasher safe too, for when you clean the basket and base. Essentially, you push buttons, then it's done.
As for the Uber Appliance Uber Chill Mini Fridge, this is more of a staple for any sort of gamer room. Like the stereotype is greasy, orange fingers. It's why there are even KontrolFreek gamer shorts with pads on the side for rubbing off sweat and stuff. But real talk, the thing more people have is something to drink. If you're constantly talking on a headset, you'll get thirsty. If you're in the middle of a two hour session, you don't wanna get up. You might miss critical info. So, a six-can mini fridge you can plug in and have nearby helps.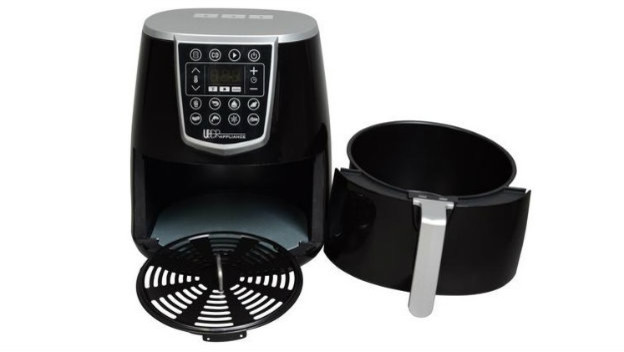 The Uber Chill Mini Fridge is a $59.99 model that can actually keep things cold or hot. It can hold either 4 liter bottles or six standard cans. If you have it set to cold, it'll keep things 32 degrees below the current temp. If you have it on hot, it gets to 150 degrees. While it has the 110V plug you'd expect, it also has a cigarette lighter adapter in case you want to use it in your car while traveling. So, like, have it at a desk holding your coffee and keeping it hot. Have it in your game room holding four water bottles or two water bottles and three cans of pop. Have it in your car and put its optional shelf in and you can hold drinks or food. No matter what you use it for, it's pretty dope.
In each case, the Uber Appliances can really help people out. An Uber Appliance Air Fryer XL could make cooking easier. Especially if you have people over for gaming of course, since it means you don't have to divide your attention between food and friends. The Uber Chill Mini Fridge is there when you need it, keeping hot drinks hot and cold drinks cold. Each one could take up less of your time so you can spend more of it gaming.