WGT Golf is a popular golf simulation game that offers an immersive virtual experience for golf enthusiasts. It was developed by Topgolf Media in 2008 and is playable on iOS, Android, and web browsers on PC and Mac. For a basic simulator back in 2008, it has impressive graphics to go alongside the realistic gameplay. Plus, it has a massive catalog of golf courses and is a perfect choice for any golfing savant.
As for cheats, the game promotes fair play and sportsmanship, and it makes sense because of the multiplayer facet. That doesn't mean exploits are impossible, and we'll discuss some of the more prominent problems on the competitive side.
Overall, the game is meant to be played on a level playing field with no advantage to the user.
WGT Golf Premise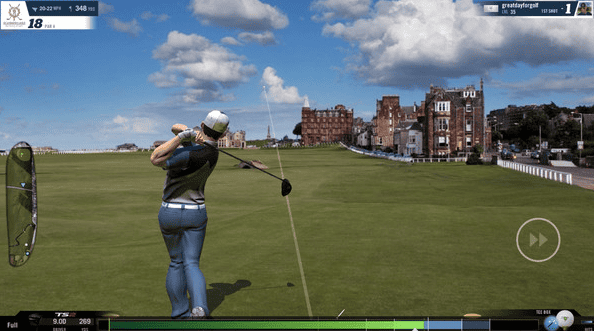 Step onto your favorite fairways and immerse yourself as you play the most challenging courses. The premier golf simulation has enthralled players since 2008, and it doesn't look like it's stopping. This game is perfect for players of all levels as they learn the techniques and skills to master this one-of-a-kind game. This game was made for golf enthusiasts.
WGT Golf Main Characters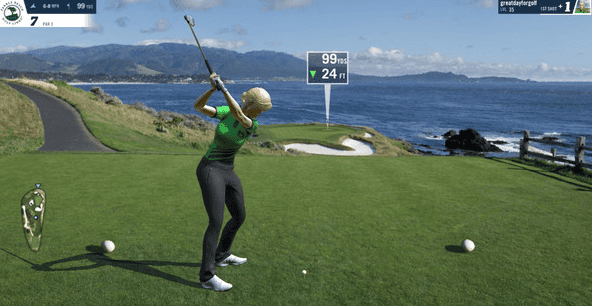 Since the game is meant to simulate the golf course experience, there aren't specific main characters or NPCs with defined roles. However, there are various entities that players interact with during their gameplay. Here is a list of interactable characters:
Other Players: The best part of the game is the online community. You can compete against friends, family, and anyone else playing the game. This is a perfect place to hone your skills and have a great time.
Caddie: Granted, this is one of the most basic AI characters, but it should count. The caddie offers advice and suggestions on each hole, allowing you the much-needed guidance you would only receive on an actual golf course.
There are also the Course Designers, but they aren't actually in the game, but they did help develop and create the realism of each golf course.
WGT Golf Titles in the Series
WTG Golf is a standalone game with no prequels or sequels, but the game does have DLC. Here is a list of known DLC for WGT Golf:
WGT Golf – Par Bundle (2020)
WGT Golf – Birdie Bundle (2020)
WGT Golf – Eagle Bundle (2020)
WGT Golf – Fairway Bundle '21 (2021)
WGT Golf – Long Drive Bundle '23 (2023)
WGT Golf Cheat Codes
WGT Golf is sold as a realistic online golfing experience so that any cheating would ruin the whole experience. That would include what's been happening online with sandbagging and designed software to give you an advantage.
There are three notable ways to cheat in WGT, sandbagging, multiple accounts, and cheating software. The first two are scummy and frowned upon, but they're harder to prove. The last one involves adding third-party software for an unfair advantage and will get you banned.
Sandbagging
This one is pretty straightforward. The tournaments are based on your ranking, so the playing field is level. The tiers are Hack, Amateur, Pro, and Legend. And based on your tier, the prize pool and difficulty change. So some players will intentionally lower than tier level to play in an easier bracket and swamp the competition.
The best way to counter this is the public data. Players' rounds and scores are general knowledge, so if a Hack level player is killing it, you can tell if they have played at a higher ranking at some point.
2. Multiple Accounts
This is similar to sandbagging, as this involves players owning two or more accounts even though the rules clearly state each player can only have one account. They'll use one account to practice and stay at their higher tier while keeping a second or third account at lower levels to participate in lower-tier tournaments.
To combat this, players can report other players if they suspect any multiple accounts. The developer can check IP addresses to see if there are any other accounts or know if they're cheating.
3. Cheating Software
The most cruel of them all. There have been rumors of multiple types of programs to help out in WGT. Some believe there are programs to slow down the speed of the meter, allowing players to hit every perfect shot. Others assume there is a program that gives you the exact club and distance to hit on every hole and par. This would allow players to play an almost perfect game without prior knowledge.
WGT Golf Cheat Codes FAQ
How do I get WGT tokens?
Ah, the age-old question of how to earn more money. The game has multiple ways to earn tokens to unlock better gear then. The first is to advance to higher tiers. Every time you upgrade, you earn tokens. Another way to earn tokens is to participate in and win tournaments—the more complex the tournament skill level, the higher payout.
What are coins in WGT?
If you ask the player base, and they'll say, "a useless currency." Anything essential is used by tokens, but coins do let you borrow gear in specific scenarios. For most players, coins simply sit on their accounts, collecting virtual dust.
How many tiers are in WGT Golf?
There are a total of ten tiers: Hack, Amateur, Pro, Tour Pro, Master, Tour Master, Legend, Tour Legend, Champion, and Tour Champion.
What are the specs for WGT Golf?
Windows Minimum
OS: Windows 8, 10
Processor: Intel Core 2 Duo or equivalent
Memory: 4 GB RAM
Graphics: Works with most integrated graphics; Dedicated GPU advised
Storage: 256 MB available space
Mac Minimum
OS: Mac OSX 10.11
Processor: Intel Core 2 Duo or equivalent
Memory: 4 GB RAM
Graphics: Works with most integrated graphics; Dedicated GPU advised
Storage: 256 MB available space
What are the playable courses in WGT?
The game offers a rather large selection of playable golf courses. Here are some of the most popular:
Pebble Beach Golf Links
St Andrews Links – Old Course
Bandon Dunes Golf Resort – Pacific Dunes
Chambers Bay
Congressional Country Club
Kiawah Island Golf Resort – Ocean Course
Merion Golf Club
Erin Hills
Pinehurst Resort – Course No. 2
Bethpage Black
Torrey Pines Golf Course – South Course
Oakmont Country Club
Royal St. George's Golf Club
Valhalla Golf Club
Whistling Straits – Straits Course
Celtic Manor Resort – Twenty Ten Course
Sheshan International Golf Club
Wolf Creek Golf Club
Hazeltine National Golf Club
Bali Hai Golf Club
What is error code 403 forbidden on WGT Golf?
The dreaded error code. Usually, there is some coding problem when an error code returns repeatedly, but it's even simpler in this case. During the downtime of an update or patch, the game will sometimes show an error message. Based on feedback from the forums, you simply have to wait, "I had the same issue. It had something to do with WGT's downtime for when they update the game site. If/when WGT says they are having a downtime, they post in the forums, so expect the game to be unplayable. They use to post a sign on the screen saying "frost on the greens" or something along that line."
How do you get free golf balls on WGT?
WGT is constantly running deals like this one to earn free balls, "simply purchase 2,000 or more WGT Credits today, and you'll receive a free sleeve of these player-favorite virtual golf balls, which are designed specifically to give you more distance, control, and spin on each shot."
Sadly, this deal ended, so keep your eyes out for a similar score!