WWF WrestleMania 2000 is a 1999 wrestling game developed by Aki Corporation. The full WWF WrestleMania 2000 experience is available on the Nintendo 64, although a stripped-back version of the game was also released on Game Boy Color. Based on the WrestleMania pay-per-view event, the game would be the first in a long line of WWF titles to be published by THQ.
WWF WrestleMania 2000 Premise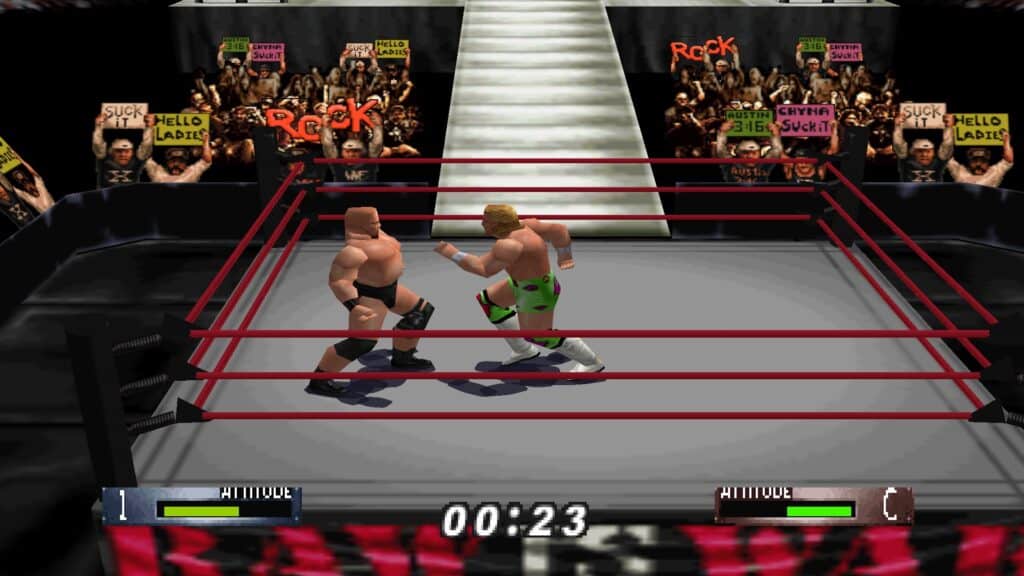 WWF WrestleMania 2000 brought the craziness of the Attitude Era into a video game, reflecting arguably the peak period for the promotional in the virtual space. Depicting over 50 wrestlers complete with their signature move sets, the game offers an extensive Create-A-Wrestler mode that allows you to customize to your heart's content.
In terms of modes, classic WWF match types such as Royal Rumble and King of the Ring are featured, and you can even create your very own pay-per-view event taking place in arenas based on WWF shows like Sunday Night Heat and Raw Is War. The game puts a massive emphasis on customization wherever possible, an impressive feat given it was released back in 1999.
The most extensive feature in WWF WrestleMania 2000 is by far the "Road to WrestleMania" game mode. This lets you start from the bottom of the WWF, working your way through the ranks through a variety of title fights. You'll encounter feuds along the way, with other wrestlers calling you out as they attempt to halt your progress. It all culminates at the WrestleMania 2000 pay-per-view, where you get the chance to write your WWF legacy.
WWF WrestleMania 2000 Main Characters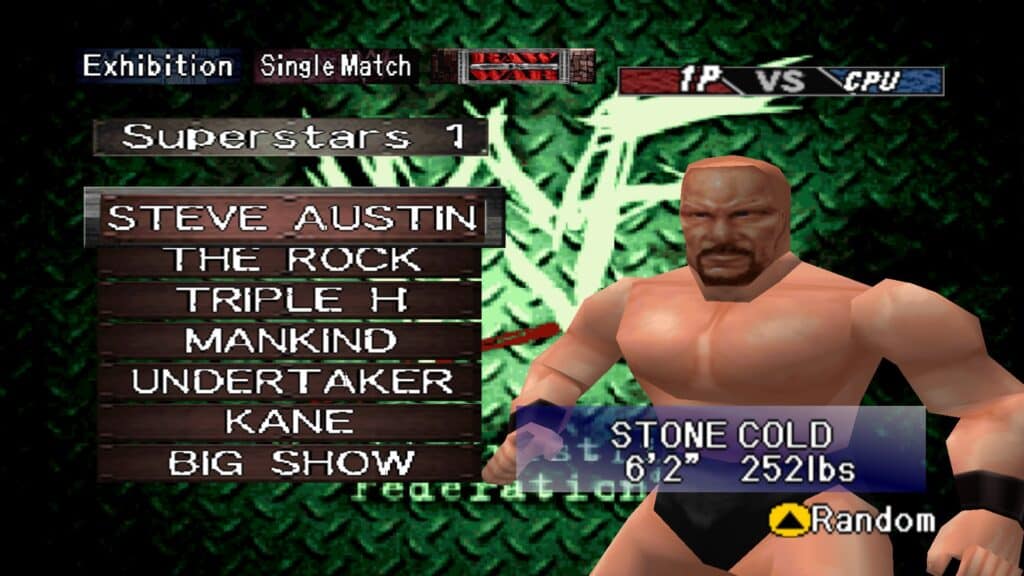 Across the various modes in WWF WrestleMania 2000, there's not one true "main character," even if some of the wrestlers aren't as popular as others. The main character of the game will differ for everyone, as it depends entirely on who you choose to use in-game.
Luckily, the WWF WrestleMania 2000 roster is massive – here's every wrestler you can use in the game:
Al Snow
Big Bossman
Big Show
Bradshaw
Brian Christopher
Cactus Jack
Chaz
Chris Jericho
Christian
Chyna
D'Lo Brown
Debra
Droz
Dude Love
Dummy
Edge
Faarooq
Gangrel
Gerald Brisco
Hardcore Holly
Ho
Ivory
Jacqueline
Jeff Hardy
Jeff Jarrett
Jerry "The King" Lawler
Jim Ross
Kane
Ken Shamrock
Mankind
Mark Henry
Matt Hardy
Meat
Michael Hayes
Mideon
Mr. Ass
Mr. McMahon
Pat Patterson
Paul Bearer
Prince Albert
Road Dogg
Scott Taylor
Shane McMahon
Shawn Michaels
Stephanie McMahon
Steve Blackman
Stone Cold Steve Austin
Terri Runnels
Test
The Blue Meanie
The Godfather
The Rock
Thrasher
Tori
Triple H
Undertaker
Val Venis
Viscera
X-Pac
WWF WrestleMania 2000 Titles in the Series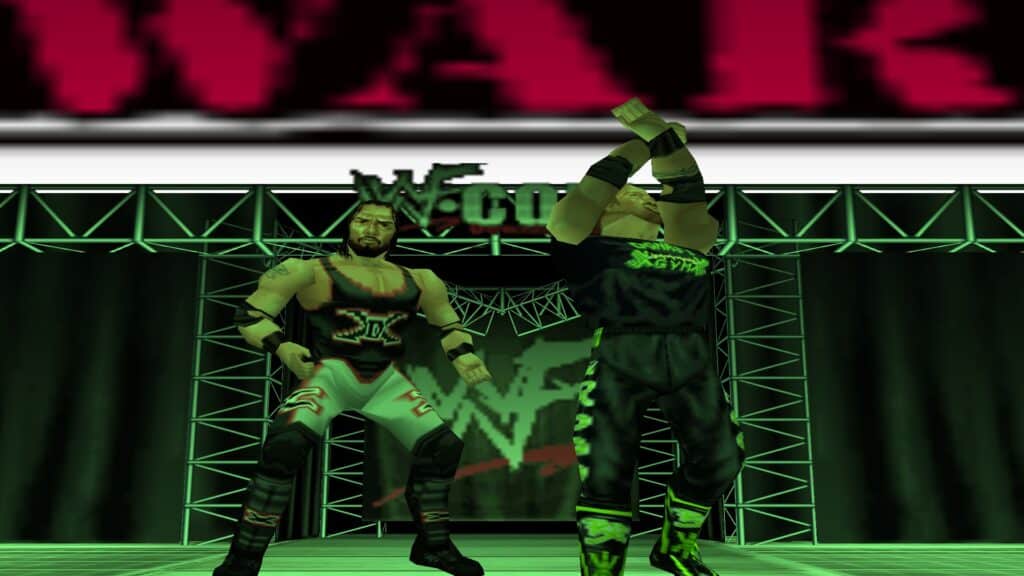 The enduring popularity of the WWF / WWE wrestling promotion reflects in its output in video games. Over the years, we've seen plenty of titles under the WWF and WWE banners, with most years in the 1990s and 2000s even seeing multiple releases. The series has gone through multiple developers, with most agreeing the heyday came during the Yuke's' developed games. The current custodian of the franchise is Visual Concepts, with its releases slowly getting better at each attempt.
Here's the full list of WWF / WWE games from the past few decades:
The Long History of WWE Games
MicroLeague Wrestling (1987)
WWF WrestleMania Challenge (1990)
WWF WrestleMania (1991)
WWF Superstars (1991)
WWF Superstars 2 (1992)
WWF Super WrestleMania (1992)
WWF European Rampage Tour (1992)
WWF WrestleMania: Steel Cage Challenge (1992)
WWF Rage in the Cage (1993)
WWF Royal Rumble (1993)
WWF King of the Ring (1993)
WWF Raw (1994)
WWF In Your House (1996)
WWF War Zone (1998)
WWF Attitude (1999)
WWF WrestleMania 2000 (1999)
WWF No Mercy (2000)
WWF SmackDown! (2000)
WWF SmackDown! 2: Know Your Role (2000)
WWF Road to WrestleMania (2001)
WWF With Authority! (2001)
WWF Betrayal (2001)
WWF SmackDown! Just Bring It (2001)
WWF Raw (2002)
WWE WrestleMania X8 (2002)
WWE Road to WrestleMania X8 (2002)
WWE Smackdown! Shut Your Mouth (2002)
WWE Crush Hour (2003)
WWE WrestleMania XIX (2003)
WWE Raw 2 (2003)
WWE SmackDown! Here Comes the Pain (2003)
WWE Survivor Series (2004)
WWE SmackDown! vs. Raw (2004)
WWE WrestleMania 21 (2005)
WWE Aftershock (2005)
WWE SmackDown! vs. Raw 2006 (2005)
WWE SmackDown! vs. Raw 2007 (2006)
WWE SmackDown! vs. Raw 2008 (2007)
WWE SmackDown! vs. Raw 2009 (2008)
WWE SmackDown! vs. Raw 2010 (2009)
WWE Legends of WrestleMania (2009)
WWE SmackDown! vs. Raw 2011 (2010)
WWE All Stars (2011)
WWE '12 (2011)
WWE '13 (2012)
WWE 2K14 (2013)
WWE 2K15 (2014)
WWE 2K16 (2015)
WWE 2K17 (2016)
WWE 2K18 (2017)
WWE 2K19 (2018)
WWE 2K20 (2019)
WWE 2K Battlegrounds (2020)
WWE 2K22 (2022)
WWE 2K23 (2023)
WWF WrestleMania 2000 Cheat Codes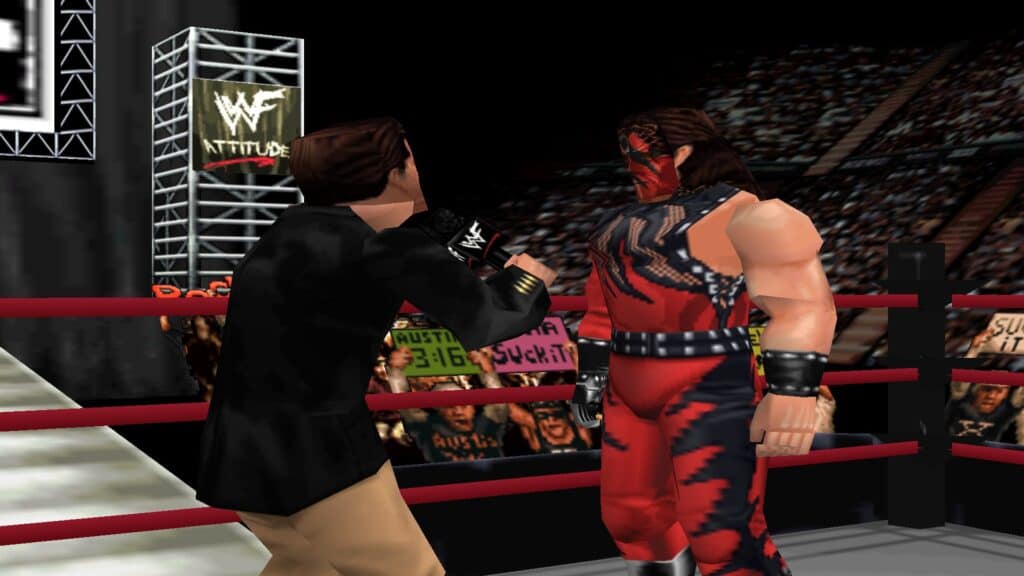 Despite many Nintendo 64 games featuring a variety of cheat codes to use, WWF WrestleMania 2000 isn't one of them. It does include a few secret unlockable characters that you can use in the ring. You unlock all of the following characters by playing through the "Road To Wrestlemania" mode and fulfilling certain requirements:
Cactus Jack: Defend the Hardcore Title Three Times
Dude Love: Win the King of the Ring tournament and win the WWF Title at SummerSlam
Jerry "The King" Lawler: Unlocked at the beginning of WrestleMania
Jim Ross: Unlocked at the beginning of Wrestlemania
Paul Bearer: Play as The Undertaker for one month
Shawn Michaels: Win the WWF Title match at WrestleMania and beat him when he challenges you to a match
Stephanie McMahon: Play as Test for one month
WWF WrestleMania 2000 Cheat Code FAQs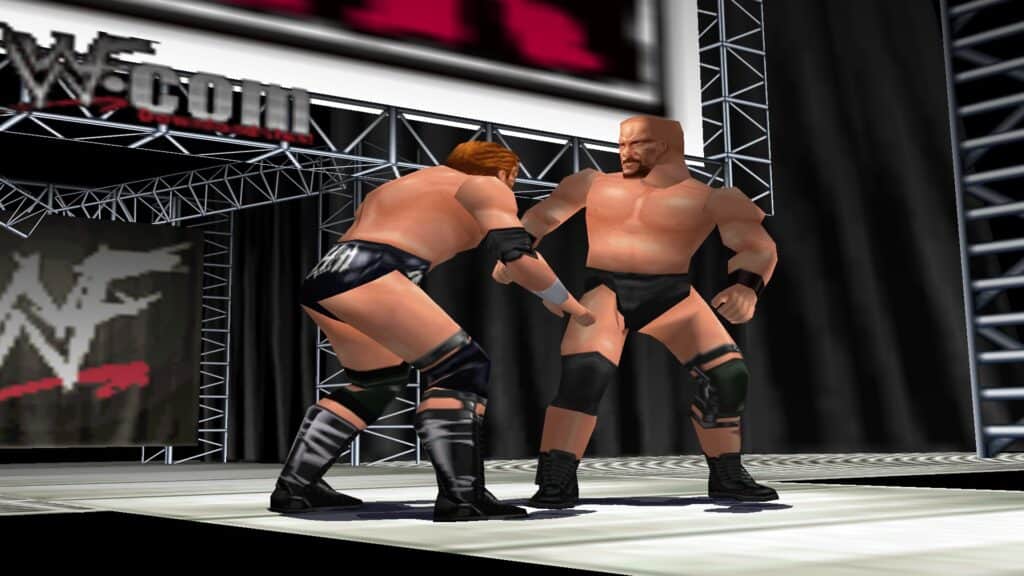 How Do You Unlock HBK in WWF WrestleMania 2000?
HBK is otherwise known as Shawn Michaels, one of the greatest wrestlers of all time. He's available as an unlockable wrestler in WWF WrestleMania 2000, and you can get him in the "Road to WrestleMania" game mode.
When you've made a decent amount of progress, you'll be given the chance to compete for the WWF Title. If you're successful, HBK will challenge you to a match. Accept the challenge and beat him, and you'll be able to use Shawn Michaels in every other game mode from that point onwards.
Are There Any Extra Outfit Cheats in WWF WrestleMania 2000?
Sadly, there are no cheats to unlock extra outfits for the roster in WWF WrestleMania 2000. However, most characters do have addtional outfits in the game that are hidden by default.
You can use these outfits by pressing C-Right or C-Left when on the Character Select screen.