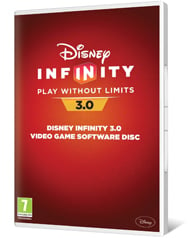 System: Xbox One, PS4, Xbox 360, PS3, Wii U, PC
Dev: Avalanche, Ninja Theory, Sumo Digital, United Front Games, Studio Gobo
Pub: Disney Interactive, LucasArts
Release: August 28, 2015
Players: 1-2 local, 1-4 online
Screen Resolution: 480p-1080i
Content is generally suitable for all ages.
Disney Infinity 3.0 is a game with a lot of potential fun for Disney fans of all ages. The 3.0 figures are high quality, without the paint issues I've seen on some older figures. The graphical style, though not state-of-the-art, manages to encapsulate the spirit of Disney and Star Wars while maintaining a relatively unified style between worlds (Kingdom Hearts could take some notes from this). The music is pitch-perfect and the voice acting is mostly on-point. It's certainly a treat when you stumble upon a Toy Box or mission that really nails the atmosphere of its source material while offering a brand-new adventure, and it holds plenty of promise for people who want to dig in and really learn how to master logic connections in the Toy Box.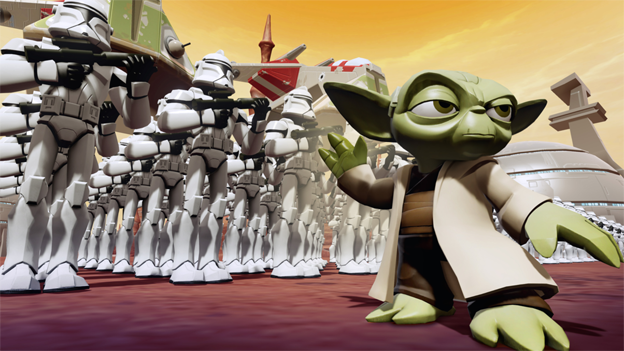 I'm not entirely convinced, however, that Disney Infinity as it is can keep up with other toys to life franchises like Skylanders and the upcoming Lego Dimensions. It's still a bit too fragmented, especially since you can't use play sets from 1.0 and 2.0 in your 3.0 game (characters and Toy Box goodies are a go, but play sets are not) and you still can still only play Star Wars characters in Star Wars play sets, Marvel characters in Marvel sets, etc.
I'd definitely recommend Disney Infinity 3.0 for families with kids who adore Star Wars, as well as for gamers of all ages who love Disney and enjoy creating their own games and levels. If you don't fit into either of those categories, I'm not sure that the game holds its appeal past a few hours of play set fun, and that's a shame considering how much money you need to sink into the game's starter set and any additional characters and play sets you might want to buy. Though I enjoyed my time with the game, I couldn't entirely get past its bugs and quirks. Disney Infinity 3.0 is still leaning on the many possibilities of community-generated content and endless opportunities for customers to empty their wallets for plastic doodads, and not everybody is going to be willing to prop it up.
By
Becky Cunningham
Site Editor
Date: August 28, 2015
Game Features:


Disney Infinity 3.0 Edition now welcomes Star Wars to the ever-growing collection of Marvel, Disney and Disney-Pixar characters, stories and worlds. Together new heroes can join forces with characters from previous editions and embark on adventures as big as your imagination in the Toy Box!

Unlock new worlds of endless adventure with all-new Disney Infinity 3.0 Edition Play Sets. Experience distinct and varied game play including Star Wars: Twilight of the Republic Play Set, Star Wars: Rise Against the Empire Play Set, Star Wars: The Force Awakens Play Set, Disney-Pixar's Inside Out Play Set, and a new Marvel Play Set. Release dates vary.

Play with new Star Wars, Marvel, Disney and Disney-Pixar figures in Disney Infinity 3.0 Edition! Take on epic heroic abilities, earn upgradable skills and use Lightsaber-wielding abilities for all your characters in the Toy Box!

More enhancements come to Toy Box 3.0, where you can mix and mash up your favorite characters in Disney Infinity. Now featuring a 3-D Toy Box Hub where you can explore gameplay experiences - including platforming, racing and farming simulation. Coming soon are 2 new multiplayer Toy Box Expansion Games: Toy Box Takeover and Toy Box Speedway!