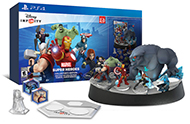 System: PC, PS3, Xbox 360, PS4*, Xbox One, Wii U
Dev: Avalanche Software
Pub: Disney
Release: September 23, 2014
Players: 1-2 (2-4 Online)
Screen Resolution: 480p-1080p
Cartoon Violence
Another addition to Disney Infinity: Marvel Super Heroes is the inclusion of developer created Toy Box structured content, via power discs. Power discs are additional pieces that give powers to your heroes and unlock more items for the Toy Box. But this time around, some power discs have games and worlds (created by the developers) to add a little accessibility to what can otherwise be a chaotic Toy Box. You can still go online and find user created content to download, as well as create your own and sharing it for the world to use.
Visually, Disney Infinity: Marvel Super Heroes (2.0 Edition) sticks to the stylized appeal that was established with the original Disney Infinity. They have "Disneyfied" the Marvel heroes and are definitely marketed toward the younger crowd, but can still be enjoyed by players of all ages. Throughout play, I did experience framerate drops occasionally (mostly in Toy Box mode) but the visuals were solid overall. You won't find hyper-realistic character models and environments here, but then again, would you really want to?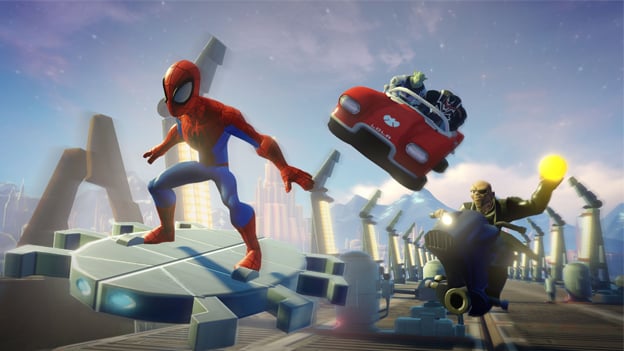 To accompany the stylized visuals, Disney integrated their excellent repertoire of musical knowhow to Disney Infinity: Marvel Super Heroes. Competent voice-acting adds to the overall feel of the game and adds a layer of production value that was required to bring this Marvel world to life.
In the end, Disney Infinity: Marvel Super Heroes most certainly steps up its game from the original Disney Infinity. New character compatibility across playsets, structured Toy Box play, and a cast of infinitely more interesting characters and action-oriented stories make for an enjoyable experience for anyone. You can even use Disney Infinity 1.0 characters in the 2.0 Toy Box if you wish, so at least all those 1.0 characters aren't completely useless in 2.0.
If you can commit to the search for your favorite characters and are willing to shell out the extra dough for more gameplay (through new figures and playsets) then Disney Infinity: Marvel Super Heroes is the game for you. However, if you're only interested in the core game that comes with the starter pack, you will see the need for more characters pretty quickly. But overall, there is plenty to keep even the most ravenous Marvel/Disney fan busy for a long time.
By
Joshua Bruce
Video Director
Date: September 18, 2014
Game Features:


MARVEL FRANCHISES - Marvel franchises introduce deeper, immersive storylines and Marvel Super Heroes deliver new combat gameplay, more destruction in game worlds, authentic Marvel gadgets and vehicles in Play Sets and Toy Box.

EPIC STORYLINES - Original, character driven stories written by award-winning Marvel comic writer, Brian Michael Bendis. Authentic, intertwined stories where some Marvel Super Heroes can cross between Play Sets, all set in iconic Marvel locations.

ENHANCED TOY BOX - An all-new Toy Box mode that makes it easier for players to create and share their one-of-a-kind levels and mini-games with family and friends. Use the new Creator tool to quickly build your worlds faster and easier than ever before.