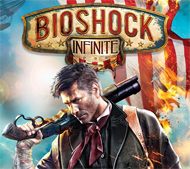 System: Xbox 360, PS3, PC
Dev: Irrational Games
Pub: 2K Games
Release: March 26, 2013
Players: 1
Screen Resolution: 480p-1080p
O Sing For Liberty!
by Josh Wirtanen
BioShock Infinite should have been out by now since it was, at one point in time, slated for an October 2012 release. Of course, the folks at Irrational Games decided it needed a bit more work before it was ready. Even though we're getting antsy to toy around with the final version of this one, we're glad the developers are willing to take their time to make sure it's perfect before it lands in our hands. See, BioShock Infinite has the potential to be one of gaming's all-time great masterpieces. No, I'm actually not being hyperbolic here.
If you're a gamer who has somehow not heard of Infinite yet, the word BioShock should sound at least vaguely familiar. Underwater city. Ayn Randian dystopia. "Would you kindly?" Big Daddy and Little Sister. You get the picture. The original BioShock created a wealth of unforgettable imagery and phrases that have become a permanent part of gamer culture. In fact, I'd argue that BioShock is one of the most important games of this console generation. Yes, I will fight you if you disagree with me on that.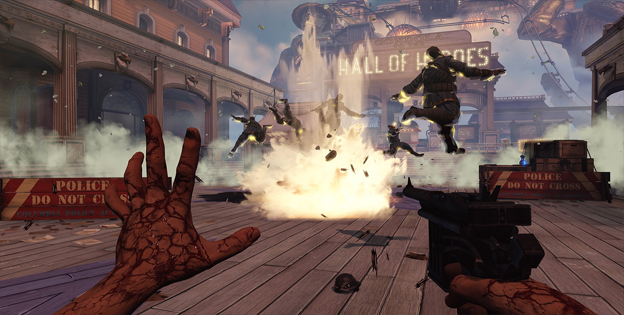 But BioShock 2 left the extremely talented hands at Irrational Games and was outsourced to various 2K studios, as well as the folks at Arkane (who, as you might recall, developed the phenomenal Dishonored). While it was a welcome trip back to the city of Rapture, it didn't really tick any checkboxes that the first game missed. Unless you want to put multiplayer on that list, but BioShock was never really meant to be a multiplayer experience in the first place.
Now, though, Irrational returns to the franchise, and they've decided to rebuild it from the ground up. In fact, a lot of people are confused as to what even makes this a BioShock game, since it isn't really even set in the same universe/timeline as the original game.
Well, BioShock Infinite should be seen as more of a spiritual successor to BioShock rather than a true sequel or prequel. It takes concepts that we are already familiar with and puts an entirely new spin on them.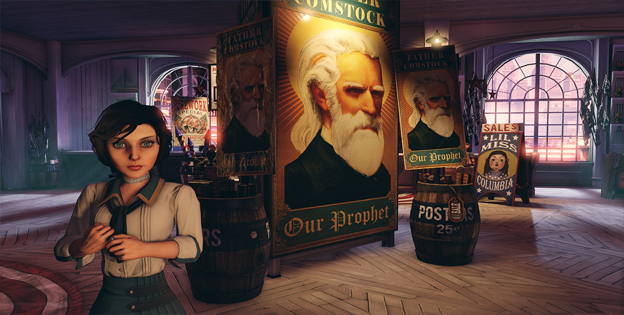 For example, the first game's Rapture was a 1960 underwater dystopia that had fallen apart due to extreme ideologies. BioShock Infinite, on the other hand, brings us to the floating city of Columbia, which is in the process of being torn apart by extreme ideologies. Instead of failing due to Objectivist philosophies taken to their boiling point, Infinite's world is caught in a civil war between the Founders, who want to preserve their rich, proud, American heritage, and the Vox Populi, who are fighting for civil rights, fair labor, and things of that nature. In fact, these factions almost seem like extreme versions of modern-day Democrats and Republicans, making this almost an eerily accurate parody of American politics.
And really, how many other video games can you name that almost read like a term paper on Political Philosophy? Probably just BioShock. With that in mind, slapping the BioShock label on Infinite isn't as terribly misleading as you first thought, now is it?
And like Rapture, Columbia is a breathtaking marvel of human ingenuity. It's an early 1900s American city that floats in the air, suspended by hot air balloons. From the gameplay footage we've seen, we'd be tempted to say it has a steampunk aesthetic.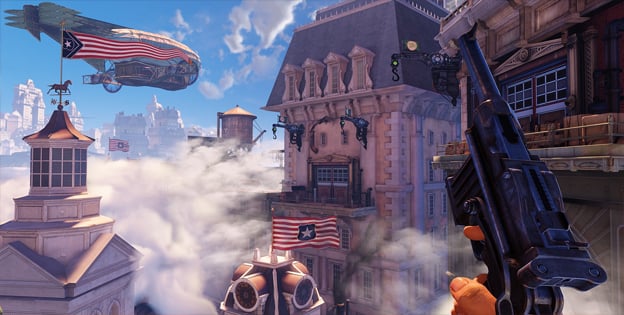 While the environments are certainly brighter and more wide open than Rapture, that doesn't mean this won't be a complexly terrifying game. In fact, I'd say it's probably safe to assume that Columbia will exploit players' fear of heights in a similar manner to how the original utilized its tight, claustrophobic spaces. And if anyone can make a bright and colorful horror game, it's Irrational.