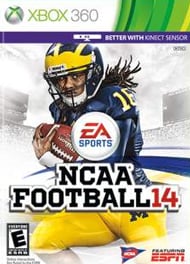 System: Xbox 360*, PS3
Dev: EA Tiburon
Pub: EA Sports
Release: July 9, 2013
Players: 1-4
Screen Resolution: 480p-1080p
The new addition to gameplay this year is Ultimate Team. This popular mode from the Madden franchise lets you create an Ultimate Team using cards you collect from packs that you earn from completing in-game challenges. Basically, you pick your favorite college team and you are given their playbook and jerseys, along with a starter pack to populate your roster. These players typically have a player rating in the 60s, so they aren't quite "ultimate" right out of the gate. Using your random and newly minted team, you complete games and challenges in different conferences to earn more packs and coins to buy more packs. This mode took advantage of my childhood obsession with card collecting–or more accurately, my obsession with opening packs. Damn you EA.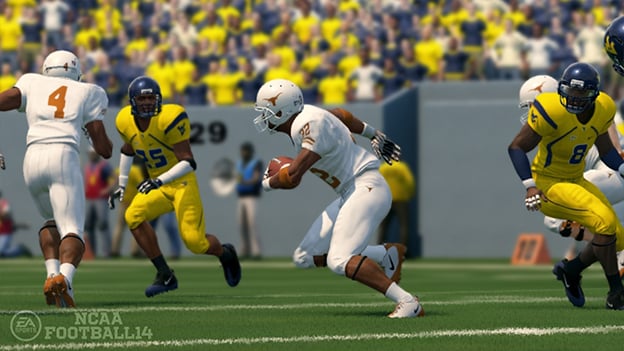 Visually, you can expect the level of polish and detail that have become the staples of current-generation sports gaming. Character models, animations, and hit physics are more realistic than ever and make for a graphically impressive on-field package. Off-field, however, is a different story. The sidelines and the stands of this game suffer from the blocky fans and choppy sideline visuals that have been indicative of this generation. Also, during on-field, post-play cutscenes, there are occasionally some visible hiccups.
The graphics of NCAA Football 14 do their job and their presentation is spot-on. But if I have a real issue with this game, it is definitely with the audio.
Don't get me wrong, the audio isn't low quality. Quite the opposite. It's just that college fight songs annoy me to no foreseeable end, but that's not a fault in the game, it's just a personal issue of mine. But why, oh why, do we have to suffer the endless, repetitive comments of announcers? It is possible to turn them off, and they are better than they have been in the past, but it still aggravates me to no end. Can we get a little more variety? Please? Is that too much to ask?
In short, I didn't expect to enjoy NCAA Football 14 nearly as much as I did. Sure, it has flaws, but it is easily one of the most enjoyable sports games on the market. You may not see too much of a change from last year's title if you're a faithful, yearly customer, but if you have been away from the football scene for a while and are thinking of jumping back into it, this may be the perfect time to do it.
By
Josh Bruce
Video Director
Date: July 5, 2013
Game Features:


Infinity Engine 2 - Experience real-time physics and the new Force Impact system as you feel every big hit, collision and tackle. More than 30 new option pitches and improved stiff-arm attempts that account for player's size and strength add to the authenticity and innovation.

Enhanced Running Game - Hard run cutting for direction changes and stop on a dime improvements add realism to the running game. Players can now recover from stumbles and fight for extra yards, hurdle over defenders or use the acceleration burst running mechanic to get to the edge.

Presentation - NCAA Football 14 gets you closer to the action than ever before and tells the story of every game. Experience the drama of college football from a whole-new perspective.

NCAA Football Ultimate Team - NCAA Football Ultimate Team brings the fan-favorite mode to the collegiate game, allowing you to build up an unstoppable team.

Dynasty - There's no single path to success in college football, and NCAA Football 14 allows you to build your program into a powerhouse to fit your play style and strengths by utilizing the brand new Coach Skills.

Play a Season - Focus purely on the on-field action and take your team to a bowl game. No off-field responsibilities, just keep winning and climbing the BCS rankings.