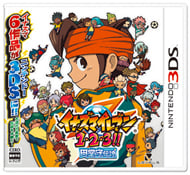 System: 3DS
Dev: Level-5
Pub: Nintendo
Release: February 13, 2014
Players: 1
Screen Resolution: N/A
Mild Violence
Because of the focus on special moves and the need to build up team members from zeroes to heroes, Inazuma Eleven becomes more fun to play as the game progresses. The basic soccer battle mechanics are a bit cumbersome to use because the game moves quickly and the enemy AI is good. I found it was more effective to allow my players to intercept the ball on their own than to attempt to draw lines all over the screen, only to have the opposition find the hole in my defense every time. It's most effective to save player input for passing, scoring, and making strategic choices about blocks and steals when the game prompts the player to do so. Once you're used to this style of play, it's not difficult to win most matches, although bad luck can make some of the "score the first goal" scuffles annoying.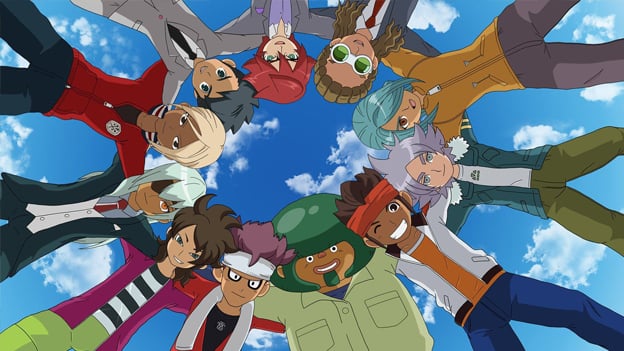 I found that the game is best played in short spurts rather than marathon sessions, since playing too many matches (particularly the short practice scuffles) in a row tends to become tiresome, and there's a bit too much RPG character development required between the exciting games. Shorter gameplay sessions keep the game feeling fresh and fun, assisted by the over-the-top silliness of the story.
Originally a DS game, this version of Inazuma Eleven has been upgraded for the 3DS. Its sound and visuals won't win any awards, but they're competently done. The entire thing was redubbed for North America, so every instance of the word "football" has been replaced with "soccer," and alas, there's not a British accent to be found. Anime cutscenes appear occasionally, looking and sounding quite nice.
As a full package, Inazuma Eleven is highly entertaining, if unsuitable for marathon gaming sessions. It's a refreshingly unique little game that is appropriate for players of all ages, especially those who enjoy lighthearted anime stories. At only $20 on the 3DS eShop, it's not painful to try out, so give it a shot!
By
Becky Cunningham
Contributing Writer
Date: March 4, 2014
Game Features:


Choose from over 1,000 different players and create the ultimate soccer squad.

Learn awesome special moves and take your team to the top of the league.

Discover the secrets of the legendary Inazuma Eleven football team.