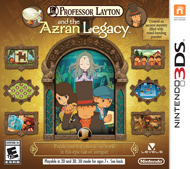 System: 3DS
Dev: Level-5
Pub: Nintendo
Release: February 28, 2014
Players: 1
Screen Resolution: N/A
Mild Violence, Use of Alcohol
The game never strays too far from a well presented cutscene or story pushing conversation, and from start to finish you'll feel as though you are fully a part of a blockbuster narrative on the big screen. The muted and earthy colors pervade most of the way through, but the style is as genuine to the series as any other element of Professor Layton games that simply can't be replicated. Each screen allows you to guide your investigative magnifying glass beyond the boundaries, offering a much more panoramic view of the area. The only downside is that the cinematics paired with the 3D effect will drain your system battery in a hurry.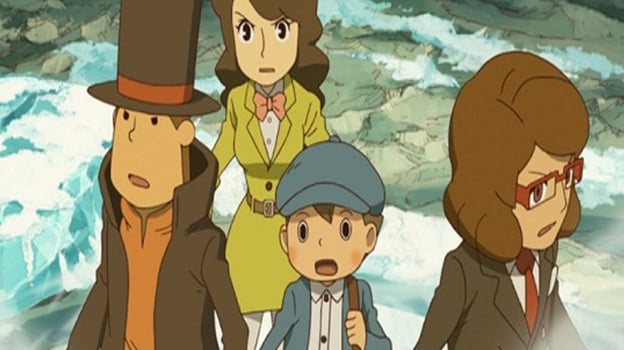 As in the past, the violin takes the lead in almost all the orchestrations, playing to the mood as it changes. Everything fits the period where rules of etiquette persist, and the music feeds off of that sentiment, though doesn't shy away from building percussions during the more gripping moments. The exceptional voice acting comes from a team that understands the design after numerous forays into the world of our gentleman hero.
Professor Layton and the Azran Legacy is the apt way to finish the trilogy, tidying up all the loose ends of the prequel series, and leaving a fresh start as Layton and Luke drive towards a "Curious Village". The puzzles may have a slight lack of originality, but they are superbly crafted yet not overbearing. I would have enjoyed some more engaging minigames, but there are still plenty of other diversions to lose dozens of hours in. It's bittersweet to envision this as the final game for Hershel Layton. I feel like the series has run its proper course, but still find it hard to swallow a future without a game as unique as Professor Layton.
By
Sean Engemann
Contributing Writer
Date: February 26, 2014
Game Features:


Solve over 150 new puzzles over the course of the main story, then settle back for an additional 385 challenges that you can download over the course of a year from Nintendo Network.

Three brand new minigames can be unlocked within Professor Layton's trustworthy trunk, each offering its own unique style of puzzle solving.

Solve Daily Puzzles and you'll discover treasures from Layton's past! Six scenes await you, each representing one of Professor Layton's great adventures.

For the first time, a Professor Layton game makes use of the power of StreetPass! Set your own tantalizing treasure hunts and earn points that unlock all kinds of goodies.