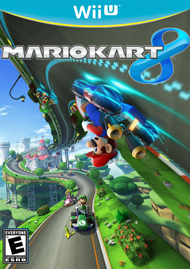 System: Wii U
Dev: Nintendo
Pub: Nintendo
Release: 2014
Players: 1-12
Screen Resolution: 480p-1080p
Mario Kart Meets F-Zero?
by Jake Valentine
There's a clamoring for the return of the F-Zero franchise from Wii U owners. There's good reason for it, too: showcase gorgeous high-definition graphics (the GameCube's F-Zero GX was absolutely gorgeous) and offer a robust multiplayer offering over the Internet. While Nintendo isn't revisiting the futuristic racing series, we may be getting the next best thing: Mario Kart 8.
I know that the two franchises have little in common, but there's a new feature that's highlighted in the Wii U version of Mario Kart: anti-gravity. While the demo at E3 didn't do the best of jobs displaying its full potential, I can see where future comparisons could be made. But more on that later.
For now, let's talk about Mario Kart 8 being a, you know, Mario Kart game. The demo offered three different tracks that will feel right at home for series veterans. There was the traditional easy track, featuring a full loop de loop. With the demo being at 50cc, the lowest speed setting, the track honestly felt a bit boring. In addition, most of the trademark items from the series, e.g., blue spikey shells and lightning strikes, created an all-too-easy feeling to the demo's first track. Thankfully, things were spiced up with the second track, taking place through what appeared to be a town square. It's also here where we see the anti-gravity karts being used in a manner we'd expect from a Mario Kart game: traversing up walls to take shortcuts.
The final track in the demo offered a surprising sense of speed. I say surprising because, again, we were playing at the 50cc level. Taking place in a mansion haunted by Boos, we travelled through twisting and turning hallways, travelled underwater, and glided through the air over a courtyard. If that last part sounds familiar, that's because it is: Air gliding made its debut in Mario Kart 7 and will be returning for Mario Kart 8. The final track was easily the best of the bunch and left me clamoring for more.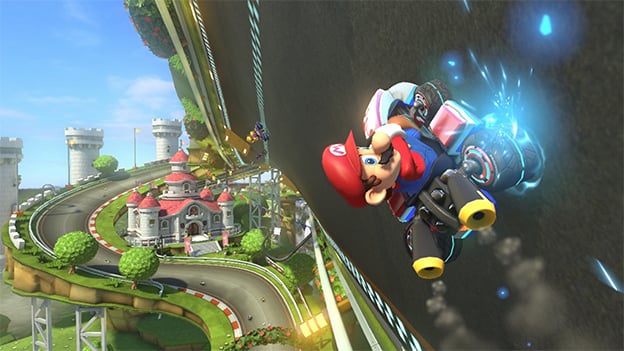 In terms of more details, Nintendo was being tight-lipped. Other than confirming that fan favorites such as Waluigi would be returning, it was pretty hard to get any further information. While not present on the E3 demo, it's assumed we'll see the return of the full roster of items seen throughout the franchise. In terms of classic tracks, however, I never got an answer aside from, "I don't know."
As for that comparison to F-Zero, I eagerly await to see what kind of zaniness Nintendo EAD Group No. 1 will deliver in terms of all-new tracks. Anti-gravity can mean a lot of great things for staples such as Bowser's Castle and Rainbow Road. Let's also not forget that a Mobius strip, featured in the game's logo, will also be a track. I'm sure this is merely the tip of the iceberg, too. With Captain Falcon still on the sidelines, this may be the closest we'll come to seeing his return.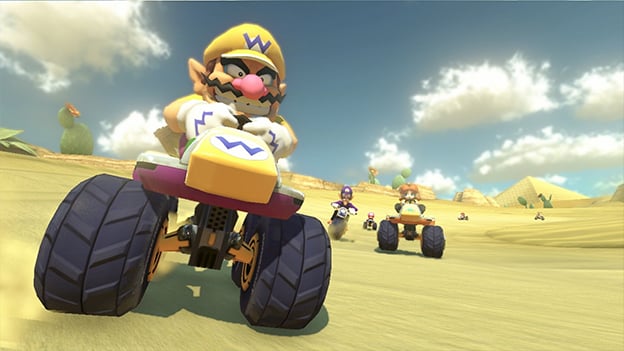 Finally, all of this high-speed, anti-gravity goodness will be available in high-definition and run at a smooth 60 frames-per-second. While many current-generation games, specifically Call of Duty, have been doing this for years, it's a relief that Nintendo is embracing HD. Let's not forget their embrace of online interactivity, too. In addition to the 12-player multiplayer options, there's Mario Kart TV, which is a Miiverse feature that allows players to record and share clips from their races. I know that it's nothing too exciting for most, but this is Nintendo, the company that has taken their sweet time catching up with the rest of the world.
Unlike the rest of the Nintendo E3 booth, Mario Kart 8 isn't necessarily a safe bet. Sure, it's a Mario Kart game, so it'll sell millions of copies. But there's a lot Nintendo is doing to help move both the franchise, and the Wii U console itself, forward. Here's to hoping that the finished product can live up to its potential.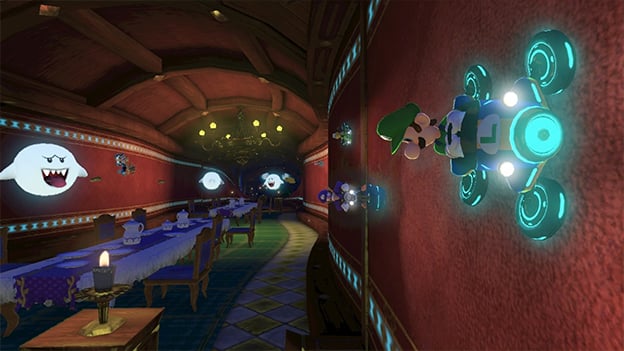 Here's also hoping to a new F-Zero title within the next decade. Or at least some sort of semblance of F-Zero within Mario Kart 8.
By
Jake Valentine
Contributing Writer
Date: July 2, 2013
Game Features:


Mario Kart makes its high-definition debut while running at a spectacular 60 frames per second.

Who needs gravity? For the first time in the franchise, drive through loops, twists, and turns with anti-gravity karts.

Miiverse integration allows players to record and share clips on the Miiverse through Mario Kart TV.