There's a special kind of magic when you see a beautiful female character step into frame, take aim, and then blow someone's ass away. In video games, I mean. Let's face it, the days of damsels in distress are all but a distant memory and I am so glad. There is nothing more badass than a hot woman toting a huge gun. Well, maybe a hot chick, toting a huge gun, that actually knows how to use it. Yeah that's hotter. But anyway, I digress. Here are my top ten favorite gun-toting beauties.
Joanna Dark
She blasted her way onto the gaming radar way back in the year 2000. The first of the millennial hotties that could not only wield some serious firepower, she was in complete control of her tech, kit, and cohorts as well. And that blue and black body suit didn't hurt anything either.
Trish
If you played Devil May Cry (the original one…the good one) then you know who Trish is. Or at least you think you do. Trish became one of those characters that people either loved or hated, and I am betting you can guess which camp I was in. But whatever your thoughts on Trish are, you cannot deny the skills she manifested in games like MVC of the Devil May Cry series.
Chloe Frazier
This woman was undoubtedly the darkness to contrast the good girl of Elena Fischer. Chloe had it all. She was hot, she could shoot and fight and she had that super-sexy accent that I just couldn't seem to get enough of. Oh, and did I mention she was smokin' hot?
Jill Valentine
1996 was a big year for gaming, if for no other reason than it was the year that Resident Evil hit the PSOne and changed how we would play games forever. And right in the middle of that epicity was Jill Valentine. Though not as scantily clad as other gaming vixens, she was no slouch and would blow your ass away just as quickly as she would talk to you.
Hana & Rain
2001 was a strange year. We had all survived Y2K without the world collapsing. And then there was the release of Fear Effect on PSOne. It was cel-shaded romp through a crazy, cyberpunk story involving ancient Chinese mythology. Oh, and it had Hana. Super-hot Hana. But then they hit us with Fear Effect 2 and introduced her girlfriend Rain. That's when things got really interesting.
Aya Brea
Honestly, Aya was one of my first true gaming crushes. She was a woman that I hoped was real from the moment I saw her in uniform. But alas, she is only ever going to exist within the carnage-infested world of Parasite Eve . But the good news about that is I have yet another great reason to keep playing those games over and over again. Especially 3rd Birthday , she was just smokin' hot in that one.
Miranda Lawson
The beauty with the Australian accent in the Mass Effect serious busted out in 2010. Her brand of biotically enhanced hotness was a welcome diversion within the insanity inherent in Mass Effect 2 . The obvious choice for your first play through romance interest, Miranda just seemed to have it in all the right places. And then you add in the fact that she was pretty much crazy and it makes her all the more real, because we all know that super hot chicks are always just a little crazy.
Samus Aran
She may be the oldest babe on this list, but that doesn't take anything away from her hotness. In fact, like a fine wine, Samus has only become more refined over time. And by refined, I mean that she has become even more adept at death and destruction… all while maintaining her appearance in the best way possible. And there are few more excited than this guy to see her in action in the new Smash Brothers .
Bayonetta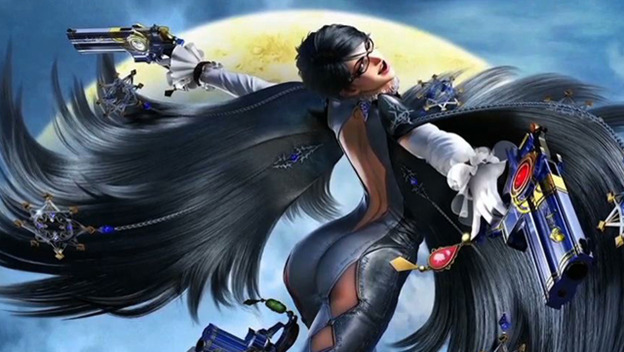 It's the glasses that skyrocket Bayonetta to near the top of this list. That and she is definitely the hottest witch I have ever seen. Well, except maybe Mila Kunis in that crappy Wizard of Oz movie. But anyway, she has guns. She can use crazy magic. And her super-tight suit is made of her own hair. Now as weird as that sounds, it makes things very interesting when using certain spells. I won't say which ones. Play it and find out for yourself.
Lara Croft (The Original)
The original Lara Croft was every teen boy gamer's dream girl. To some, she still is. She has been through some metamorphoses over the years but through it all has maintained the top spot in damned near every "hot girl this or that" listing for video games. And for good reasons. She is the definitive female, gun-slinging badass protagonist and I hope that she never loses her top spot.