Gory stuff isn't really a new thing to gaming. We've all played through some death and destruction in our time as gamers. From games like Splatterhouse and Dante's Inferno , to something as benign as Naughty Bear , we have maimed and killed our way through vast hordes of game-fodder. But once in a while something shocks us. It may even trouble us a little bit by how aloof the game seems about the subject. I am of course talking about cannibalism. Why are we talking about cannibals? Because I have watched every existing episode of Hannibal in the last three days and dammit, I want to talk about cannibals! Now…fire up the Fava beans and let's get to it.
Maneater Mildred (Dark Souls)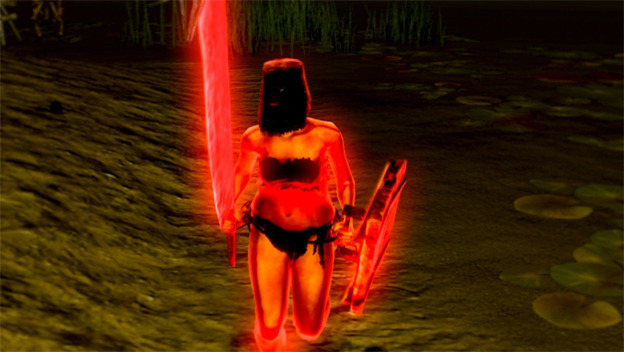 Apparently, this character was put in the game for a little more comedic effect rather than darkness factor. Which is most likely why she was a glowing red entity that could be seen very early before she tried to get near and attack you. She is supposed to be the woman who was trying to find and consume Laurentius of the Great Swamp. No matter who she is supposed to be, she is just a little old, red and glowy cannibal. You know, the funny thing about her is that in a game that is rife with peril, you'd think that the developers wouldn't waste an opportunity as easy as a glowing cannibal to add some comedy to the game. You'd think that she'd be a vicious predator that would hunt you to the ends of the world.
Plateau Cannibal (Red Dead Redemption)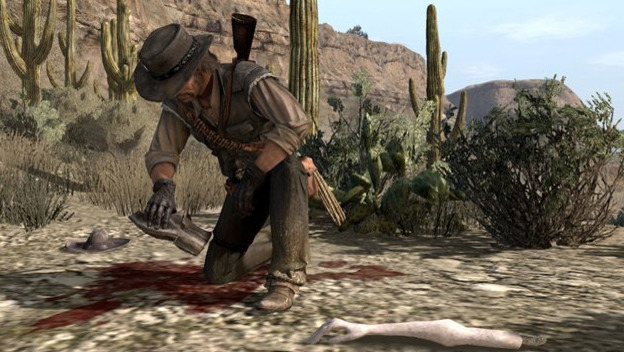 As you play through the life of John Marsten, you will find odd jobs to do at your local sheriff's office. One such set of jobs is to investigate a series of seemingly random disappearances out near the plateaus along the Northern areas of the game. Upon further investigation, you find out that it's a cannibal who is just killing to eat. Much like you do as Marsten in the game. The major difference is that you can sell the pelts of your kills, whereas the cannibal most likely eats them. Which is probably best for him. I am imagining that there wouldn't be too many general stores in America or the Mexican side of the game that would buy human skins.
The Cannibals (Jade Empire)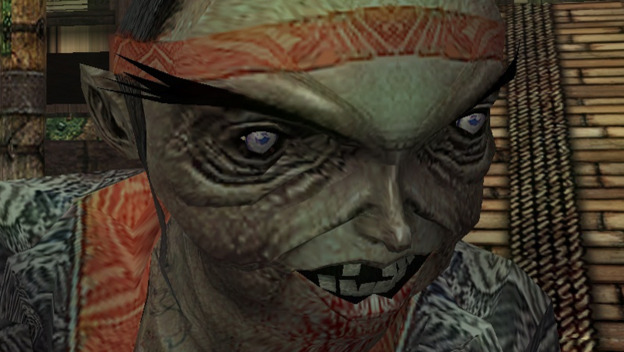 Clever name huh? Yep, the Cannibals. They live in a cursed Inn known as Cannibal Inn. Again with the cleverness in naming of things. But no matter how original (or not) their names are, they are still a whole bunch of cannibals looking to eat you and your party right up should you choose to accept this quest. One on one, they are seriously no big deal, but let them swarm you and you might be their dinner. So keep a group that loves to stay on the offensive and just keep swinging until they are all gone.
You (The Elder Scrolls V: Skyrim)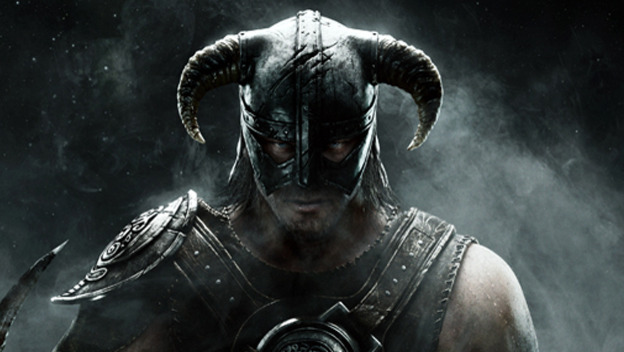 That's right, you. If you choose to accept these certain quests, you may just find yourself eating people meat. One mission called "taste of Death," takes you on a journey to find the cause of a Nord burial ground being defiled. Once you get to the graveyard, Eola the Mistress of Decay sends you on your quest to find Brother Verulus. Once you do find him, you end up eating the dude to gain the ring of Namira. So you actually eat someone just to get a ring that grants you +50 life…every time you eat a person.
The Families of Andale (Fallout 3)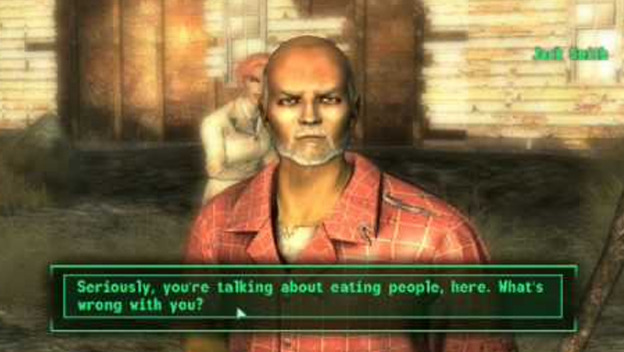 Much like their affinity for cannibalism in Skyrim , Bethesda apparently has a thing for your character not only running into cannibals, but joining in the frivolity with them…or at least giving you the choice to do so. And so it is that as you wander through the tattered landscape in Fallout 3 , you come upon a town inhabited by only two families. The town of Andale. But this quiet little place has a dark secret, as do its two resident families. They likes to eat the peoples. So if you equip the cannibal perk, you can gain their trust and continue to return daily for a fill up on granny's famous Strange Meat Pie. Yum.
The Strip (Fallout: New Vegas)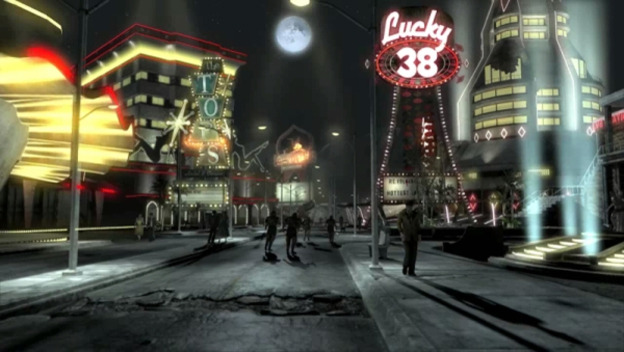 And yet another Bethesda game on the list. That's right another Fallout title another set of cannibals to go along with it, but even more so than in Fallout 3 , New Vegas has a vastly more abundant supply of man-flesh eaters. Yet nowhere are they more prevalent than in The Strip. The faux aristocracy of the Omertas is all a show that covers up their real secret. They are cannibals. Well, at least they are if you choose to take things that way. You'll meet a guy named Mortimer who wants to hatch a secret plot to feed human flesh to the upper members of the Omertas. Now you can either stop him, or you can use the ever-popular cannibal perk and help him make it happen. Thus beginning the Omertas long-lived tradition of eating the man-flesh.
The Walking Dead(The Telltale Games Series)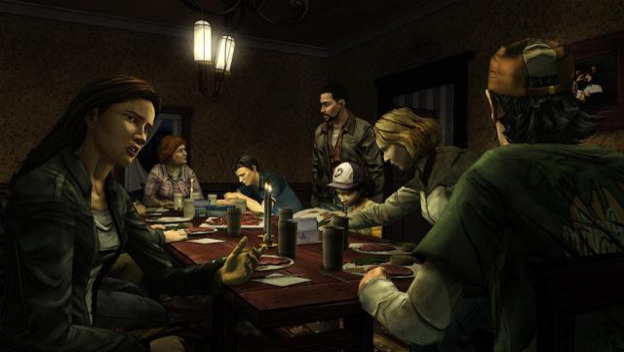 It is no secret that I am a fan of pretty much anything that Telltale does. From Sam and Max to the upcoming Borderlands game an everywhere in between. But you know, even as wrong as some things got in A Wolf Among Us , none of them have come so close to be as super-wrong as Clementine nearly eating some dudes leg without knowing it. I know it's all in good fun, but how are you going to tell me that in the middle of a zombie apocalypse, there is a family that decides to keep a live man in one of their closets just to cut bits of him off to eat as they need. It's morbid…even for the Walking Dead .
Donald Love (Grand Theft Auto: Liberty City Stories)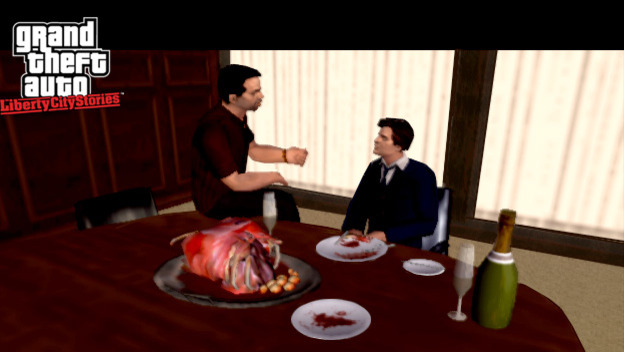 Think of him as a common thug with uncommon tastes. Well, really he just adores eating people. It's actually kind of creepy how much of a 'foodie' he is when it comes to consuming human flesh. He loves to try and share it with his guests. But the funniest evidence of his cannibalistic tendencies is in the cut scene prior to the Cam-Pain mission. He is so idiotic to begin with that he messes up Antonio's nationality even though they have been working together. Beyond that, he watches uneasily as a rib cage with meat still on it adorns the table where Donald is talking. So bizarre.
Paxton Fettel (F.E.A.R. Series)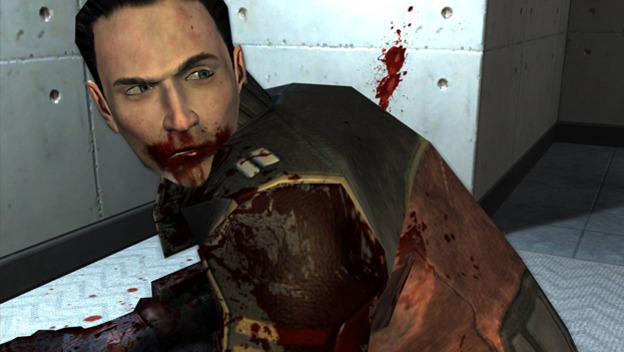 Ok, so really cannibalism is most likely the least of this guy's worries. He's the son of Alma. Conceived by incest, government experimentation, and pure psychic rage – he's the perfect candidate to become something way more messed up than the average brain can wrap itself around. Then you add into it the fact that he's the younger brother and you have the recipe for cannibalistic carnage on a grandly psychotic scale. So let that be a lesson to you, kids. Don't sleep with your family members. Stay out of government labs. If you have insanely cool psychic abilities, you might want to keep them to yourself. And lastly, don't eat people. That is all.
Alex Mercer (Prototype)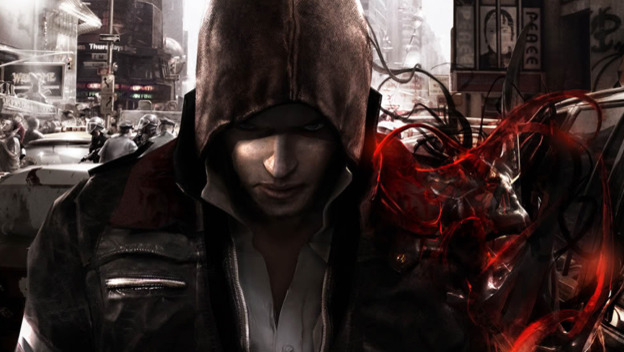 The reason Alex tops this list is because that's how he continues living. He's actually dead, you see. His corpse has been reanimated by a virus and now it's hungry. So naturally the only way to feed a reanimated corpse is with the sweet, people-y goodness of human flesh. Oddly I never caught on to the whole eating innards as food thing meaning he was actually already dead and his corpse was just feeding. I just figured it was the developers trying to be edgy in a market where there were still just a couple of taboos. Hell, if they had thrown in some necrophilia in that game, it may have been one of the most messed up games ever.