When you think about peripherals you may need to enhance your gaming life, do you ever consider how you could make your headset better? Headsets and headphones are a critical part of people's lives, but some might not think about getting accessories that make them do more for you. This is where an item like Creative's Sound Blaster E5 could help an item you already own step up. It is a $199.99, 24-bit, 192kHz, 120dB high resolution USB and portable headphone amplifier. This is the sort of device you may not realize you need for your gaming setup and daily life until you already get it.
The Sound Blaster E5 is a 600 ohm headphone amplifier with Bluetooth that can work with computers and mobile devices. It offers 7.1 virtual surround sound, with a toggle that lets you switch between high and low gain. As you listen and enjoy, the amplifier determines how much energy you need, reacting on-demand to meet your needs without negatively impacting the signal-to-noise ratio. It even accommodates all possible headphones and in-ear monitors, thanks to a circuit with a 2.2 ohm output impedance that accommodates ordinary items and up to 600 ohm broadcast applications. Plus, it even has a 3200mAh battery for an up to eight hour battery life for people who use the Bluetooth connection option. This means, if you want to use it recreationally to stream music from a device, you can for a delightfully long time.
What is really incredible about the Sound Blaster E5 is how it has gamers, as well as more casual users and music enthusiasts, in mind. The device has a Scout Mode built into it.  Once you update the driver and firmware, you are able to use this specific audio mode designed for video games. I would say it is best for first-person shooters, but really it works well for any title where being able to better hear where an enemy is can help you succeed. This makes it easier for you to plan strategies and survive.
The Sound Blaster E5 makes anything sound fantastic, though, even if you are not using Scout Mode. This is because it has a SB-Axx1 multi-core processor built into it. This has various audio EQ settings for customized profiles and makes sure the audio's depth and width is enriched and enhanced. Everything will sound as realistic as possible, as though you were in the actual environment as you play. I like to think of it as 3D sound. Especially since the SBX Pro Studio can be turned on or off for processed or unprocessed audio, allowing you control over how everything sounds at all times.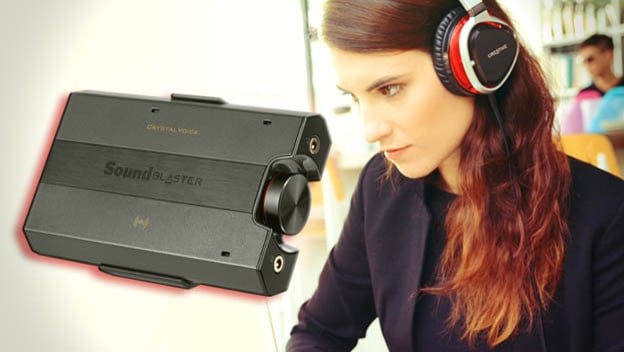 This is also a device that is going to be great for conversing with other players or recording for gaming videos or streams. The Sound Blaster E5 has dual microphones. These have an auto-orientation sensor built into them and CrystalVoice Technology. However you decide to use it, it will adapt. Its digital signal processor maks sure it catches your voice while reducing noise, making sure everything sounds good when recording or speaking on a call. People will be able to hear every word you say.
A headphone or headset amplifier is something people may not realize they need. If you are playing lots of PC games or find yourself using a phone or tablet often, you may not realize how much better things could sound. Even if you have great headgear, things could always get even better. The Sound Blaster E5 is all about quality. It improves your current situation, be it when you are playing a game, recording a video, making a phone call or listening to some music. This amplifier really amps things up.