I'm not exaggerating when I say this – as I wandered the E3 2017 show floor, attended meetings, and chatted with attendees – one thing was clear: the people were getting hyped for Dragon Ball FighterZ . This wasn't just a low key buzz from all the anime nerds. This was genuine, organic, and even surprised excitement. Everyone who saw the trailer at the Microsoft press briefing and especially everyone who got their hands on the game couldn't believe it. Even people who weren't into Dragon Ball going into E3 2017 had a lot of interest in Dragon Ball FighterZ . Sure, the Nintendos, Ubisofts and Activisions may have had more total foot traffic, but something special was happening at the same time over at the Bandai Namco booth. This is something new, something intriguing, and something beautiful.
When I got my hands on Dragon Ball FighterZ behind closed doors, I expected Guilty Gear Xrd with a bunch of Dragon Ball characters slapped on top. And sure, the look of the game, powered by Unreal Engine 4 and a distinct, brightly-colored 2.5D style, screamed as much. But it's a different beast entirely. Arc System Works took that Guilty Gear DNA, but injected within it a load of Dragon Ball game genes as well. It feels like a mix between Guilty Gear , past Dragon Ball games and a little dash of something like a Skullgirls or Marvel vs Capcom 2 .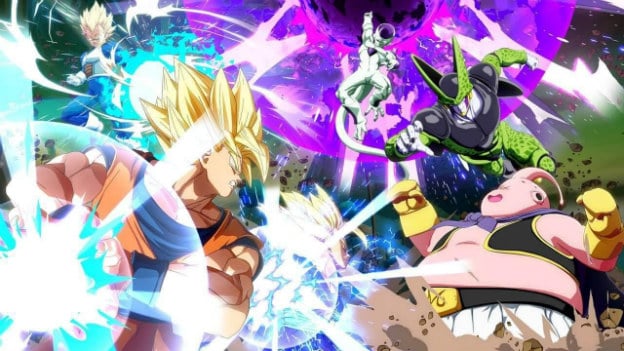 First things first: Dragon Ball FighterZ is a 3v3, 2.5D fighting game. The roster for the playable demo was small, but the creators insist more characters, famous and obscure, are on the way. It looks and kinda feels like Guilty Gear with its distinct visual style and speed, but it surprisingly controls in a unique way. It's almost a blended smoothie of BlazBlue, Guilty Gear and an old Budokai game. There's a light and medium attack, as well as a strong attack that serves as more of a combo ender/knockdown button that you can play with and cancel into special moves. There are buttons dedicated to different kinds of swift movement, which feels right at home in a Dragon Ball fighter. There's also an energy-based button that give you access to the typical Dragon Ball energy attacks.
Dragon Ball FighterZ is all about finding what goes with what, what can cancel into what moves, how that goes together, and what opportunities you can create to build meter and land super attacks. Typical fighting game stuff, but with a speed and finesse that it takes from its license and pedigree. You can, in Dragon Ball fashion, teleport both offensively and defensively, allowing you to make speedy cross-up attempts at the cost of meter. You can do all this with a team of three characters at your disposal, and just like Marvel vs Capcom , you can swap characters in mid-combo to unleash multi-tiered attacks and combos incorporating multiple supers.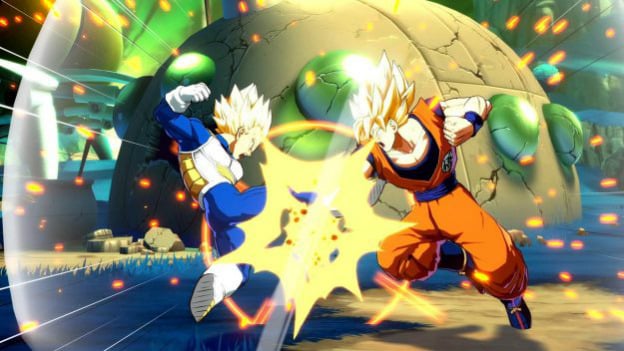 Despite having so many familiar mechanics, they manifest themselves in ways that feel different – be it through the unique controller layout or Dragon Ball -themed techniques. Of course, it also helps that the sights and sounds are the most authentic a game adaptation of Dragon Ball has ever had. Ever. It's a gorgeous game with ludicrously detailed and animated backgrounds that react to the in-game action, even going as far as to show total destruction of a planet if a character lands their strongest super move. The Japanese language track is intact (although Bandai Namco also confirmed English VO will also be available) and the music is as lit as you'd expect from an Arc System Works joint. The production values are, in one word, insane.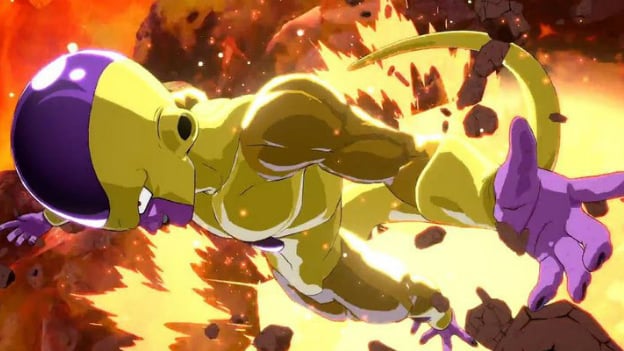 I'm not gonna lie, I geeked out a lot when I got my hands on Dragon Ball FighterZ . It was so refreshing, as a longtime series fan, to see organic excitement built up for a new game, instead of the usual "meh" reaction from the expected, almost yearly 3D fighter Bandai Namco has been pumping out. Dragon Ball FighterZ is a game with wide, mass-market appeal outside the realm of lower-end anime fighters. The stage at Bandai Namco's E3 2017 booth, made up like the planet Namek (complete with a goofy tree), was always full of people who could not wait to get in more rounds. I'm stoked for Dragon Ball FighterZ and can't wait to get my hands on the game when the beta drops this summer.
Game Features:
3vs3 Tag/Support Allows players to train and master more than one fighter/style which brings deeper gameplay

High-end Anime Graphics Using the power of the Unreal engine and the talented team at Arc System Works, DRAGON BALL FighterZ is a visual tour-de-force

Spectacular Fights Experience aerial combos, destructible stages, famous scenes from the DRAGON BALL anime reproduced in 60FPS and 1080p resolution (Higher resolution will be supported on PS4 Pro and Xbox Scorpio)