Far Cry 4's secret ending is legendary in gaming, giving fans a completely different ending and a chance to finish the game in 15 minutes. Is the ending fun? No, but it is worth trying. The game has you spend time traversing the fictional country of Kyrat, a fictional country similar to Nepal and Bhutan. Let's first discuss the basis of the game. The game follows in the footsteps of its predecessors by building a vibrant and dangerous world. You have multiple options to change the environment around you or alter the game with your decisions since it's open-world. Players can choose which path to take and which objective to start. It's a fantastic experience with a thrilling antagonist. The game rewards exploration, and players will revel in their decisions.
Far Cry 4 Premise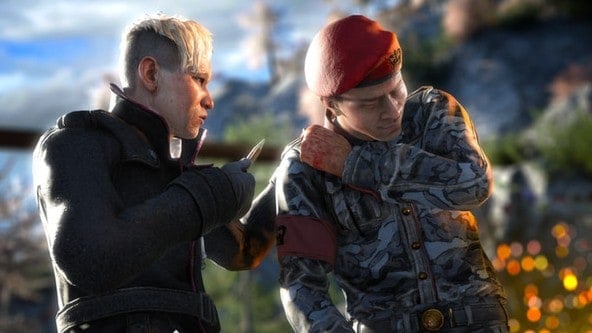 Far Cry 4 is an open-world first-person shooter video game developed by Ubisoft. It was released in 2014 as the fourth main installment in the Far Cry series. The game revolves around Ajay Ghale, the protagonist who returns to Kyrat to fulfill his mother's dying wish. She wanted him to spread her ashes there. Upon arrival, Ghale encounters Pagan Min, the game's antagonist and ruling dictator. That's how the secret ending begins, right when the game starts. If you play the game in a typical fashion, Ajay becomes entangled in a civil war. Players navigate the beautiful yet dangerous landscapes of Kyrat and must make choices that will impact the nation's fate and its people. The game features a vast open world filled with wildlife, various environments, and various weapons and vehicles for players.
In true Far Cry fashion, the game is chaotically beautiful.
Far Cry 4 Secret Ending Explained
As mentioned above, after the game's intro, you'll be left alone by Min to enjoy a meal. The game takes an unnatural time for him to return, so most players go, prompting them to start the game. But what if you stay? What if you're patient? If you wait a full 15 minutes, Min will return.
Turns out, he's not such a bad person and allows you to spread your mother's ashes where she requested, which turns out to be next to her daughter. And surprise, that's Min's daughter as well. This is all information you find out eventually anyway if you don't stay for 15 minutes, but now you can join his side.
Sadly, you don't play the whole game on his side, the game just ends, but it does imply you're starting a very different story.
Every Far Cry 4 Ending
While the ending mentioned above is considered the secret ending, the game doesn't stop there. Far Cry 4 has four possible endings. So first and foremost, if you wait for him to return at the dinner table, you'll receive the secret ending.
At the end of the game, you'll meet Pagan again, and you can choose to kill him immediately, ending the game. He'll take you on the helicopter ride if you don't shoot him, showing you where to scatter your mother's ashes. After, he'll fly away, and you can either shoot him or not. If you let him fly away, the game ends. If you attack his helicopter down, the game will create a crash site and allow you to loot his dead body and the wreckage.
Far Cry 4 Secret Achievements
The game has an excellent selection of secret achievements for playing the game. Every achievement on this list must be completed for those who want to complete everything involved in the game. Some of these will require multiple playthroughs, as you can only join one or two of the sides in any given campaign. If you play on PlayStation, most of these achievements are trophies for Sony so that the gameplay will be the same. There are a few differences, but for the most part, the challenges are similar.
| | |
| --- | --- |
| Secret Achievement | How to Unlock |
| Hat-Trick (50 GP) | Decide Yuma's fate (Campaign only). |
| One Down (50 GP) | Decide De Pleur's fate (Campaign only). |
| Overdose (10 GP) | Discover Shangri-La (Campaign only). |
| The King Is Dead (100 GP) | Decide Pagan Min's fate (Campaign only). |
| Two Down (50 GP) | Decide Noore's fate (Campaign only). |
| Welcome To Kyrat (20 GP) | Join the Golden Path (Campaign only). |
Far Cry 4 Rare Achievements
The game is known for its intense action and scale, and that even includes the achievements. After finding the secret achievements, players should focus on the more formidable challenges. The game has the usual of defeating enemies with certain weapons, full exploration, and different campaign choices. As with most games, to finish the game at all levels, you'll probably need different playthroughs.
| | |
| --- | --- |
| Deliver Us From Evil | Liberate 12 Outposts (Campaign only). |
| All Clear | Liberate all Outposts (Campaign only). |
| Tread Lightly | Liberate any Outpost without triggering an alarm in any mode (Campaign only). |
| End Transmission | Liberate 8 Bell Towers (Campaign only). |
| Display Of Fortitude | Conquer 2 Fortresses (Campaign only). |
| Well-Rounded | Complete any 6 Hunting quests (Supplies, Control, Survival) (Campaign only). |
| Trigger-Man | Complete 3 Assassination or Eye for an Eye quests (Campaign only). |
| No One Left Behind | Rescue 15 hostages in Hostage Rescue quests (Campaign only). |
| Gearhead | Complete 3 Kyrati Films: Racing or Kyrati Films: Survival activities (Campaign only). |
| Defender | Repel 3 Outpost Retaliation Parties (Campaign only). |
| Robin Hood | Hijack 3 Royal Cargo Trucks and return them to a liberated Outpost (Campaign only). |
| Hand Of Justice | Eliminate 3 Pagan's Wrath convoys (Campaign only). |
| Overdose | Discover Shangri-La (Campaign only). |
| Brother In Arms | Liberate 1 Outpost playing as Hurk (Campaign Co-op only). |
| Defuser | Complete 3 Bomb Defusal quests (Campaign only). |
| Changing Lanes | Perform a Vehicle Takedown from the passenger seat of a vehicle (Campaign Co-op only). |
| Fixer-Upper | Purchase 3 items for the Ghale Homestead (Campaign only). |
| Exorcist | Remove or destroy 15 Masks of Yalung (Campaign only). |
| Rewriting History | Remove 30 Propaganda Posters (Campaign only). |
| Caretaker Of Memory | Find 10 Lost Letters (Campaign only). |
| Right Tributes | Spin 10 Mani Wheels (Campaign only). |
| The Rarest Game | Complete 3 Kyrat Fashion Week quests (Campaign only). |
| Well Read | Read 10 notes (Campaign only). |
| Quick Learner | Learn 10 skills (Campaign only). |
| Fully Loaded | Learn all skills (Campaign only). |
| Tricked Out | Craft 5 upgrades for your equipment (Campaign only). |
| Dr. Feelgood | Craft 15 syringes (Campaign only). |
| Make It Rain | Spend 500,000 rupees total at Trading Posts (Campaign only). |
| Custom-Fitted | Buy all attachments and paint schemes for a single weapon (Campaign only). |
| Tusker | Kill 30 enemies with an elephant (Campaign only). |
| Quad Kill | Kill 4 enemies simultaneously with a single explosion (Campaign only). |
| Misdirection | Distract 15 enemies with rocks (Campaign only). |
| Shutterbug | Tag 25 enemies using the camera (Campaign only). |
| Two Birds | Using a sniper rifle, kill 2 targets with a single shot (Campaign only). |
| Reign Of Death | Kill 30 enemies with Mortar rounds (Campaign only). |
| From A Distance | Kill a target from 60m or more with an arrow or bolt (Campaign only). |
| The Sky Is Falling | Perform a takedown from a Buzzer (Campaign only). |
| Flame On! | Kill 50 enemies with fire (Campaign only). |
| Drive-By | Kill 25 enemies while shooting and driving (Campaign only). |
| The Good Fight | Reach Karma Level 2, and purchase any Guns For Hire upgrade (Campaign only). |
| Like A Bird | Fly 5000m total in the Wingsuit (Campaign only). |
| Roadkill | Run over 25 people (Campaign only). |
| The People's Champ | Reach Arena Rank 5 (Campaign Arena only). |
| Renaissance Man | Finish a public match of each game type in the Battles of Kyrat game mode (Battles of Kyrat only). |
| Community Surprise | Play a Top Rated map in the Map Browser (Map Browser only). |