We live in a strange world, a world where apparently people think it's OK to make death threats over Pokemon. Two men have been arrested after making social media threats against the Pokemon World Championships, held in Boston last weekend. These two men, 18 year old Kevin Norton, and 27 year old James Stumbo, were both official invitees and were listed in the masters division of the tournament for the Pokemon TCG. The nature of the threats were not clear, but they were violent, according to original claims, and it looked like the duo were ready to back them up.
Stumbo and Norton were arrested at a hotel in Massachusets where they were charged with unlawful possession of a firearm, unlawful possession of ammunition, and other related charges. A 12-gauge shotgun, a DPM5 AR-15 rifle, and a hunting knife were found in their car along with several rounds of ammunition.
The official police report read as such "On Thursday, August 20, 2015, members of the Boston Regional Intelligence Center (BRIC) received information from private sector public safety personnel at the Hynes Convention Center at 900 Boylston Street in District D-4 (South End) regarding threats of violence made over social media to attendees of the Pokemon World Championships."
"Security officers at the Hynes, officers in District D-4, and the BRIC immediately began investigation into these threats, and hours later, the two male suspects were stopped attempting to enter the event. BRIC and D-4 Detectives responded to further investigate," the report goes on. "Detectives were informed that the suspects had driven to the event from Iowa and were in possession of several firearms in their vehicle. The suspects could not produce a License to Carry. Officers seized the vehicle, and the suspects were released pending a search warrant."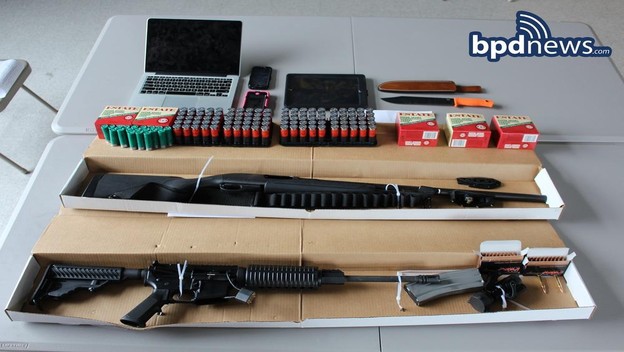 The threats were originally reported by online Pokemon communities. The Pokemon Company praised their community, in a comment about the situation.
"Prior to the event this weekend, our community of players made us aware of a security issue," it said. "We gathered information and gave it as soon as possible to the authorities at the John B. Hynes Veterans Memorial Convention Center who acted swiftly and spearheaded communication with the Boston Police Department. Due to quick action, the potential threat was resolved. The Pokémon Company International takes the safety of our fans seriously and will continue to ensure proper security measures are a priority."
What is particularly scary is the fact that both suspects were part of the tournament. The thought that someone could use such a huge degree of violence over a video game or card game is truly terrifying.