Gran Turismo Sport Feels Like a Prologue
When it comes to Gran Turismo games, there have always been established tiers. The core installments are huge undertakings with multiple modes, among them some sort of career, and tons of cars. There are also spin-offs that are rather limited in scope, with the Prologue line in particular offering a taste of some cars and modes at a budget price. Gran Turismo Sport is the first entry on the PlayStation 4 and last entry since 2016's Gran Turismo 6 . Unfortunately, this $59.99 game feels more like a prologue than a fully fledged installment in a respected simulation series.
Gran Turismo Sport has many of the basics off of the bat. The Arcade mode offers Single Race, Time Trial, Drift Trial, Custom Race, 2 Player Battle, and VR Tour options. The Campaign consists of a 24-lesson Driving School, 64 Mission Challenges, and Circuit Experiences for all the tracks. Sport lets you enter in Daily Races and Championships, and the Lobby lets you take part in online races. At a glance, it seems like a rather well rounded array of options. It's only when you start looking closer that the details and omissions start tainting the experience.
A big part of this has to do with the solo, offline experience. Previous Gran Turismo installments in the core series have had a career mode that lets you grow as a player. You can earn your way to better cars and competitions. Gran Turismo Sport 's Campaign isn't bad, but it just doesn't compare. While it is liberal when it comes to doling out credits and cars, its missions don't feel fulfilling. Especially when you can spend 20-30 seconds waiting for a Driving Lesson or Mission Challenge that may only last 15 seconds. To their credit, these bite-sized Driving Lessons are a helpful introduction, but it's only in the later stages that Mission Challenges actually feel challenging.
Another element impairing the single player portion of Gran Turismo Sport is its insistence on online connectivity. If you can't connect to the internet, either due to your own issues or problems on Sony's end with the PlayStation Network or servers, the game is severely crippled. You can only play the Arcade mode offerings with no save functionality. Campaign, Sport, your library, the showroom, livery, and the photo mode completely lock up. It is incredibly frustrating. When I was playing and 100%, absolutely connected to the internet, Gran Turismo Sport was convinced I wasn't. Even though I was playing Campaign Mission Challenges and Circuit Experiences, things that would have been inaccessible if I really was offline, the game kept warning me that I wasn't connected and my data wasn't being saved. A trip back to the main menu confirmed that yes, everything was as it should be, which made these false alarms even more annoying.
Once you find yourself in an Arcade offline or Sport online race, Gran Turismo Sport does a good job of feeling impressive. The single player modes let you enjoy all sorts of races and really test yourself. Then, when you go online, you have all of these options for finding the right people to race against. There are all these detailed criteria, like age or manners, to ensure you are grouped with the right fellow racers. Everything about this shows its dedication to being a driving simulator, not a racing simulator, and you need both knowledge and precision to succeed. If you don't pay attention to your speed, roadway conditions, drafting and drifting opportunities, and the position of other cars, you're going to have a bad time. Even though some of the Mission Challenges are tedious and uninteresting, they are wonderful for learning what various cars are capable of and how each vehicle handles. So are the early, unranked races which essentially let you practice. Though, even ranked is handy, since the game lets you practice race before competing in the big events. The physics are great, with movements that really feel true to life, and you can really tell how well cars do or don't grip the road. It does seem like it doesn't gauge impacts that well or accurately, but unless you're playing a Mission Challenge that demands collisions, you should ideally be avoiding such things.
It helps that Gran Turismo Sport is exceptionally accommodating when it comes to control schemes. It considers everything, from controllers to seven different wheels. People who know to treat this with the gravity and serious it deserves can have as realistic an experience as possible. I will say that I wasn't as impressed with motion controls, as they felt a little gimmicky and didn't offer the precision a game like this demands.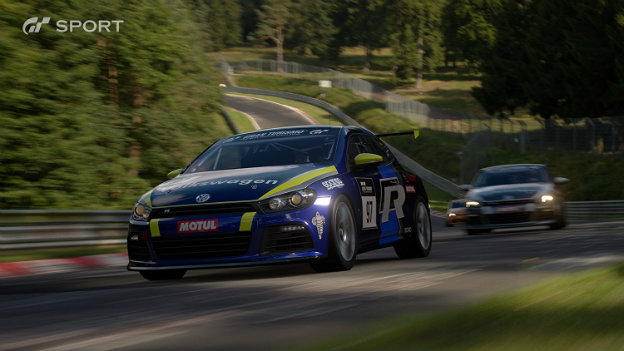 Gran Turismo Sport is an enlightening experience for another reason, beyond teaching someone to really perform well in this simulator. The Brand Central section, where you will be spending your credits on cars from the Showroom, is filled with vital information about cars from all around the world. Each section has small storefronts that provides information on a channel and museum. You're learning about what these cars are capable of in-game and the history of various makers, while also finding out real world details like max power, drivetrain, and weight.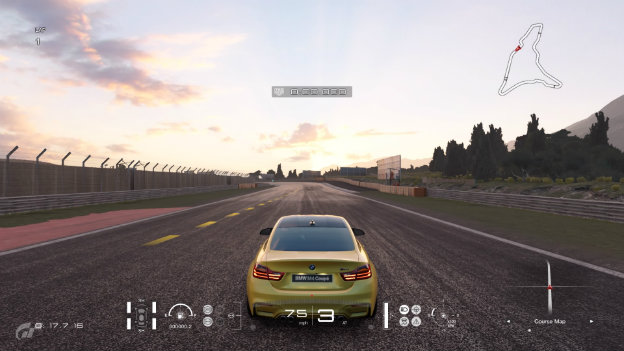 Yet, this makes this all the more unfortunate that Gran Turismo Sport has such a shortage of cars. There are only 163 cars and 28 tracks in the game right now. They're all relatively recent releases, with most cars being released after 2000. To compare, the PlayStation 3's Gran Turismo 5 had 1,086 cars and 73 tracks and Gran Turismo 6 had 1,226 cars and 100 tracks. Not to mention Microsoft's Forza Motorsport 7 has over 700 cars and 200 possible tracks. Also, if you liked dynamic weather and day-night cycles, you'll find both are absent here. When you set a race, you choose from seven different time of day/weather combinations and three difficulty levels. It's just so limiting.
At least what is there looks good. Gran Turismo Sport is a gorgeous game. It runs smoothly and well. The way light and shadows play off of the cars accentuates their details and makes them feel at place in the world. Especially when you head into Scapes, the game's photo mode. There are lots of backdrops to choose from, you can place multiple cars in the shots, you can alter the way the existing image and cars look, and basically adjust and tweak everything until it looks absolutely stunning. Combine this with a very detailed Livery section populated with items collected from the Mileage Exchange, and you can customize cars you've collected and create some incredible shots.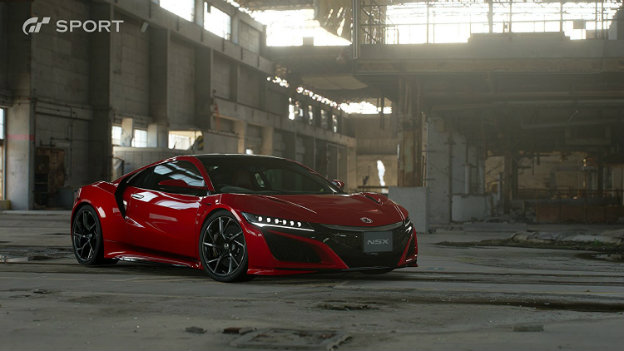 Speaking of the Mileage Points, they point to a thing Gran Turismo Sport does very well. This is a game that encourages you to play. Certain activities and options are locked away until you reach certain levels, as are different tracks. Credits can be used on Brand Central cars and earned from various activities, while Mileage Points earned whenever you drive can be used on Livery items and special cars in Mileage Exchange. There are daily activities that reward you for checking in and putting time in with the game. Plus, achievements actually provide tangible, in-game rewards, which is far more rewarding than any pop-up.
Gran Turismo Sport feels like a game people shouldn't be buying now. Rather, it is something that should be revisited in three or six months. There is too much that needs to be done here. While it handles and looks well, with an Arcade mode and online elements that are rather solid, the Campaign isn't fulfilling and too much gets locked away the second online connectivity has been taken away. There are too few cars and tracks here, something that will hopefully be remedied with both free and paid updates. If it gets the proper support, it could end up being a respectable entry in the series. At the moment, Gran Turismo Sport feels like a precursor to greater things.
RATING OUT OF 5 RATING DESCRIPTION 4.7 Graphics
This is a gorgeous game, with detailed cars and the option to tweak their appearances to your liking. 5.0 Control
Gran Turismo Sport offers multiple control options so everyone, from hardcore players to casuals, can find something accurate and comfortable that works for them. 4.0 Music / Sound FX / Voice Acting
Cars sound rather good and realistic, and most of the soundtrack is good. A little more ambient noise would have been nice. 3.0 Play Value
15-20 hours will see you through the story, and give or take a bit more to polish off the side quests. Linear structure and shallow combat don't offer much replayability. 3.7 Overall Rating – Good
Not an average. See Rating legend below for a final score breakdown.
Review Rating Legend
0.1 – 1.9 = Avoid
2.5 – 2.9 = Average
3.5 – 3.9 = Good
4.5 – 4.9 = Must Buy
2.0 – 2.4 = Poor
3.0 – 3.4 = Fair
4.0 – 4.4 = Great
5.0 = The Best
Game Features:
Introducing the world's first and only online championships certified by the FIA (Federation International Automobile) – Represent and compete for your home country or favorite car manufacturer through two sanctioned Championships: Nations Cup & Manufacturers Fan Cup.

Advanced Matchmaking: Compete against your friends or the world with multiple class divisions across age, region, and driving manners, allow drivers of all skill levels to race and develop individually.

Watch & Participate: Compete in races or watch the best in the world go head to head in a live race program as they compete to build their own driving legacy, and to be crowned global champions.

Race Offline: Build your personalized garage and compete in an endless array of challenges in Campaign Mode or further improve your skills through Arcade (Single Race, Time Trial, Drift Trial, and 2- Player Split Screen)

Vision GT: More than two dozen exclusive concept cars, designed exclusively with auto manufacturers and global brands, including Bugatti, Aston Martin, BMW and Mercedes