RTS: Combat Evolved
Halo Wars remains one of the few attempts at adopting a real-time strategy game onto a console platform. With multiple hotkeys and practically necessary mouse controls, the genre is more at home in the warmth of a computer. But, thanks to Microsoft's persistence and the well-thought out design of former Age of Empires developer Ensemble Studio, the system worked and Halo Wars debatably the best RTS adaptation on a home console. Now Creative Assembly, makers of the Total War series, and with 343 Studios, Halo 's current developer, have taken over the design helm. Halo Wars 2 is the child of their procreation, a sequel that brings stunning animations and Blur crafted cinematics, a gripping campaign, and fantastic multiplayer modes, all while retaining much of the core control schematic that made the series relevant on an RTS-unkind platform.
Granted, veterans of the genre will still come away from Halo Wars 2 with criticisms about the tactical depth and comparisons to its computer-based RTS brethren. But Halo Wars 2 is not an attempt to compete with them. Instead, it focuses on streamlined base management and a quasi-rock-paper-scissors style combat. There are only two resources, supplies and energy. Both are required to create units, upgrade their potency, and improve your base. There are some energy nodes and supply caches scattered around the arena style maps, but most of your resource generation comes from the base itself. Units are separated into ground, vehicle, and air units. However, it's not a simple power triangle, as each individual unit could be effective against a different type. For example, the Warthog is great for mowing down infantry, but the Wolverine, another vehicle type, is efficient at dropping air units out the sky.
The Halo Wars 2 campaign does a fine job of introducing units and tactical elements. Each mission of the dozen offered is more or less a glorified tutorial wrapped around a gripping story. Once again, the campaign involves Captain Cutter and the crew of the UNSC Spirit of Fire, this time fighting a Brute-led force called the Banished, an enemy far more menacing than any Covenant threat. The location is the Ark, the massive structure that creates the titular Halo rings, weapons powerful enough to wipe an entire galaxy of life. The stakes are high, and with fantastic cinematics, you'll easily become attached to the characters and their against-all-odds endeavor. Perhaps even enough to tackle the campaign a second or third time to improve your mission score on a tougher difficulty.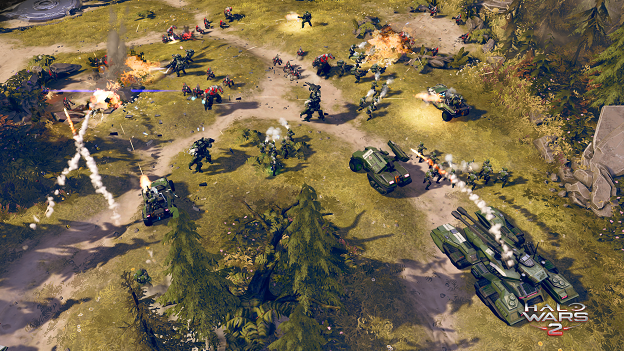 Of course multiplayer is the bread and butter of every RTS game, and Halo Wars 2 has a good footing out of the gate. There are three modes, Domination, Strongholds, and Deathmatch, with eight distinct maps to choose from. Domination requires you to hold Control Towers to win, Strongholds starts you with a massive resource stockpile to hit hard and fast, and Deathmatch continues until only one player or team is left standing. They all require different approaches, but the end goal is the same – control the map and crush the opposing team. The game makes it simple to produce units, but understanding their strengths and weaknesses and controlling them proficiently requires plenty of practice and memorization. Since waves of troops can be decimated quickly, spending time organizing specific groups as they are recruited stalls any kind of offensive push. You can create up to four custom groups, select individual unit types, and quickly swap between armies and bases to maximize your efforts. The controls are intuitive and smooth enough on the Xbox One controller that frustration should be limited. That said, a couple of minor complaints are the difficulty you may have targeting air units hanging over a mass of ground forces, as well as attempting to add single units to an existing custom group.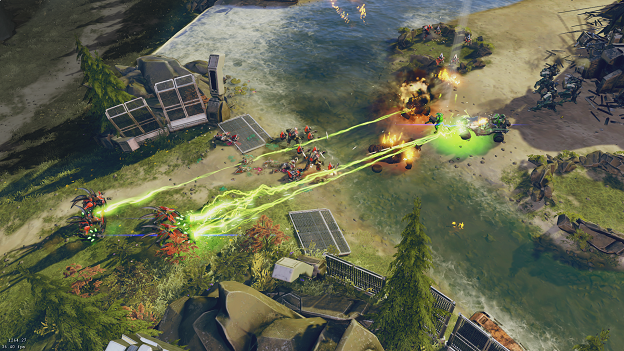 The multiplayer options are a decent primer and we're expecting additional content to continue pouring in after launch, but it's the newest mode, Blitz, that has the enticement to keep you coming back to Halo Wars 2 . In an attempt to hold more zones than your opponent, your troops and special abilities are slapped onto cards, each requiring a specific amount of energy to play. As you earn new card packs, you'll unlock more units and powers and level up existing ones, putting together a 12-card deck to take into battle. With each UNSC and Banished leader wielding exclusive cards, the variety of decks and playstyles allows for some complimentary cooperative matches. You could have an offensively aggressive deck, one built defensively to hold zones, one designed to support and heal allies, and many different combinations. It's a compelling variation on the standard formula, well-paced and loaded with flexibility to keep the mode fresh by testing out new decks and tweaking others as cards are leveled up.
The diorama-stilled main menu screen displays the detailed authenticity of the Halo universe, with every unit and vehicle lovingly crafted. When you dive into the campaign, you will find the skill of veteran cinematics studio Blur showing off some impressive cutscene handiwork. The isometric camera angle during gameplay is a staple of real-time strategy games and is simple to navigate, even with a controller. Every combatant in the arena has a unique personality, and the animations reflect their adherence to your orders. The screen can get pretty crammed with action, but I have yet to notice any frame drops, a welcome relief for any RTS gamer who knows that choppy animations can spell disaster. The brunt of the UNSC units get washed out in their standard military green paintwork, so singling out small units from the aerial vantage point can be tricky. Fortunately, each unit type can be easily accessed with the left-trigger. The UI does a good job highlighting the makeup of each group too, as well as providing an activity updated minimap and alerts to keep you apprised of every situation during your match.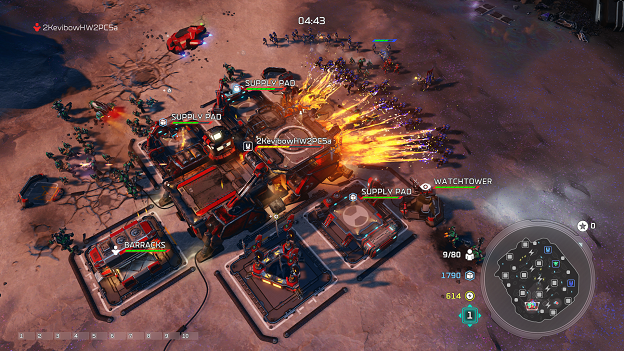 Your leader will also spout off notifications, and units will vocally acknowledge your commands. It's a necessity in a game like Halo Wars 2 , but when a match lasts close to an hour, the same replies quickly become redundant. The vocal work of the main characters during the cinematics is top notch, with Captain Cutter's rousing speech to rally his crew causing me to shout, "OOH-RAH!" along with it. The same voice work, though, falls flat during the missions or matches. Every leader sounds one-dimensional in their delivery, coming off as more of a tutorial narrator than anything. Their voices get washed out, however, when bullets and plasma start flying, and everything from the hustled footprints of ground troops to the treads of a Scorpion to an exploding Scarab rings distinctly on the battlefield. The music, as always in Halo games, is masterfully composed. With its soft piano chords, string orchestra, and percussions, the blend unique to series is a symphony for the ears.
Halo Wars 2 isn't trying to redefine real-time strategy games, but rather give fans of the genre an option on their Xbox One consoles. It's leaning on Microsoft's most cherished franchise and using it well. Of course, if you can't break yourself away from the mouse and keyboard, Halo Wars 2 has your PC covered, thanks to the game being part of the Play Anywhere program. We'll look to the months ahead for new content, but Halo Wars 2 has everything you need to get started and have you loading up match after match of RTS action.
RATING OUT OF 5 RATING DESCRIPTION 4.5 Graphics
The cinematics are flawless and the in-game action, while not highly detailed, has smooth animations with no lag. 4.3 Control
It doesn't replace the mouse and keyboard, but they're good controls for a console RTS. 4.4 Music / Sound FX / Voice Acting
There are top notch orchestrations, crisp combat sound effects, and great voice acting during the cutscenes, but voice acting stumbles and becomes repetitive during matches and missions. 4.4 Play Value
It's a modest start, as far as modes and maps, but gives us everything we need to get the sequel rolling. Blitz is by far the multiplayer highlight. 4.4 Overall Rating – Great
Not an average. See Rating legend below for a final score breakdown.
Review Rating Legend
0.1 – 1.9 = Avoid
2.5 – 2.9 = Average
3.5 – 3.9 = Good
4.5 – 4.9 = Must Buy
2.0 – 2.4 = Poor
3.0 – 3.4 = Fair
4.0 – 4.4 = Great
5.0 = The Best
Game Features:
The Return of the Spirit of Fire: Experience a riveting campaign which reintroduces the Spirit of Fire to the current Halo timeline, as Captain Cutter and his crew fight a dangerous new enemy intent on conquering the galaxy. Brought to life through detailed in-game graphics and the cinematic artistry of Blur Studio, the story of "Halo Wars 2" dives straight into the chaotic state of the Halo universe directly after the events of "Halo 5: Guardians."

The Dawn of Atriox: "Halo Wars 2" introduces a new menacing villain to the Halo universe– Atriox, the leader of a violent, mercenary force known as The Banished. The Banished bring many classic Halo alien weapons of war to the battlefield with an explosive new redesign, making them more brutal and deadly than anything the UNSC has ever encountered in their battles with the Covenant.

The Biggest Halo Battlefield Ever: "Halo Wars 2" takes place on the mythical Ark, the largest, most mysterious and most powerful installation ever created by the Forerunners. The Ark was first introduced in "Halo 3," where the Master Chief learned that it is the literal birthplace of the series' eponymous Halo rings. Now players will have a chance to fight to control that power for themselves.

A New Kind of Strategy: "Halo Wars" redefined the real-time strategy (RTS) genre on consoles and "Halo Wars 2" is set to take that evolution even further with a hybrid of action-oriented and classic tactical gameplay modes. Veteran developer Creative Assembly ("Total War: Rome II, Total War: Shogun 2") brings decades of RTS experience to the Halo universe and delivers a game which will be action-packed fun for players new to strategy games and deeply challenging and rewarding for RTS experts.