Gaming is an increasingly portable lifestyle. We have mobile games on our phones and tablets that are sometimes console quality or happen to be ports of titles that originally debuted on systems or PCs. One of the hottest platforms at the moment is the Switch, a hybrid that could be played at home or on the go. Laptops are capable of handling some of the best possible games. There are even people who take their PlayStation 4s or Xbox Ones with them when they travel. Having bags capable of comfortably and safely carrying electronics is important. Which is why someone might want the Solo New York Duane hybrid briefcase backpack . It is a stylish, capable bag that can be used however you need it.
One of the first things someone might notice when looking at the Duane Hybrid is that it has so many spaces. There is a central area, which is capable of holding a 15.6″ laptop and a tablet. It also has two pockets to easily access, with the one having a full organizer built into it for your important papers or items you might need to easily access. So right away, you have an obvious phone pocket, one for a larger tablet, and a padded area for a computer. Each one offers plenty of room and keeps the items you need in proper spaces designated for them. You would even have room for your cords.
This means that you couldn't go stuffing a PS4 or an Xbox One into a Duane Hybrid, but it does mean you fit a lot of other systems in there. A Nintendo Switch, its dock, and controllers could be popped inside. You could have a tablet in there at the same time too. Or, if you don't have a tablet, a 3DS, Vita, or both could be in the pocket that would normally hold a tablet. This could very easily transition into a bag for carrying your current gaming handhelds safely. Though, if you are okay without a dock, you could probably have your laptop in there and a Switch in what would normally be in the tablet pocket.
Being able to get everything into the Duane Hybrid isn't the only thing good about it. There is also the ability to transition between different modes, if you will. It is possible to use it as both a briefcase or a backpack. In its briefcase form, it can look quite professional. This is especially due to it being available in grey or black. Going with the backpack mode allows you to turn it sideways, with the smaller pocket positioned near your head. The briefcase form could be great in a professional setting or if you will be moving around in a place where you would need constant, easy access to a phone or tablet. But, if you are traveling or at a convention, the backpack method allows you to more evenly distribute the weight and move through crowds.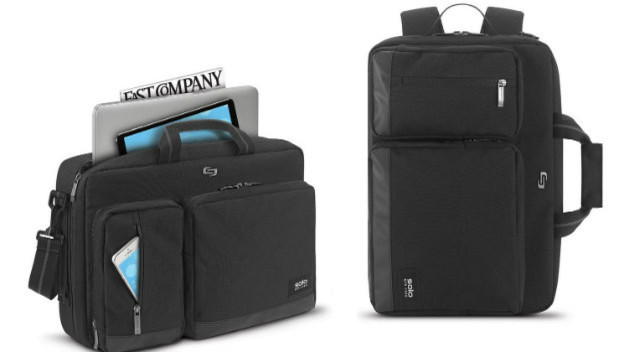 In either scenario, the Duane Hybrid is taking people's comfort into consideration. The bag has multiple padded straps. The carry handles and backpack straps both have that extra cushioning, for if you are carrying it for longer periods of time. If you are going around in backpack mode, the carry handles can be bound together with magnets, to keep them from being open and possibly caught on things. If you go in briefcase mode, you have have an optional adjustable shoulder strap, so you can help better deal with the weight if you are carrying a full load.
The Duane Hybrid briefcase backpack is a way to pull double duty. You can have a bag that could be used as a backpack to carry your electronics and important items, perhaps being a valued tool when taking a train or plane somewhere. It can be a briefcase for a professional setting, looking sophisticated and providing easy access to important materials. For $54.99, you can have a bag that can suit any sort of needs.