I married a dog.
To be more accurate, my avatar, Yu Narukami, married Koromaru. This was a while after wandering through a labyrinth inspired by Alice's Adventures in Wonderland and, after characters were shrunken down in pursuit of a key, watching Kanji and Yosuke share an accidental kiss, and not long after a Persona fusion went wrong and Margaret crushed the offending card as punishment for not doing exactly as it should.
The names may sound familiar, but the situations unfamiliar. That's because they're all moments enjoyed early on in Persona Q: Shadow of the Labyrinth , Atlus' mashup of Etrian Odyssey , Persona 3 , and Persona 4 . It also happens to be what I believe is one of 2014's most cracktastic, ridiculous games of the year. Nothing else manages to be so whimsical and delightful.
Of course, it's all intentional. Atlus is well aware of the fandom surrounding the Persona series, and people's devotion to the two most popular titles in it. Persona Q: Shadow of the Labyrinth is Persona as The Citadel DLC is to Mass Effect . It's a lighthearted opportunity to see the characters at their silliest. You'll never see something close to canon fan-fiction. Danger? Sure, there's a good chance you'll immediately be wiped out anytime you enter a dungeon unprepared. But, even the thought of failure is entertaining, as the Navigator and team will come up with quips based on situations. Have Rise as your navigator and Teddie in your party, and she'll actually sound thankful if he faints.
In fact, the over-the-top situations make Persona Q: Shadow of the Labyrinth even easier to bear. As I mentioned earlier, this is a fusion between Persona and Etrian Odyssey , the latter of which is one of the most difficult portable series you'll ever play. Think of it as the Dark Souls of turn-based dungeon-crawlers. If you aren't playing on the easiest difficulty level, you can find yourself wiped out in the first floor of a dungeon. The monsters players face are that brutal, and more than willing to capitalize on a party's weaknesses.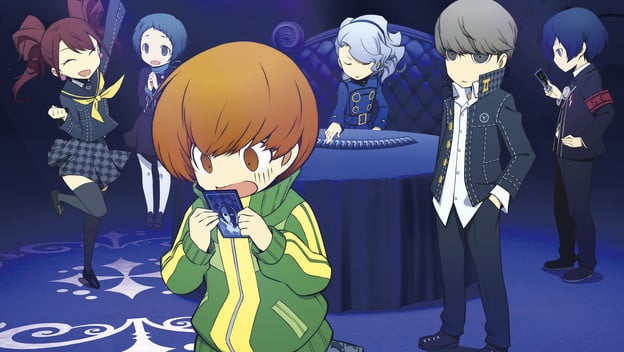 Having such lighthearted banter, jovial moments, and downright crazy situations provide a perfect juxtaposition. The presence of one takes the edge off of the other, while simultaneously making the funny moments more appreciated and the crushing battles more manageable. I'd say it even encourages replay, because the two protagonists guarantees a slightly different story each time around. Knowing that bit of extra content is there makes the prospect of challenging what some could see as a tedious affair inviting.
Persona Q: Shadow of the Labyrinth wasn't up for a Cheat Code Central Cody Award this year. If it had been, I would have voted for it, then followed the great Chicago tradition of stopping by my local cemetery and filling out absentee ballots. It featured the perfect balance of story and gameplay. Atlus easily could have tipped too far in either direction, making a story that was too ridiculous or too focused on frustratingly difficult dungeon-crawling. It didn't. Instead, the result was one of the best mashups in gaming history, and a game that certainly deserves to be recognized as one of 2014's best.