Red Dead Redemption Summary
Rockstar Games' Red Dead Redemption is the 2010 open-world Wild West masterpiece. Arriving for PS3 and Xbox 360 just two years after Grand Theft Auto IV, Red Dead Redemption represents a major leap forward for Rockstar Games. Many consider the title to be one of the best open-world action games ever, and it continues to retain a strong fan following more than a decade later. The title is set during the waning days of the American Frontier in the early 20th Century (1911, to be precise) and puts players in the shoes of the former outlaw John Marston.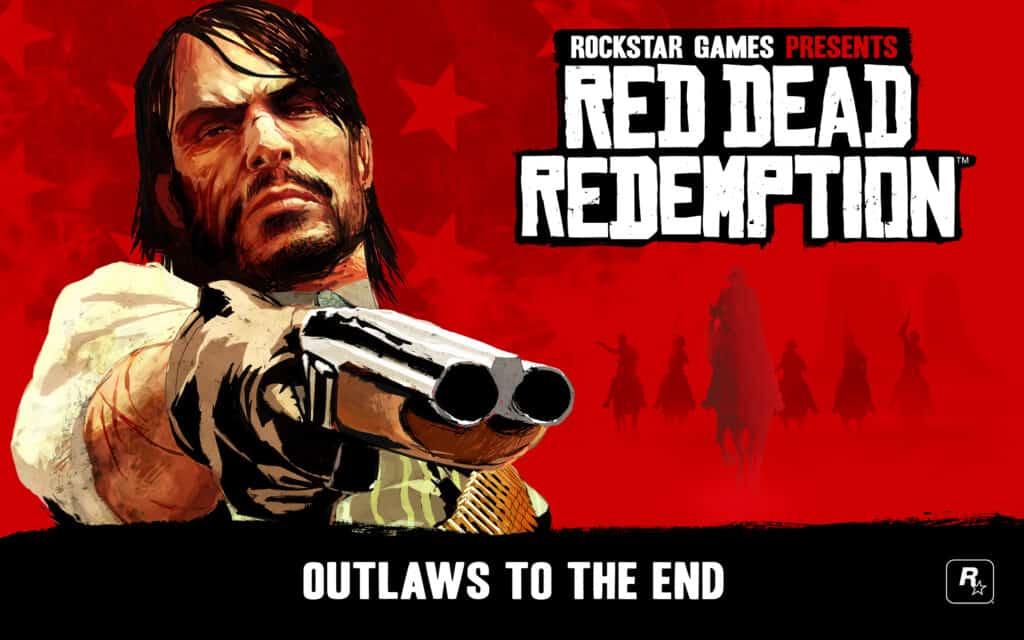 Red Dead Redemption is famous for being Rockstar Games' most-expensive game at the time of its release. It has gone on to sell over 23 million copies and spawned another critically acclaimed sequel a decade later. The game also has one of the more popular and fully-fledged DLC expansions to any Rockstar game in Read Dead Redemption: Undead Nightmare.
Red Dead Redemption Premise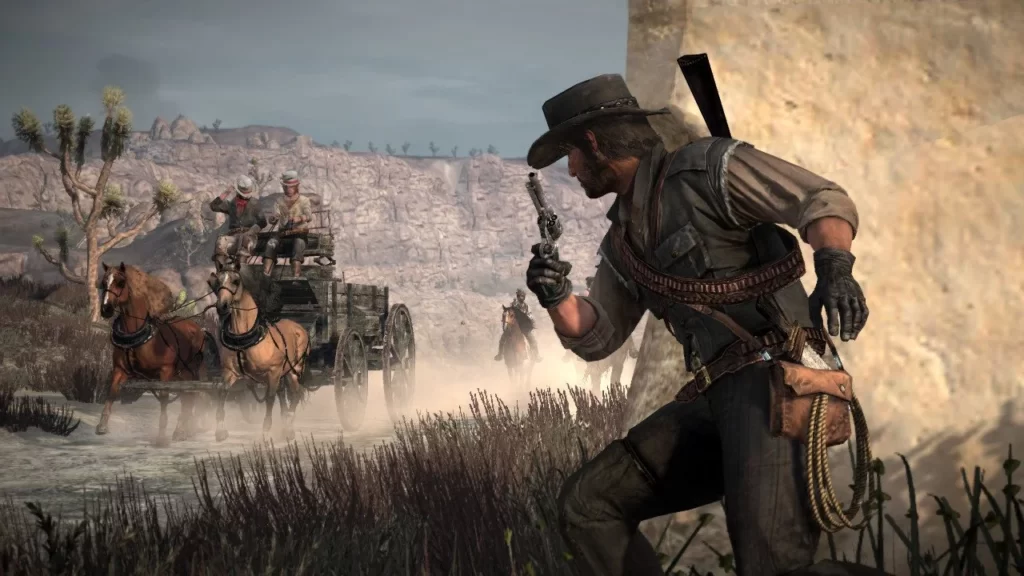 In Red Dead Redemption, players assume the role of John Marston. He is a former outlaw and member of the infamous Van der Linde Gang. The Bureau of Investigation (the precursor to the FBI) agents kidnap Marston and strong-arm him into hunting his former associates. Reluctantly accepting his blackmail at the hands of federal agents, Marston returns to the frontier to hunt down former cohorts.
The title takes place from a third-person perspective and features melee and firearm combat. The title famously utilized a variation of "bullet-time" in which Marston uses his "Dead Eye" ability to slow time and line up targets. Instead of the cars and motorcycles players use in the Grand Theft Auto series, Red Dead Redemption features travel via horseback and horse and buggy. While some towns and settlements dot the landscape, the rugged wilderness of the Wild West is where most of the gameplay takes place. As a result, hunting and tracking are essential parts of the experience.
In addition to the missions players take on from various allies, random events occur in the game world. Players choose how to approach these events and whether to help or harm NPCs. Red Dead Redemption's gameplay is recognized as one of the truest "open-world" experiences due to the freedom it affords players. However, this freedom does come at a cost, as committing crimes in the game will draw the attention of US Marshalls or Bounty Hunters. Similar to Grand Theft Auto, players will have to fend off authorities or find ways to decrease their wanted level.
Red Dead Redemption Main Characters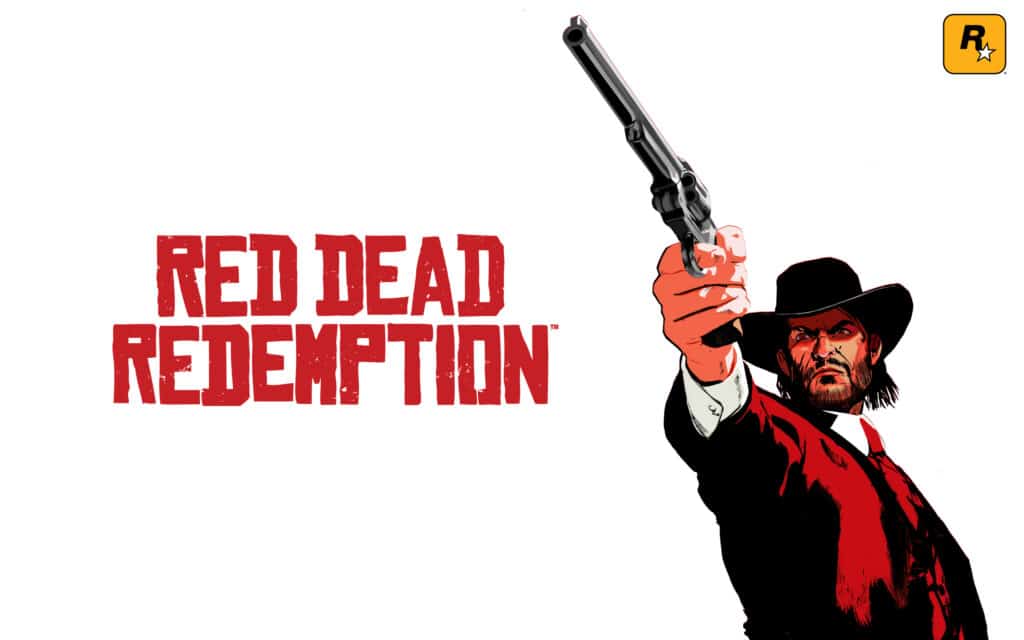 As a narrative-driven single-player experience, Red Dead Redemption features some of the most memorable characters ever created by Rockstar Games. In addition to John Marston, there are several key characters that play pivotal roles in the game's narrative. The main characters of Red Dead Redemption include:
Heroes
John Marston: John Marston is the protagonist of Red Dead Redemption. Marston is a former outlaw who has settled into a peaceful farm life. This is short-lived, as he's blackmailed by two federal agents into facing up to his past sins. He is a reluctant participant in the manhunt for his former gang members by the Bureau of Investigation.
Bonnie MacFarlane: A local rancher who discovers John Marston after being shot and left for dead. Bonnie nurses John back to health and enlists his help with various jobs in the small town of Armadillo. She will eventually help John on his mission to track down Bill Williamson.
Leigh Johnson: Johnson is a U.S. Marshall who becomes acquainted with John Marston. In exchange for Marston's help in various missions throughout New Austin, Johnson assists Marston in his hunt for Williamson.
Nigel West Dickens: Dickens is the local arms purveyor of Armadillo and is rescued by John Marston after an attempted robbery and murder. Dickens provides Marston and his crew with firepower. He also introduces our protagonist to Seth Briars and Irish.
Seth Briars: Seth Briars is a local treasure hunter and former member of Bill Williamson's gang. He decides that the gang life isn't for him and chooses instead to pursue a local legend about a hidden treasure. As a former member of Williamson's gang and an expert navigator, Briars helps Marston gain entry to Fort Mercer.
Irish: Known simply by his nationality as an immigrant, Irish is introduced to Marston by Nigel West Dickens and is the linchpin in the plan for the assault on Fort Mercer. He helps Marston acquire a gatling gun from a group of Civil War deserters.
Abraham Reyes: Reyes is the leader of a group of rebel fighters campaigning against the tyrannical rule of Colonel Agustin Allende. He assists Marston in his hunt for Bill Williamson after he flees to Mexico.
Jack Marston: Jack Marston is the son of John Marston. When we first meet him he is a teenager, but he later becomes the main character of the game's Epilogue.
Villains
Edgar Ross: Edgar Ross is one of the two Bureau of Investigation agents who kidnaps and blackmails John Marston. He enlists Marston for his help in tracking down Bill Williamson, both former Van der Linde Gang members. He is the leader of the fledgling branch of the federal government and the primary antagonist of Red Dead Redemption.
Archer Fordham: Archer Fordham is another Bureau of Investigation agent and Edgar Ross' protégé. Hot-headed and impulsive, Fordham uses threats of physical violence to coerce Marston into hunting down his former associates.
Bill Williamson: Bill Williamson, like John Marston, is a former member of the Van der Linde Gang. After leaving the gang he sets up his own criminal operation in New Austin, which draws the attention of the Bureau of Investigation. He is John Marston's first target in Red Dead Redemption.
Colonel Agustin Allende: Allende is the tyrannical leader of the Mexican state of Nuevo Paraíso. When Bill Williamson flees to Mexico after the assault on Fort Mercer, it is Allende who provides him with protection.
Dutch Van der Linde: Dutch Van der Linde is the former leader of the infamous Van der Linde Gang. A notorious criminal, he is constantly on the run from the federal government. Additionally, he is known to resist the modernization and assimilation of the Wild West into the American fabric. When Marston finally catches up to him in the climax of Red Dead Redemption, he is leading a group of Native Americans against the encroaching arm of the United States government.
Games in the Red Dead Series
Despite generating a numbered sequel nearly a decade later, Red Dead Redemption is not the first game in the series. To date, there are three main games in the Red Dead series, with only two of them maintaining the open-world formua Rockstar Games is known for. The series also has a major DLC expansion and online title. The games in the Red Dead series include:
Red Dead Revolver (2004)
Red Dead Redemption (2010)
Red Dead Redemption: Undead Nightmare (2010)
Red Dead Redemption 2 (2018)
Red Dead Online (2019)
Red Dead Redemption Cheats and Secrets
Red Dead Redemption features an in-game cheat menu that players can use to input various code phrases that unlock bonuses. Additionally, there are several cheats that are unlocked at the beginning of the game that are accessible from the Cheats section of the menu. Note that enabling any cheats will disable the ability to earn Achievements/Trophies.
Cheat Codes for Red Dead Redemption on PS3/Xbox 360
The following cheat codes can be entered by navigating to the "Cheats" tab of the Options menu in the game's pause screen. Cheat code phrases are not case-sensitive but must include punctuation as it appears.
CODE
DESCRIPTION
He gives strength to the weak
Invincibility
I don't understand imnfinity
Infinite Deadeye
Abundance is everywhere
Infinite Ammo
Make hay while the Sun shines
Infinite Horse Stamina
I wish I worked for Uncle Sam
Immune to wanted levels
They sell souls cheap here
Decrese bounty by $500
You got yourself a fine
pair of eyes
Unlock all areas
It's my constitutional right
Unlock Gun Set 1
(Volcanic Pistol, Springfield Rifle,
Double-Barreled Shotgun)
I'm an American. I need guns
Unlock Gun Set 2
(Buffalo Rifle, Schofield Revolver, Winchester Repeater, Fire Bottle, Semi-Auto Pistol, Sawed-Off SG)
The root of all evil, we thank you!
Grant player $500
Beasts and Man together
Spawns a random horse nearby
Now who put that there?
Spawns a coach, wagon or cart
I'm drunk as a skunk and twice as smelly
Permanantly sets the camera
into Drunk Mode.
Oh my son, my blessed son
Changes John Marston to Jack;
completes all story missions.
Humility before the Lord
Decreases Fame ranking to zero
I am one of them famous fellas
Increase Fame ranking to max
It aint pride. It's honor
Set Honor ranking to maximum
The old was is the best ways
Applies a sepia filter to camera
Don't you look fine and dandy
Unlocks fancy outfits
(Gentleman's Attire, Elegant Suit, Rancer, and Legend of the West)
You think you tough, mister?
Unlock gang outfits
(Walton's Gang, Bollard Twins,
Treasure Hunter,
Bandito, Reyes' Rebels)
I love a man in uniform
Unlock military outfits
(US Army, Bureau,
US Marshals)
Included Cheats for Red Dead Redemption on PS3/Xbox 360
The following cheats are included in Red Dead Redemption at the start of the game and can also be accessed under "Cheats" in the menu. While these cheats were originally granted as a bonus for linking the Rockstar Social Club to a Gamer Tag or PSN ID, they were added as a default in a later patch. Using these cheats will also disable all Achievements/Trophies.
| | |
| --- | --- |
| Cheat Name | Description |
| Bad Guy | Set Honor Ranking to lowest level |
| Beastmaster | Makes wildlife friendly |
| Change Weather | Cycle to another weather preset |
| Clear Bounty | Eliminates any accrued bounty |
| Dead Eye Level 1 | Raise Dead Eye ability to Rank 1 |
| Dead Eye Level 2 | Raise Dead Eye ability to Rank 2 |
| Dead Eye Level 3 | Raise Dead Eye ability to Rank 3 |
| Donkey Rider | Spawn a rideable donkey nearby |
| Every Shot Counts | 1-Hit Kills |
| Guns Blazing | Incediary Ammunition |
| Gun Set 3 | Unlock Dynamite, Henry Repeater, Dual-Action Revolver, Rolling Block Rifle, High Power Pistol, Pump-Action Shotgun |
| Gun Set 4 | Unlock Mauser Pistol, LeMat Revolver, Bolt-Action Rifle, Evans Repeater, Carcano Rifle, Semi-Auto Shotgun |
| Increase Bounty | Raise bounty value immediately |
| Punch Out | One-Punch KO's |
| Right to Bear Arms | All civillians are armed |
| Rise Up | All civillians are armed, will often be prone to bouts of violence |
| So-So Guy | Sets Honor Ranking to neutral |
Red Dead Redemption Cheat FAQs
Are there Red Dead Redemption cheat codes?
Yes — cheats are activated by navigating to the "Cheats" tab of the Options menu. Players will need to enter the code phrases that correspond to various cheats.
What happens if you use cheats in Red Dead Redemption?
Using cheats will disable the ability to earn Achievements on Xbox 360 or Trophies on PS3. It will also disable the ability to save single-player progress.
How do you unlock cheats in Red Dead Redemption?
Some cheats (see above) are already unlocked at the start of the game, while others require knowing the correct code phrase. Additionally, cheats can either be activated if already unlocked or entered to unlock for later use.