In the game Stronghold Crusader II, players get the chance to build and manage a medieval kingdom. This real-time strategy game offers battles, economic challenges, and strategic puzzles that test your skills in various ways. Becoming the leader of your own empire is not easy. That's where cheats, tips, and tricks can give you an edge. In this article, we'll go through what to expect from Stronghold Crusader II and what it might offer in terms of cheats, codes, and more.
Stronghold Crusader II Premise
Stronghold Crusader II is a game that takes you back to the time of the Crusades. It's the 2014 game in the popular Stronghold series. In this game, you're in charge of a medieval society. You have to build an empire, collect resources, build an army, and protect your land from enemies. One of the ways you can play is to focus on peaceful scenarios that focus on building and economic strategy. You can also play war campaigns where you focus on defense and battling.
In Stronghold Crusader II, you have a variety of different units, resources, and buildings to manage. Each one has its own special role and affects your strategy. You might be building a castle, creating a group of knights, or making sure your peasants are happy and productive. Every decision you make in Stronghold Crusader II affects your kingdom's success and survival. This game is all about strategy, management, and history.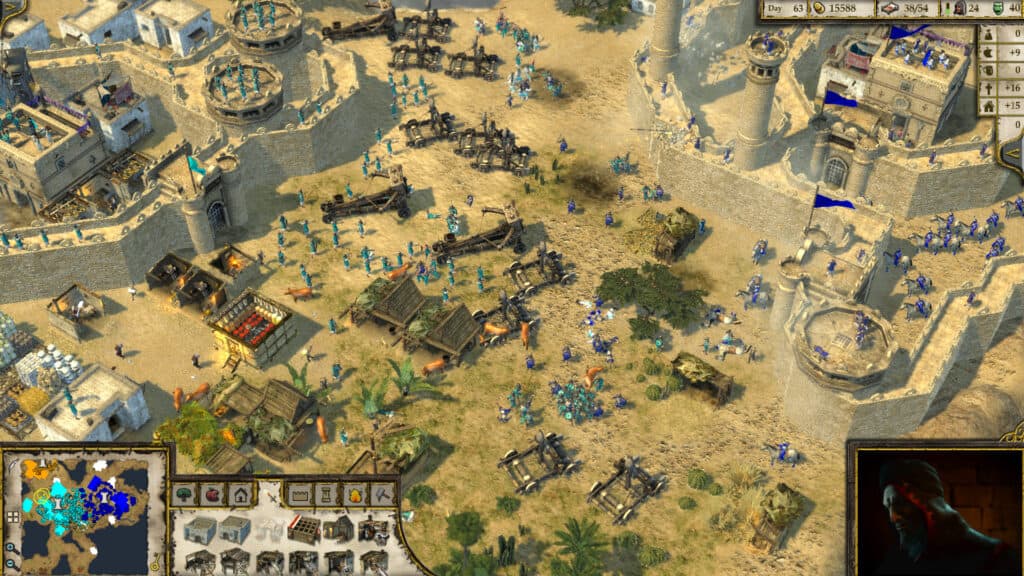 Stronghold Crusader II Characters
As a strategy game, Stronghold Crusaders II has a narrative that is based on the war and political dynamics. While there isn't a strong story-driven narrative in the game, players engage with a variety of strong characters during their reign as the king of their own crusader empire.
The Jackal: Known as a hardened desert warrior, The Jackal is a formidable opponent. He often uses heavy units, assassins, ranged units, and siege engines to launch relentless attacks on his enemies.
The Sultana: The Sultana is an enigmatic figure, driven by the desire to avenge her husband's death during the Seventh Crusade. Her leadership is marked by her commitment to her people, a firm faith, and a quiet resolve that emerges particularly when she speaks of her enemies. Favoring balance in her strategies, she employs Arabian mercenaries, constructs large castles with simple economies, and uses a variety of Arabian units in her defense and attacks.
The Princess: The Princess is a European descendant and formidable military leader. She proudly displays her strength on the battlefields of the Middle East. A young, cheerful woman known for her wit, she wears a pink outfit adorned with rubies. In terms of strategy, she builds large, well-fortified castles, relies on mobile armies for offense, and employs a diverse mix of units including Arabian bowmen, men-at-arms, and swordsmen.
The Khan: The Khan is a spirited warrior from the Mongolian steppes. He values fast attacks and high morale, using horses and open combat. He relies heavily on his trusted mounted mercenaries and has a simple take on warfare, conquering instead of building. His favorite units include Arabian bowmen, oil pot throwers, and horse archers.
The Hermit: The Hermit, once a resident of the Holy Land, turned to stealth and surprise to command his soldiers against the invading Europeans during the Third Crusade. Despite running one of the smallest economies, he employs ingenious strategies, such as the use of numerous watch towers and castles. The Hermit likes to use cheap troops, including Arabian bowmen and assassins.
The Emperor: The Emperor is driven by his desire for influence, money, and power. He really wants to reign the Holy Land. The Emperor builds large castles, maintains a solid economy, and deploys a variety of troops from catapults to conscripts.
The Templar: The Templar decided to lead his own crusade after gaining independence. He is driven by his religious commitment and a calling to expel his enemies. The Templar is always seen in full military gear, with his helmet, protective chainmail, iron gloves, and a white outfit bearing the English cross reflecting his devotion to Christianity. In terms of strategy, he builds simple castles and uses the economy to support his high-end troops. Attacks are fierce with a focus on swordsmen and crossbowmen.
The Duke: The Duke is a French royal noble trying to claim his share of his wealth and influence. He is known for his obnoxious and arrogant demeanor but is also a devoted fighter. He looks for power above all else. Strategically, his focus is on the offense, using a variety of troops, including rangers and conscripts.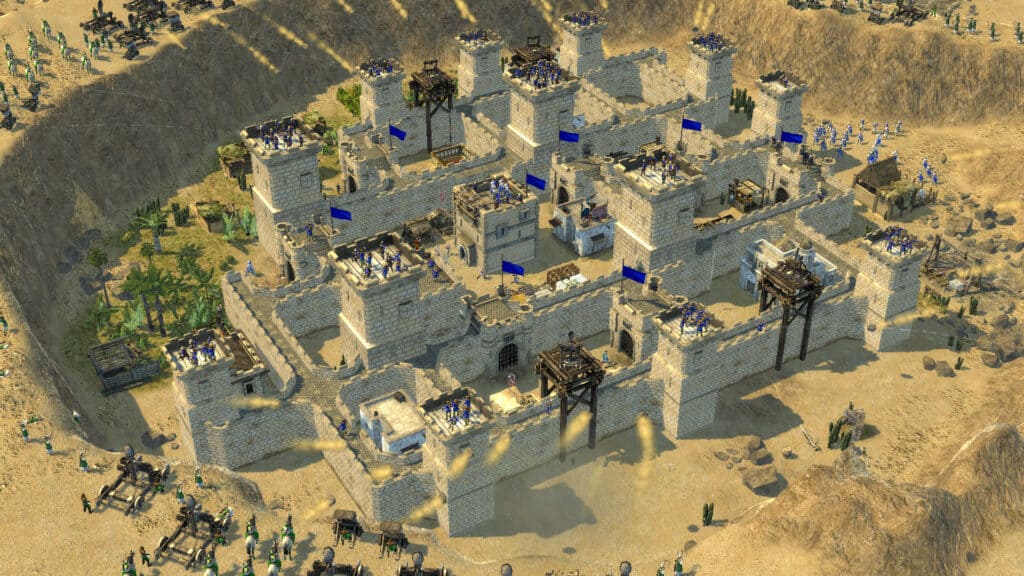 Games in the Series
The Stronghold series, created by FireFly Studios, is a game franchise of real-time strategy games that center around historical events, castle building, and warfare. The games are known for their combination of city-building elements, RTS-style combat, and historical settings. They are liked by those that look for strategic gameplay, medieval theme, and resource management in a game. The game series started with the original Stronghold in 2001 and features various types of games from strategy to MMO.
Stronghold (2001)
Stronghold Crusader (2002)
Stronghold 2 (2005)
Stronghold Legends (2006)
Stronghold Crusader Extreme (2008)
Stronghold Kingdoms (2012)
Stronghold 3 (2011)
Stronghold Crusader II (2014)
Stronghold: Warlords (2021)
Stronghold Crusader II Cheats
The game's developer, FireFly Studios, didn't add a traditional cheat code system in the game, which unfortunately limits the possibilities of developer-approved cheating. This means that if you are looking for external cheats, they might affect the overall experience and function of the game. Even instability, crashing, and other issues might result from external programs.
However, in addition to third-party programs, trainers, and other non-supported cheats, we can offer some insight that might help new players access content, like achievements. Also, there are some easter eggs you might find funny!
Make the Scribe think you are The Wolf
The Wolf is the main antagonist in the original Stronghold and also appears in Stronghold 3. Navigate to the Options on the Main Menu screen, and click on the graph logo. Next, enter "Wolf" or "The Wolf" into your character's name slot. This prompts the scribe to say "Greetings, The Wolf's not dead yet I see, sire." 
Make the Scribe think you are Darth Vader
At the Main Menu choose Options and click the graph logo. Type in "Vader" or "Lord Vader" as your character's name. The scribe will announce "Obi-wan has trained you well, but you're not a Jedi yet!"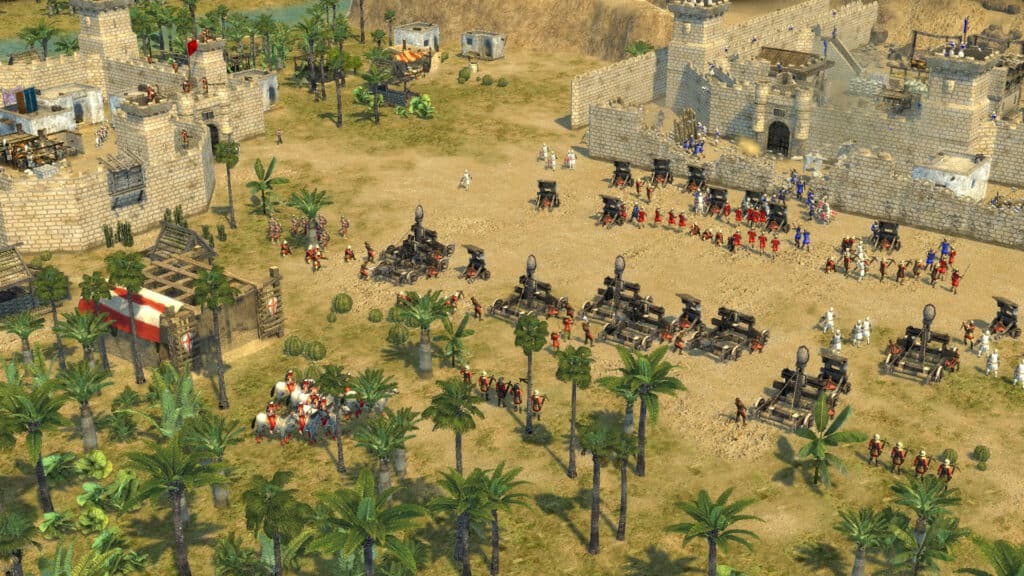 | | |
| --- | --- |
| Achievement | Description |
| "Lionheart" Campaign | Complete "Lionheart" campaign |
| "Preparations" Campaign | Complete "Preparations" campaign |
| "Saladin" Campaign | Complete "Saladin" campaign |
| All Knight Long | Have 100 mounted knights at your command |
| Animal Air Strike | Throw 100 animals |
| Architect | Build 50 towers, 50 hovels |
| Arms Dealer | Send 500 weapons to allies |
| Assassin's Deed | Kill the enemy lord with an assassin |
| Clear Passage | All trade caravans survive in "Robber Baron" within the "Delivering Justice" campaign |
| Conqueror | Achieve 5 multiplayer wins |
| Demolition Man | Destroy 1,000 buildings |
| Farmer King | Deliver 100,000 food to the granary |
| Fetchez la Vache! | Kill a lord with a diseased cow |
| Forge Lord | Deliver 10,000 weapons to the armoury |
| Industry Baron | Deliver 100,000 resources to the stockpile |
| Iron Will | Win a skirmish trail mission only recruiting melee troops |
| Let None Stand in my Way | Kill 50 enemy lords |
| Lion Tamer | Kill 5 lions with a slave driver |
| Loyal Companion | Complete "Alliance" within the "Breath of the Infidel" skirmish trail without your ally dying |
| Medic! | Heal your lord to half health from the brink of death |
| Millionaire | Generate 1,000,000 gold |
| Not So Magnficent Seven | Win a multiplayer against 7 other lords with no alliances |
| Skirmish Baron | Complete "Desert Heat" skirmish trail |
| Skirmish Duke | Complete "Way of the Warrior" skirmish trail |
| Skirmish King | Complete "Hell's Teeth" skirmish trail |
| Skirmish Knight | Complete "Breath of the Infidel" skirmish trail |
| Skirmish Prince | Complete "A Trail of Tears" skirmish trail |
| Skirmish Yeoman | Complete "Baptism" skirmish trail |
| Speedrun | Complete "Antioch" within the "Lionheart" campaign in less than 10 minutes |
| Stealth is our Defense | Complete "Justice" within the "Saladin" campaign without losing any assassins |
| Tactician | Complete "The Lion's Den" within the "Preparations" campaign on hard without training any units |
| Take the Bull by the Horns | Complete "The Horns of Hattin" within the "Freedom Fighters" campaign in less than 10 minutes |
| The Killing Joke | Kill a jester |
| Warrior 1st Class | Kill 50,000 troops |
| Warrior 2nd Class | Kill 10,000 troops |
| Warrior 3rd Class | Kill 1,000 troops |
| Welcome to the Family | Sign up for the mailing list |
| You Win or You Die | Kill an enemy lord with your lord |
FAQ
Do I need a good PC to run Stronghold Crusader II?
Not necessarily. The minimum requirements for the game are fairly low with things like Intel Core 2 Duo 2 GHz or equivalent, and 2 GB of RAM. For better performance, the developer suggests Intel Core i5 or better, and 8 GB of RAM.