In the rhythm gaming genre, few names have as large and lasting an impact as Guitar Hero. Since its debut in 2005, this series has been a cultural phenomenon, captivating players with its unique blend of music and interactivity. Below, we'll take a trip down memory lane and explore the biggest entries in the Guitar Hero video game series from its humble beginnings to its heights of fame and stardom.
Guitar Hero (2005)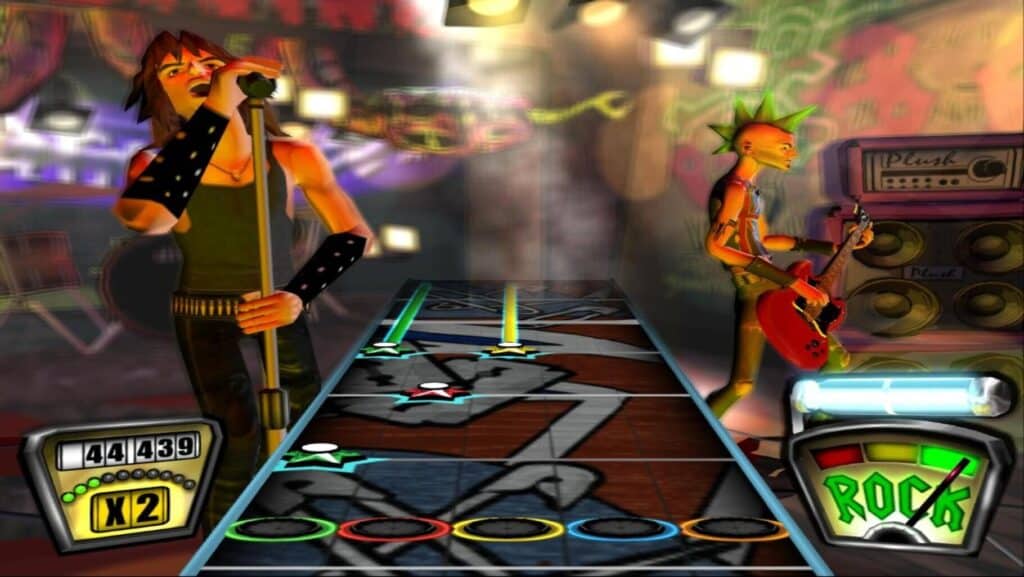 Platforms: PlayStation 2
Guitar Hero, the game that started it all, allowed players to experience the thrill of performing on stage as a rock guitarist. With its innovative guitar-shaped controller, the game challenged players to hit colored notes in sync with on-screen prompts, replicating the feeling of strumming a real guitar. The initial soundtrack also notably features a great mix of classic rock and modern hits.
The game's Career Mode guides players through a series of gigs, each with a unique setlist and difficulty level. Local multiplayer allows friends to compete head-to-head in a battle of musical prowess. Guitar Hero's success laid the foundation for an enduring franchise that totally reshaped the rhythm gaming landscape.
Guitar Hero II (2006)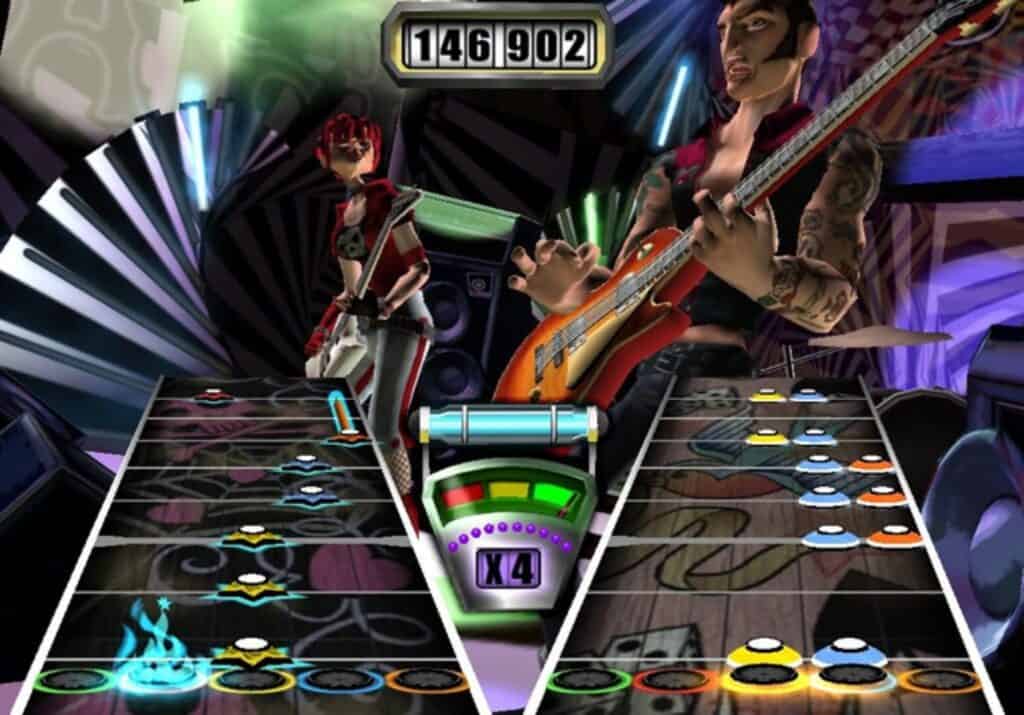 Platforms: PlayStation 2, Xbox 360
Building upon the first game's success, Guitar Hero II expands the songlist and introduces some new features. It continues the legacy of rock stardom, letting players choose from an even wider range of iconic tracks.
Co-op mode also makes its debut. This allows two players to collaborate on songs, one on lead guitar and the other on bass. This sequel also introduces Practice Mode, enabling aspiring rockers to master challenging sections at their own pace. Guitar Hero II is arguably the game that solidified the franchise's place in pop culture and set the stage for what was to come.
Guitar Hero III: Legends of Rock (2007)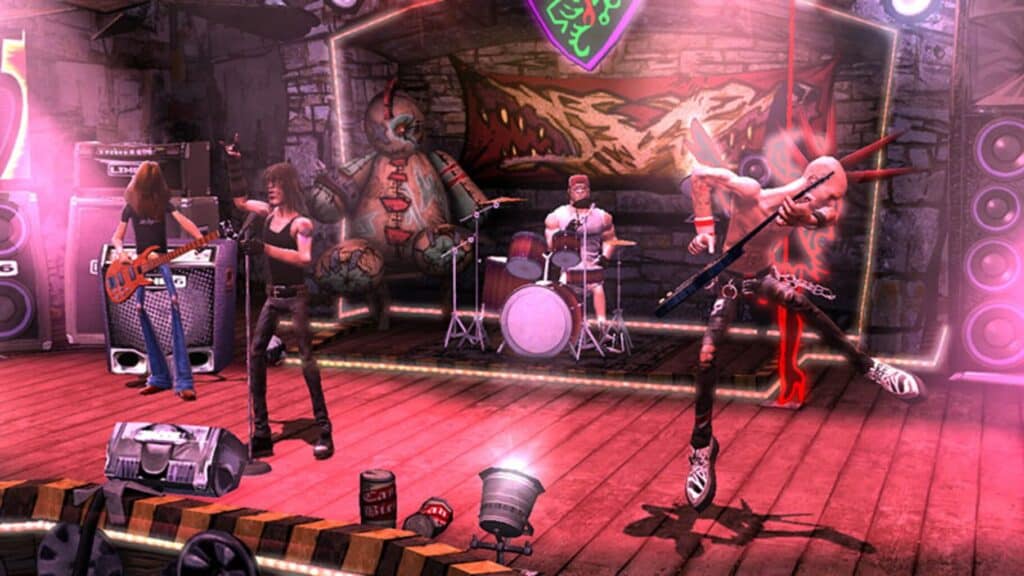 Platforms: PlayStation 2, PlayStation 3, Xbox 360, Wii, PC
Guitar Hero III: Legends of Rock ups the ante by introducing boss battles, pitting players against legendary guitarists in intense musical showdowns. The game's tracklist also boasts an eclectic mix of genres, appealing to a broader musical audience.
Online multiplayer makes its first appearance here, allowing players to challenge opponents worldwide. The introduction of the wireless Les Paul controller improves gameplay immersion too. Guitar Hero's rockstar fantasy reached new heights with the third entry. The addition of DLC further extended its replay value.
Guitar Hero Encore: Rocks the 80s (2007)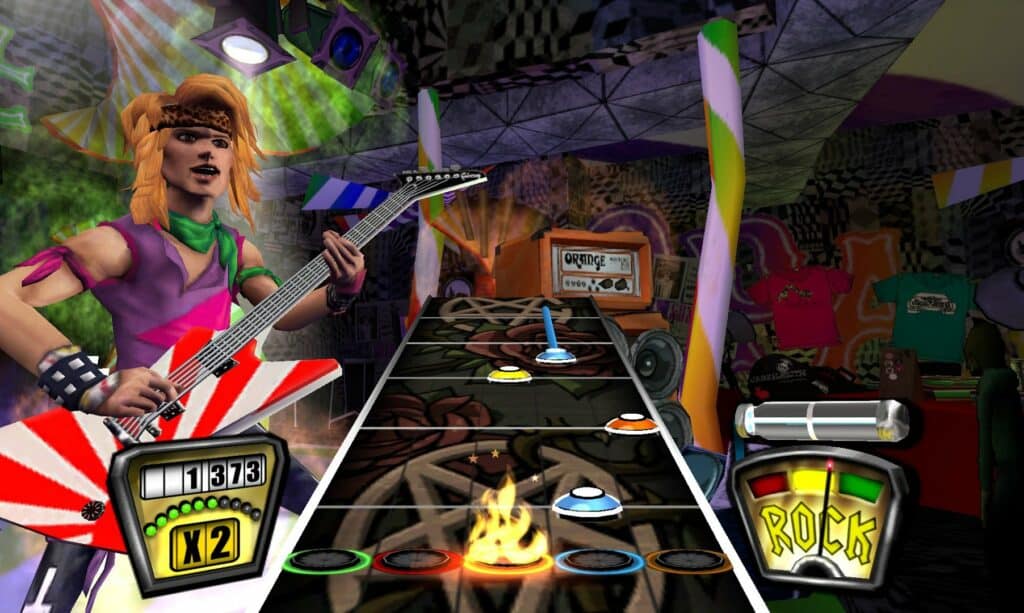 Platforms: PlayStation 2
This standalone expansion pays homage to the 1980s, featuring a selection of iconic songs from the era. It keeps the core play mechanics of earlier games while providing a nostalgic journey through one of the most historic periods of rock and roll.
It didn't bring any groundbreaking new features to the table, but the game's thematic focus on the '80s gave a fresh twist to the familiar formula.
Guitar Hero: World Tour (2008)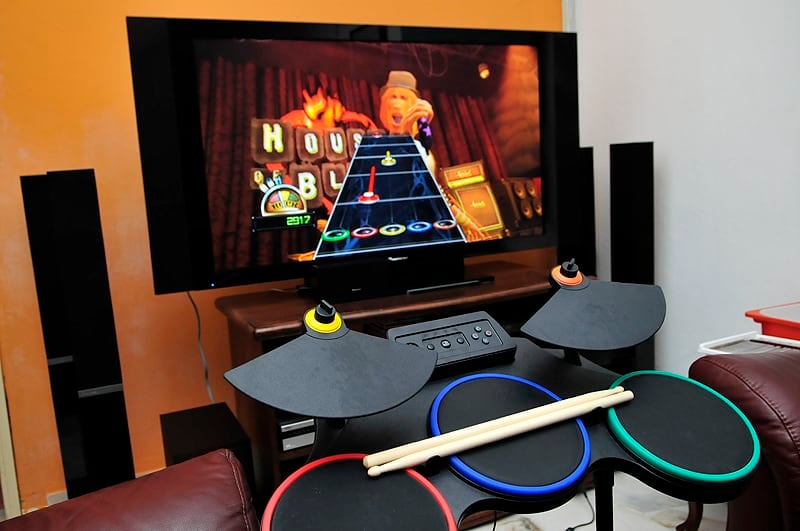 Platforms: PlayStation 2, PlayStation 3, Xbox 360, Wii, PC
Expanding beyond the guitar, Guitar Hero: World Tour introduced full-band gameplay. This lets players take on the roles of vocalists, drummers, and bassists. This marks a significant step toward a much broader music experience.
The game's Music Studio feature enables players to create and share their own songs, fostering a community of grassroots user-generated content. The addition of a touch-sensitive slider on the guitar controller also adds more depth to note patterns. With a diverse setlist and new collaborative gameplay, Guitar Hero: World Tour aims to be a complete rockstar journey.
Guitar Hero: Aerosmith (2008)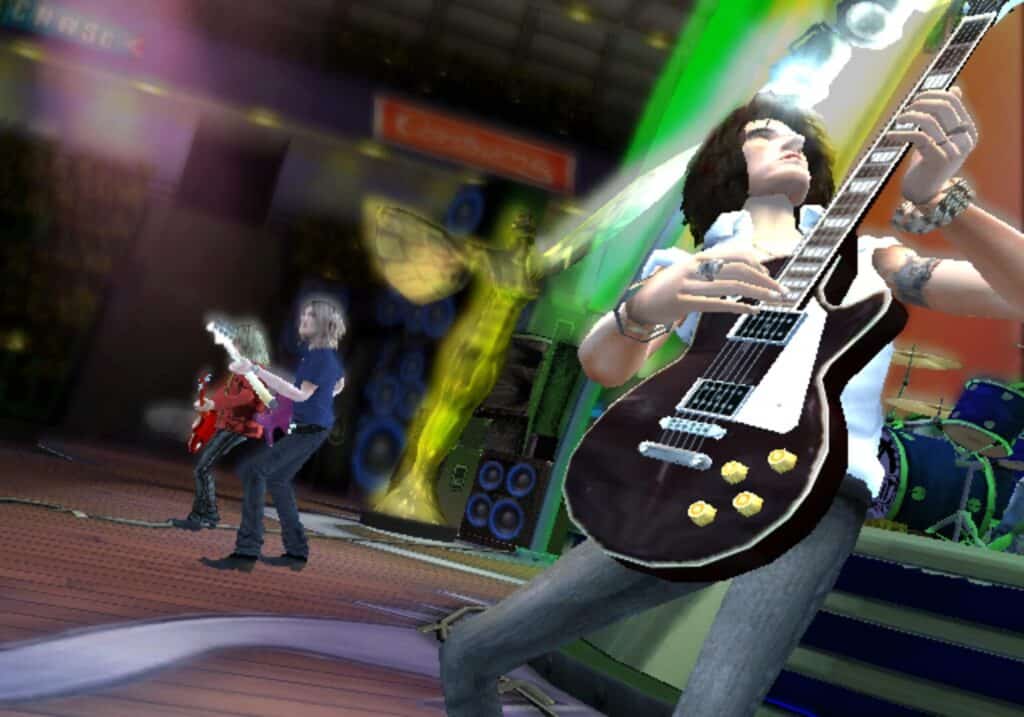 Platforms: PlayStation 2, PlayStation 3, Xbox 360, Wii, PC
Released in 2008, Guitar Hero: Aerosmith celebrates the American rock band Aerosmith. This standalone expansion offers a dedicated experience for fans of the band, allowing players to dive deep into Aerosmith's legendary career.
Guitar Hero: Aerosmith follows the band's journey from their early days to their rise to rock stardom. Players assume the roles of the Aerosmith band members, progressing through various venues that played pivotal roles in the band's history. The game features 41 tracks that encompass Aerosmith's biggest hits and songs from artists that influenced their music. Venues like Max's Kansas City and The Orpheum provide a backdrop to this rock-and-roll journey. The expansion includes historical video footage and interviews, immersing players in the band's legacy.
Guitar Hero: Smash Hits (2009)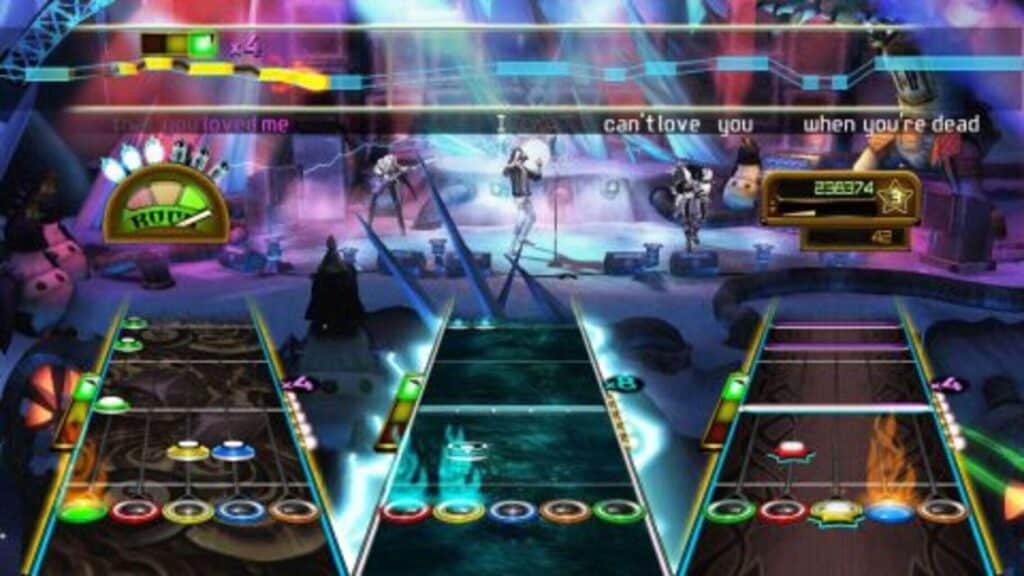 Platforms: PlayStation 2, PlayStation 3, Xbox 360, Wii
Another standalone compilation, Smash Hits revisits the best songs from the earlier games and remasters them to fit the updated mechanics of later titles. It acts as a celebration of the series' roots and a "love letter" to the fans.
While not introducing any huge features (it's an expansion, after all), the game's focus on nostalgia appealed to the fans. It also offers players an opportunity to relive classic tracks with the latest gameplay enhancements.
Guitar Hero 5 (2009)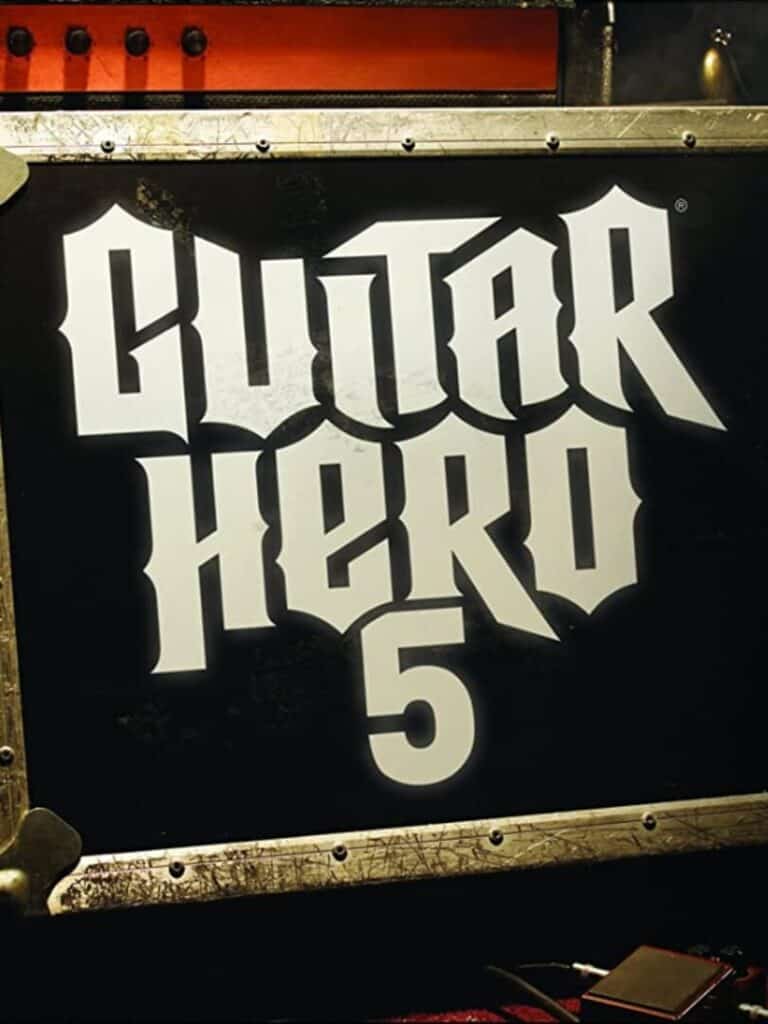 Platforms: PlayStation 2, PlayStation 3, Xbox 360, Wii
Guitar Hero 5 aimed to deliver even more flexibility and freedom in gameplay. Players can now seamlessly drop in and out of songs, and band members aren't tied to predetermined roles.
The game's Party Play mode allows rockers to jump into songs without navigating menus, encouraging a more social experience. The improved graphics and slicker user interface also adds to the overall immersion. Guitar Hero 5 embraces accessibility and smooth multiplayer dynamics, cementing the series as a party favorite.
Guitar Hero: Metallica (2009)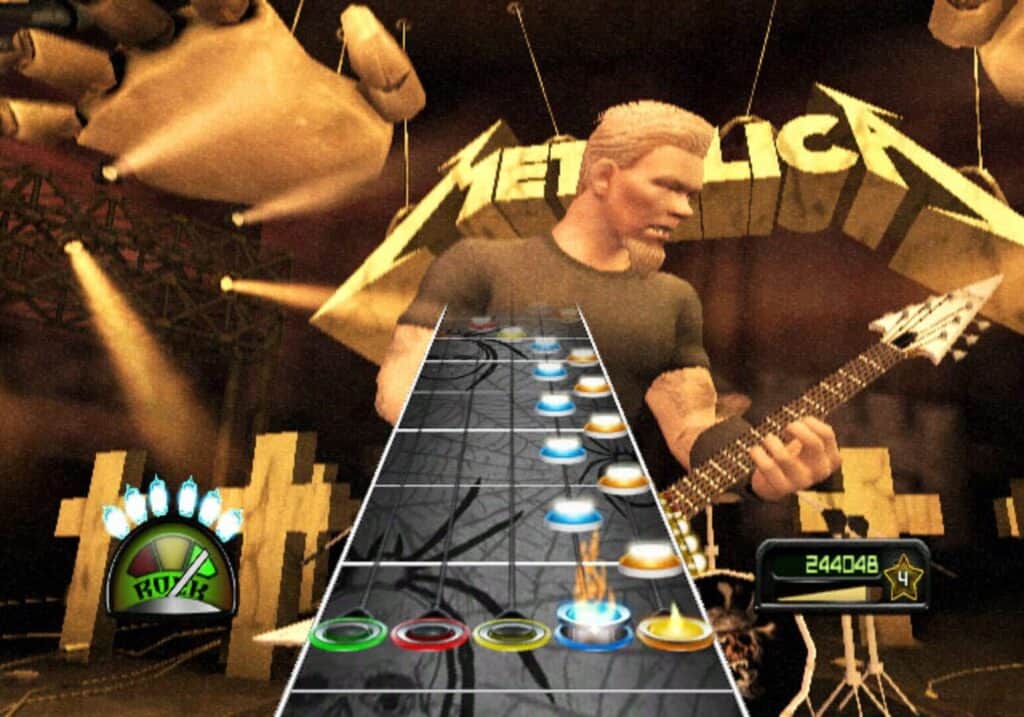 Platforms: PlayStation 2, PlayStation 3, Xbox 360, Wii
Guitar Hero: Metallica, released in 2009, takes center stage as a dedicated homage to the iconic heavy metal band. This expansion allows players to shred through Metallica's extensive catalog of electrifying tracks.
This entry puts players in the shoes of Metallica's members, letting them experience the band's evolution and monumental moments. Boasting a setlist of 49 tracks, including some of Metallica's greatest hits, players are also treated to songs from bands that influenced the band's musical direction. With themed venues and a tour mode that spans the band's illustrious history, players can feel the intensity of Metallica's performances. In addition, unique challenges are tailored to test players' skills on Metallica's most iconic tracks.
Guitar Hero: Van Halen (2009)
Platforms: PlayStation 2, PlayStation 3, Xbox 360, Wii
Also making its debut in 2009, Guitar Hero: Van Halen salutes another legendary rock group. This expansion transports players to the heart of Van Halen's energetic performances and iconic songs.
Guitar Hero: Van Halen allows players to step into the shoes of Van Halen's members, emulating their electrifying stage presence. The game's tracklist showcases Van Halen's most iconic tracks, from "Jump" to "Hot for Teacher," alongside songs from artists that inspired the band's distinctive sound. The venues within the game are themed after real-life Van Halen performance locations, adding an authentic touch to the experience. The expansion even features guest characters like Eddie Van Halen's son, Wolfgang Van Halen.
Band Hero (2009)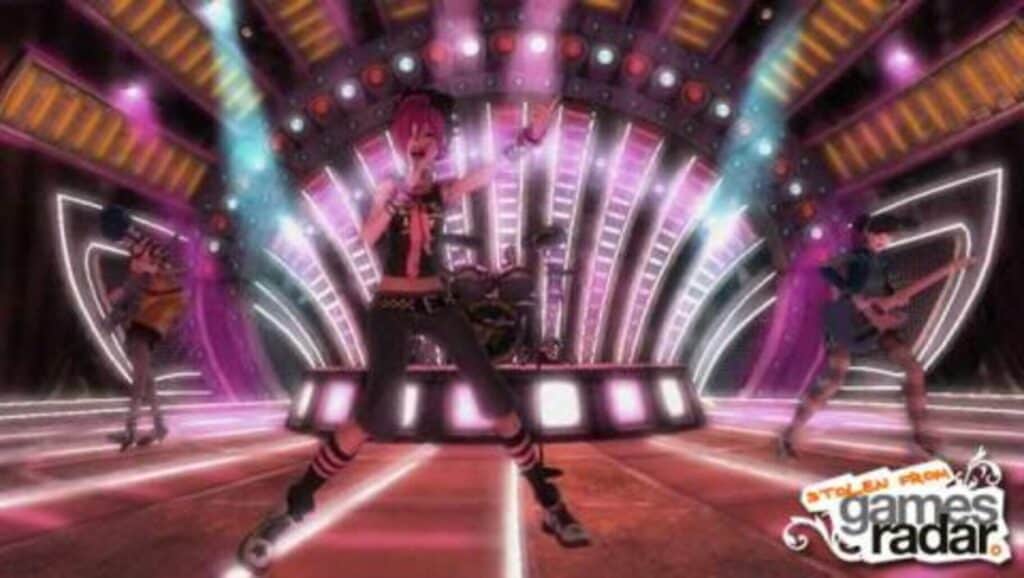 Platforms: PlayStation 2, PlayStation 3, Xbox 360, Wii, Nintendo DS
Tailored to a broader audience, the aptly named Band Hero offered a more family-friendly approach to the rhythm genre. The game's tracklist features a wider mix of pop hits and classic tunes rather than over-focusing on rock and roll.
While sharing many mechanics with the fifth main title, Band Hero distinguishes itself with its lighter tone and more diverse soundtrack. The inclusion of custom avatars also allows players to create their own unique in-game personas. Band Hero's focus on inclusivity and cross-generational appeal widened the series' reach.
Guitar Hero: Warriors of Rock (2010)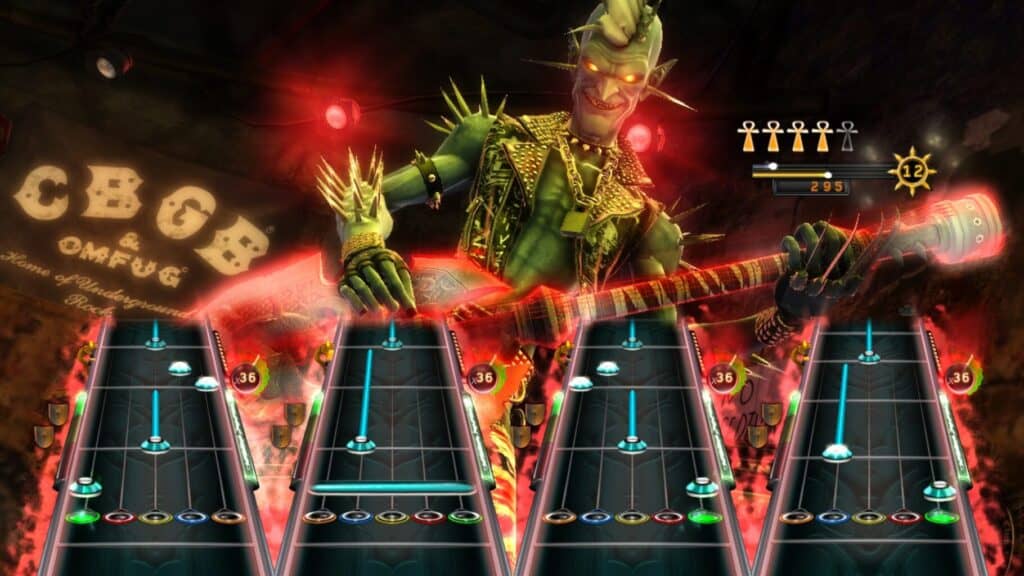 Platforms: PlayStation 3, Xbox 360, Wii
Guitar Hero: Warriors of Rock aims for an epic, story-driven experience. The game features a cast of characters on a quest to save rock and roll, adding some narrative depth to the familiar gameplay.
The new Quest Mode guides players through a series of challenges, each tied to a specific character's story. The game introduced the concept of "Warrior Powers," which adds unique abilities to enhance gameplay. With its dramatic story and new mechanics, Guitar Hero: Warriors of Rock marks a fun departure from the series' traditional formula.
Guitar Hero Live (2015)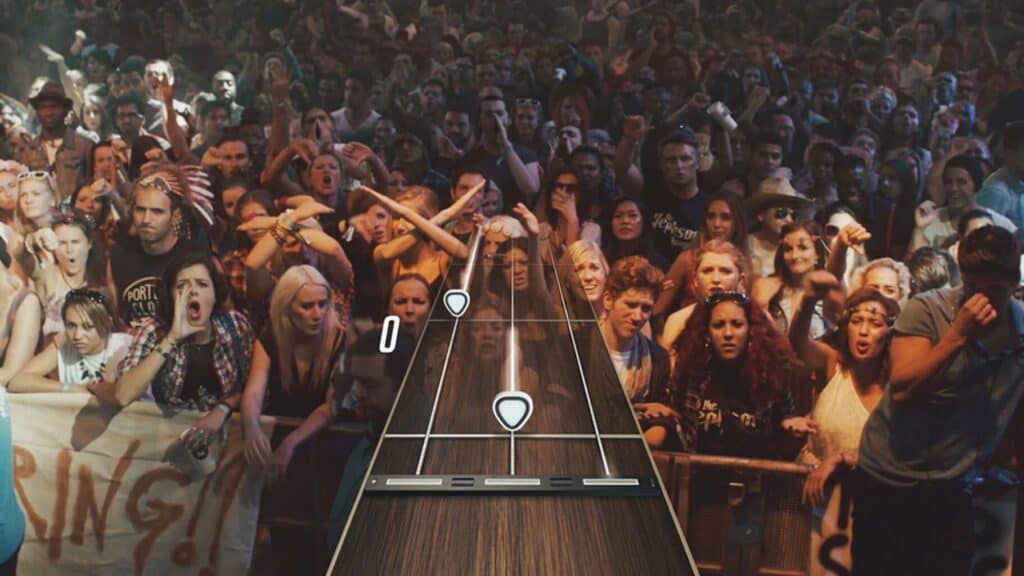 Platforms: PlayStation 3, PlayStation 4, Xbox 360, Xbox One, Wii U
Guitar Hero Live introduces an even more radical departure from previous titles with its first-person perspective. Players now experience the thrill of rocking on stage from the eyes of the guitarist.
The new guitar controller design includes two rows of three buttons, better simulating the feel of real chord shapes. The game also featured GHTV, a streaming service offering a wide variety of songs for players to jam along to. Guitar Hero Live's immersive perspective and focus on live performances aims to capture the essence of being a rockstar.
The Guitar Hero series revolutionized the rhythm gaming genre with its unique gameplay and diverse soundtracks. From its debut in 2005 to its innovative twists in later installments, the series continually pushed the boundaries of player engagement and music integration. Each title added something new to the mix, from instrument variety to gameplay mechanics, creating a legacy that resonates with players and rock fans alike. Sadly, there's no telling when (or even if) we'll ever get another main Guitar Hero title. But whether you're shredding classic hits or taking part in epic guitar battles, there's no denying that this series offers a one-of-a-kind journey through the world of rock and roll.