Ghost Recon: Wildland Breaks New Ground
Tom Clancy's Ghost Recon: Wildlands is the latest installment in a storied franchise that's appeared on several platforms since it's debut in 2001. The Ghost Recon name has always been synonymous with strict, directed gameplay that's carefully packaged around a deep and complex storyline. Unfortunately, its Achilles heel has always been the game's inability to deviate from the prescribed path. Ghost Recon: Wildlands shatters that notion by not only removing the point A to point B restriction in favor of a massive open world, but does so in a unique manner that it must be experienced first-hand. Ghost Recon: Wildlands is another new, fresh, and innovative first-person shooter that is certainly going to content for game of the year.
This year's installment takes some quantum leaps forward by finally giving players what they want through strategically borrowed elements from just about every one of it's predecessors, namely Grand Theft Auto, Just Cause, Call of Duty , and Battlefield . The setting is very GTA -esque, with a living open world that offers significantly more interactions with civilians, weapons, vehicles, and everything in between. Bolivia is your stomping ground across 21 regions, all packed with different climates, vehicles, weapons, and subcultures. Each unique one gives you new and unique ways to combat enemies in what certainly might be one of the biggest open-world area the gaming platform has ever seen.
Players journey through the vast land with a crew of three other Ghosts and are tasked with taking down Bolivia's Santa Blanca cartel. Ghost Recon: Wildlands goes into great depth for the reasons behind taking down the most powerful cartel in the world, but I'll leave those for you to learn on your to avoid any spoilers. The team may seem to operate on the lean side, but the three companions are more than capable of laying waste to enemies. In fact, they saved my ass on a number of occasions. More specifically, once I walked stupidly into what seemed to be a rather large drug exchange during my first hours of gameplay. Thankfully my fellow ghosts took down the crew and revived me so I could continue the fight.
My initial impression of the missions, which were not good upon first firing up Ubisoft's new title – I was a little taken back to say the least. That is, until I dove deeper into the storyline's complex web. The first two missions are pretty easy, with minimal resistance from the Santa Blanca homies. You run in, take down some enemies after highlighting them on with your sweet drone, and then dip out like you own the place. It's pretty straightforward stuff, with nothing unique or groundbreaking. However, the next series of missions that followed really blew me away and exemplify why this title is a contender for game of the year.
My awful initial experience was purposely executed in that manner. I just didn't quite understand it at the time. Rather than give me one point of entry, as I've come to expect from any Ghost Recon game, I was essentially given multiple paths and angles. In other words, during my first few missions, I could have either went in guns blazing like I initially did. I also could have deviated from that path by sniping my way in or busting down a head boss and interrogating him. I only found this out after Ghost Recon: Wildlands basically said "hey stupid, use the cool options we have so you can pick your own path."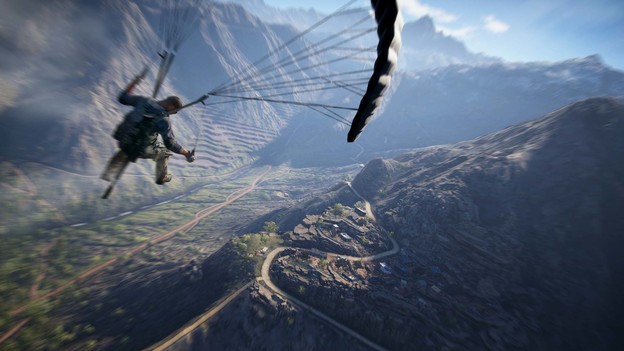 The other really awesome part of these missions is the ability to collect intel before taking on parts of the main story. Ghost Recon: Wildlands allows players to tackle side missions to gain intelligence that will not only aid in the long run, but essentially allow them to create their own storyline on the way to taking down Santa Blanca. I found myself journeying through side missions to gain access to valuable details that all tied together in the end. The sheer complexity of is mind boggling when you take into account that every accepted and declined mission builds another layer onto the story. Players can essentially interpret the game based on their direct actions, which means my experience is different from yours, even if we've all completed the final end mission.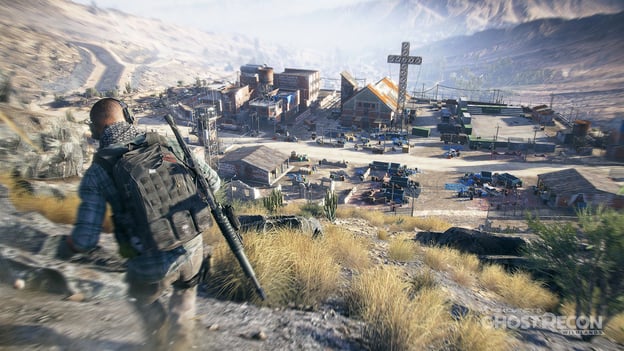 The gameplay is certainly still Ghost Recon , with it methodical tactics, high cover, and general sense of realistic military black ops. Ghost Recon: Wildlands seems much more calculated and realistic than in previous years, which I think is long overdue for both the series and the genre. Sniping feels authentic, with a heighten sense of difficulty, while the semi-automatics and side-arms feel powerful and tactful, yet human. The controls, as a whole, feel perfect, with just the right amount of precision.
Ubisoft added just the right amount of customization options to compliment the impressive and authentic open-world gameplay. Skill Points allow you to upgrade your ghost's attributes and how you handle your weapons, your team, and the resources around you. One of the more interesting skills comes in the form of increasing your ability to take down multiple targets with the sniper rifle. This comes in handy when you're attempting to tactfully complete missions, as opposed to going in guns blazing. Loadouts are pretty awesome as well and allow players to alter and modify their arsenal of weaponry either between missions or during a firefight via the weapons crate. The Gunsmith, contained within the Loadout screen, is by far the most interesting accessory. It allows you to change every single aspect of your firearm, from the type to the grip, stock, barrel, suppressor, and even the sights. Heck, you can even slap a nice paint job on it and match your surroundings for the ultimate cover. These features tie together Ghost Recon: Wildlands and drastically improve its replayability.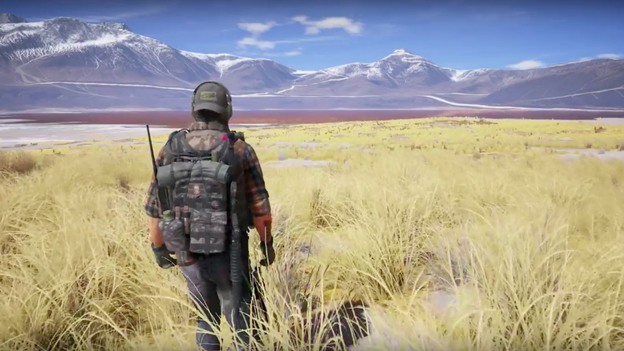 The only negatives are terrible driving mechanics for every vehicle and too much rehashing of mechanics and ideas we've seen in GTA 5 and Just Cause 3 . At times, I felt as if I were knee deep in a GTA game, but with a much more deadly set of skills. It was comical, at times, to jump into a luxury car with tactical gear, two main weapons, and goon squad of ghosts. Then again, maybe this is how the black ops and special forces guys roll in the field. Nonetheless, I'd like less car driving and more trolling through the woods with face paint and bandanas.
In the end, Ghost Recon: Wildlands should certainly be on your list of games to check out in 2017. It's quickly becoming my favorite first-person shooter of the year, thanks to its impressive landscape, captivating storyline and fully customizable characters. The short list of negatives pale in comparison its highlights. All and all, Ghost Recon: Wildlands delivers and should easily be a contender for 2017's best first-person shooter, if not best game. It's magnificent, unique, and certainly worth your time.
RATING OUT OF 5 RATING DESCRIPTION 4.5 Graphics
Unique renderings make for a more lifelike experience that compliments the gameplay well. 4.5 Control
Solid controls that remind the diehards why they waited so long for this title and the newcomers wondering why they never played a game in the series before. 4.0 Music / Sound FX / Voice Acting
Voice-overs are well done, despite the overuse of military jargon. 4.5 Play Value
The open-world exploration alone is worth the piece of admission. Lots of replay value that will keep gamers engaged until early summer. 4.5 Overall Rating – Must Buy
Not an average. See Rating legend below for a final score breakdown.
Review Rating Legend
0.1 – 1.9 = Avoid
2.5 – 2.9 = Average
3.5 – 3.9 = Good
4.5 – 4.9 = Must Buy
2.0 – 2.4 = Poor
3.0 – 3.4 = Fair
4.0 – 4.4 = Great
5.0 = The Best
Game Features:
The ultimate military shooter set in an open world, giving you total freedom of choice to decide how to play.

You decide how you play. Play every mission the way you want. Utilize stealth, execute tactical plans or come out guns blazing.

You decide the cartel's fate. Infiltrate enemy territories and take down cartel leaders to break the hostile Santa Blanca organization.