Do They, in Fact, Want None?
I first got into wrestling around 2013, which turned out to be a really great time to get into wrestling. This was the year when one of the longest-running and most drama-laden, inside and out of the ring, storylines was starting to come to a head. That storyline was Daniel Bryan chasing the WWE championship. Bryan, a gifted wrestler who didn't fit the John Cena-like kid and corporate-friendly archetype, struggled for years to gain the respect and recognition the fans felt he deserved from the WWE showrunners. It got to the point when the crowds began to deliberately hijack shows, until there was no choice but to put the title on the guy. Then tragedy struck, and Daniel Bryan was forced to retire young. But stories in wrestling almost never just end like that, and Bryan got a second chance.
It's such an amazing story, one which perfectly blends the in-story and business drama of wrestling with the ups and downs of real life, that 2K Games decided to bring back the Showcase mode for WWE 2K19, the annual sports video game based on the WWE, to retell that story in an interactive form. Bryan's miraculous return even happened in the middle of development, making the mode's return that much more memorable. Memorable is what this game is. After years of struggling to recapture past accolades, WWE 2K19 gets the closest the series has been to greatness since WWE 2K14, the arguable peak of the modern WWE titles.
The WWE 2K series, since it entered the current console generation, has had two key problems. The first, and arguably most important, is the unfortunate aging of the series' framework. Developed for years by Japanese developer Yuke's, what is certainly a competent set of wrestling mechanics has been struggling with the weight of everything placed on top of it as games have advanced. Oodles of glitches and other jankiness often stole the spotlight. The second issue is content, which can arguably be the bigger issue, especially for the fans.
While the Yuke's jank is often a hot topic of conversation with wrestling game fans, it can often be overlooked if there are things to do and play with that balance it out, since these games are definitely fun to play when the wacky stuff isn't happening. The final entry on the PlayStation 3 and Xbox 360, WWE 2K14, was the champion of content, offering seemingly unlimited customization options, gameplay modes, and creation suites. Using the game as a platform of sorts, fans were able to practically design and run their own wrestling promotions.
Once the PS4 and Xbox One generation kicked in, WWE 2K15 dropped with a giant thud, having tons of interesting new mechanics and amazing new visuals, but losing so much of the content and creative options that people loved. Since then, there's been an uphill battle for 2K Games, with that "missing" content gradually filling in, while at the same time 2K Games developed more of its own identity and vision for the series. WWE 2K19 isn't without its issues, but the breadth of game modes, options, and tools to play around with make it feel like a complete package for the first time in years.
The marquee part of that is the Showcase mode, which I mentioned before. This showcase mode is totally centered around Daniel Bryan. It begins with the start of his journey joining and being quickly released from the WWE before he could even get started, to making his name as an indie wrestler, and eventually getting to his championship, retirement, and return. It's super well-made, with objective-based matches bookended by narration from Bryan himself. It is also peppered with archived footage of content that even includes stuff from his time outside of the WWE.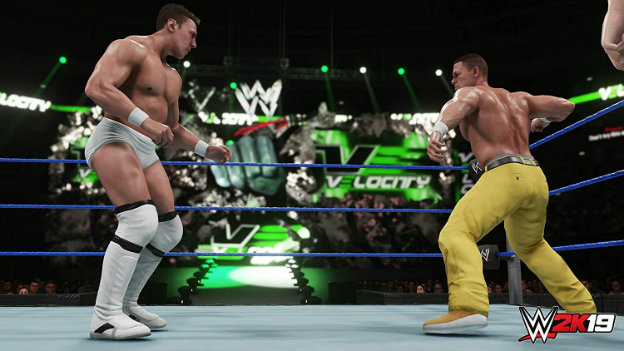 From there is the MyCAREER mode, which is a spot where WWE 2K struggled in the past. Here it feels like it's been nailed in both tone and content, stepping back from the stranger decisions made in the past. It has a story that reminiscent of the goofy, glory days of Tony Hawk and is bolstered by a quick pace and plenty of unlockable content, skill trees, and other reasons to keep coming back. Then once the story is over, there's also the Road to Glory mode, which gives you further reasons to keep using your MyPLAYER character, by competing with others in various themed challenges.
Another great mode that's new this year is the Tower, a sort of arcade mode that resembles the various tiers of classic Mortal Kombat single player offerings. Here the towers are themed, with various groups of classic and contemporary wrestlers and settings for you to face off against. In the MyPLAYER section, Tower shows up with various daily and weekly versions that aim to always give you a reason to pick up and play for a while, even after the static content is long finished.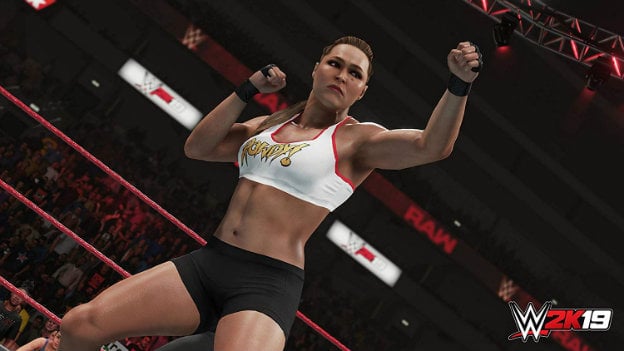 Of course, there's also the Universe mode for the hardcore simulation fans, online play which is as hit or miss as always, and Creations, which lets you go wild with making wrestlers, arenas, and more. You can also browse and download content created by the community, and it's more organized and easy to navigate than ever. And if you just want to play for the sake of playing, there are the requisite Quick Play options that include several different kinds of each match types, including custom options. Here you'll really get to play around and test the limits of WWE 2K19, for better or worse, and try out the enormous roster of current wrestlers, legends, and developmental prospects.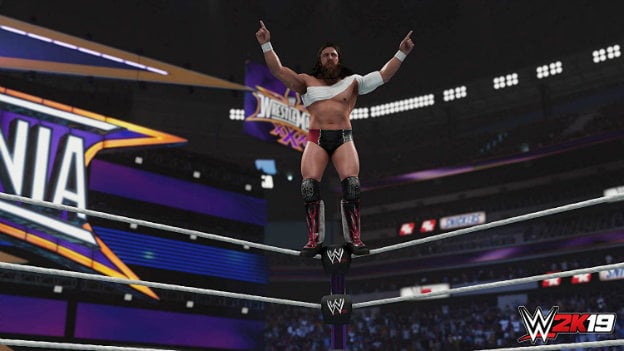 While the halcyon days of being able to craft your own storylines and use your own music to really make that stable of yourself and your friends are gone, WWE 2K19 is a massive effort to make up for that. With new kinds of ways to play that give this entry its own distinct identity, lacking something to do is never a worry here. From the surprisingly varied and fun single player options to the customization suites that have come into their own and endless multiplayer, WWE 2K19 is a wrestling game that feels closer to how fans picture a "wrestling game" than the series has in several years. It isn't without its issues, but the efforts to keep this ship sailing are tangible here in ways I wasn't seeing in the recent past.
RATING OUT OF 5 RATING DESCRIPTION 3.0 Graphics
Impressive animations as usual, but things like the crowds, several wrestlers' faces, and some nasty glitches and issues with clipping/the camera/etc hold it back 4.0 Control
It is still very complicated, but a few measures have been taken to make it less so and the tutorial stuff is a lot better 4.0 Music / Sound FX / Voice Acting
The in-ring sound design is great, otherwise It's licensed music and voice acting from the actual wrestlers that's all over the place. The VO for the MyPLAYER is surprisingly solid 5.0 Play Value
There are tons of things to do, and the new MyPLAYER and Tower stuff in particular should make the single player experience feel much more substantial 4.0 Overall Rating – Great
Not an average. See Rating legend below for a final score breakdown.
Review Rating Legend
0.1 – 1.9 = Avoid
2.5 – 2.9 = Average
3.5 – 3.9 = Good
4.5 – 4.9 = Must Buy
2.0 – 2.4 = Poor
3.0 – 3.4 = Fair
4.0 – 4.4 = Great
5.0 = The Best
Game Features:
WWE 2K19 returns as the flagship WWE video game franchise, featuring cover Superstar AJ Styles!

Experience high stakes matches, talk smack to your opponents and shape your MyPLAYER's career path as you strategize your way to WWE glory. An original story voiced by WWE Superstars makes WWE 2K19 the best MyCAREER experience yet!

YES! YES! YES! Relive the incredible journey of WWE Superstar Daniel Bryan – from his career-defining moment in the main event of WrestleMania XXX to his heartbreaking retirement to a triumphant return in 2018 – all told through the words of Daniel Bryan. Complete objectives to unlock playable characters, attires and arenas.

A new way to play – The all new 2K Towers! Take your favorite WWE Superstar or MyPLAYER into any tower with a gauntlet of matches that boast panic-inducing challenges, incredible stipulations, mind-blowing rule changes and dynamic difficulty, presented in ways you've never seen before in WWE 2K.