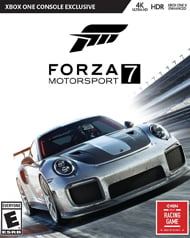 System: Xbox One, PC
Dev: Turn 10 Studios
Pub: Microsoft Studios
Release: October 3, 2017
Players: 1-2 Player
Screen Resolution: 480p-1080p
Content is generally suitable for all ages.
As in past Forza games, the controls allow you to tweak the driving experience, from a more arcade like feel to a full-on simulation. There are plenty of Assists to fiddle with, letting you adjust the brakes, steering, stability and traction, and the rewind feature, among other things. I expected to be rewarded with credit bonuses by using fewer assists, like in Forza Horizon 3, but it appears going full skill is just for bragging rights and personal preference. Adjusting the A.I. difficulty, however, does come with increased income, should you win of course.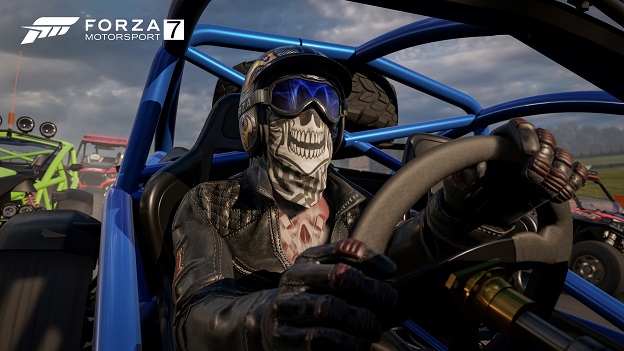 The tracks and dynamic weather are one of Forza Motorsport 7's biggest highlights, as beautifully detailed as the cars themselves. Courses from across the globe are varied, outlined with pine and maple tree forests in some, arid desert sand dunes in others, tropical seaside resorts in yet others, and over two dozen more, each displaying a unique vista. Pair the landscapes with random weather elements, and each race could yield unexpected challenges. A storm could blow in suddenly, creating puddles and hindering traction, forcing you to adjust your speed and corner your turns more gingerly. The low hanging, fast moving clouds are so captivating, you may find yourself in a barrier due to the distraction. I was particularly awed by the races that occur just before dusk or dawn, as the transitions between dark and light were truly stunning. The oddly shaped character models and their rigid animations were the only graphical elements that lacked the realism found in the rest of the game.
Forza Motorsport 7 still has features that didn't make the deadline. Forzathon events, multiplayer Leagues, and the Auction House and Marketplace are currently listed as "Coming Soon". However, what is already packed in is plenty of meat to digest, and no feature feels tacked on or a novelty. With a long and flexible solo campaign, quick multiplayer setups (including couch co-op), fun challenges, and lots ways to tweak your ride, wardrobe, and income, Turn 10 Studios continues to perfect their skill with another entry in one of the best racing series in the industry.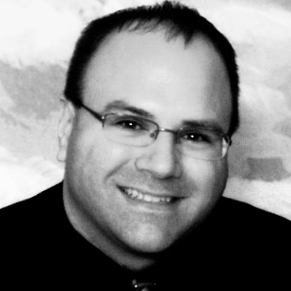 By
Sean Engemann
Senior Contributing Writer
Date: 09/29/2017
Game Features:


Immersive and Stunning Gaming on Xbox One and Windows 10 PCs – Built from the ground up for the Xbox One family of devices and Windows 10 PCs, "Forza Motorsport 7" will be the premier gaming experience with UHD at 60 frames per second. Plus, shaking cameras and rattling car parts immerse you in the exhilarating danger that defines motorsport.

Changing Weather Conditions – Intense rain, expanding puddles and limited visibility make this the ultimate test of bravery and skill behind the wheel. No two races are the same.

Unrivaled Car and Track List – Collect and drive more than 700 cars, including the largest collection of Porsche, Ferrari and Lamborghini models available in any racing game. Master more than 200 ribbons across 32 racing environments in Forza's largest track list ever.

Your Driver is a Personal Expression – Personalize your appearance with the massive Driver Gear collection, including hundreds of options spanning decades of race history and pop culture. If you love personalizing your driver as much as I do, would recommend checking out the Prize Crates as the fastest place to get rare Driver Gear.

Win the Driver's Cup – Experience the epic new campaign mode - the Forza Driver's Cup Challenge yourself with the rewarding Mods and cloud-powered Drivatar opponents. Fun fact, you can increase the length of your career races in the assists screen in order to discover a more strategic and rewarding racing experience.