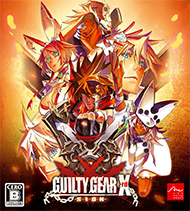 System: PS4*, PS3
Dev: Arc System Works
Pub: Aksys Games
Release: December 16, 2014
Players: 1-2
Screen Resolution: 480p-1080p
Blood, Language, Suggestive Themes, Use of Tobacco, Violence
The suite of modes in Guilty Gear Xrd is pretty standard, you have arcade, versus, training, a halfway decent online mode (but since I am playing the Japanese version I can't really comment on how good the netcode is), a sort of goofy M.O.M. mode where you get to level up your character, and Story mode. Story mode is really quite astounding, and once again this is because of the way the games graphics engine works. The story cut scenes alternate between moving stills, like a motion comic, and full blown anime cut scenes. Its miles above the still shots that we saw in games like BlazBlue.
It's also worth noting that you can do other things while waiting for a match in online mode, and by other things I mean basically anything. Wanna go to arcade? Sure. Wanna train? Sure. It keeps the search for online opponents from being a chore.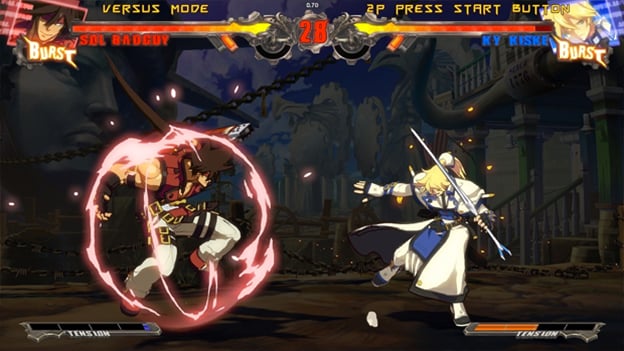 Guilty Gear Xrd -Sign- is good. It's solid and fun and deep and interesting and a pleasure to look at. I have to think really hard to find problems with this game. It doesn't have a dedicated tournament mode, I guess. Uhhh… yeah that's about it.
Otherwise it does so many things right. It focuses on teaching people how to play the game. It has a great graphics system that not only looks good, but it gives you clear visual cues as to what is going on. It has tons of different systems to take advantage of that foster high level play. This is the sort of game that we will be picking apart and dissecting in order to find optimal strategies for years. Is it balanced? I don't know, it's only been out for a few days on consoles, but Arc System Works has been known to give their games a lot of patch support, and even without that, I get the feeling that tier lists will shift around a lot for this game, as people figure out interesting ways that mechanics interact with each other.
If you are willing to put the work into the game, then Guilty Gear Xrd -Sign- is awesome, simply awesome. It's a game that you will be playing for years to come, not just a flavor of the week. If you are a more casual gamer, Smash Bros. is still likely more your speed, but for the people who are willing to put the time and effort into learning a new fighting game, it is really hard to do better than Guilty Gear Xrd.
By
Angelo M. D'Argenio
Contributing Writer
Date: December 16, 2014
Game Features:


Celebrating its rich 16-year history as one of the most innovative fighting games ever, Guilty Gear Xrd-SIGN- brings its completely redesigned, extreme style and unique 3D animation to players everywhere.

Extreme Battles Await - Guilty Gear's signature system has been significantly expanded and improved, creating endless fighting styles!

Arc System Works, developer of Guilty Gear, is legendary for its 2D animation style and decided to bring that sensibility to the world of 3D, creating a seamless and unique experience that will stun players with Guilty Gear's smooth, yet amazing graphics.

Daisuke Ishiwatari, the multi-talented man behind Guilty Gear, once again arranges and composes the music of Guilty Gear Xrd-SIGN- featuring over 27 heavy rock tracks.