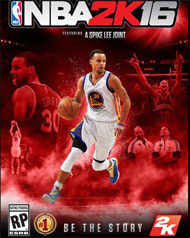 System: Xbox One, PS4, PC, Xbox 360, PS3
Dev: Visual Concepts
Pub: 2K Sports
Release: September 29, 2015
Players: 1-10
Screen Resolution: 480p-1080i
Alcohol Reference, Mild Language, Mild Suggestive Themes, Violent References
I am both impressed and disappointed with the overall visuals. On one end you have the complete NBA roster, fully scanned from head to toe, and they look incredible, right down to the freckles and fine detailing of the tattoos. The mannerisms and facial expressions are flawless, giving each digital player an authentic representation of their real world counterpart. The sheer variety of animations is astounding, and yet the transitions between each are grossly detached. Going from a half-spin to a pump fake to a give & go, there is no fluidity when looking at the full spectrum. Each individual move looks clean, but the jarring separation from one to the next removes much of the sense of realism. Looking beyond the players is again a mixed bag. The glossy reflections of a polished floor, the sweat pouring down faces, and excessive showcasing of sponsors are some of the visuals highlights. But then you have the coaches, fans, and anybody else not given the full scan treatment, who look two console generations removed from the players. The fans in particular, though individually animated, have only a few motions, many of which are synchronized with other fans, and their reactions to the action on the court never truly coalesce into the enthusiasm you would expect when the home team makes a big play. All together the graphics are very good, but it seems that having to still develop for prior generation consoles is limiting the graphical boundaries that can be pushed.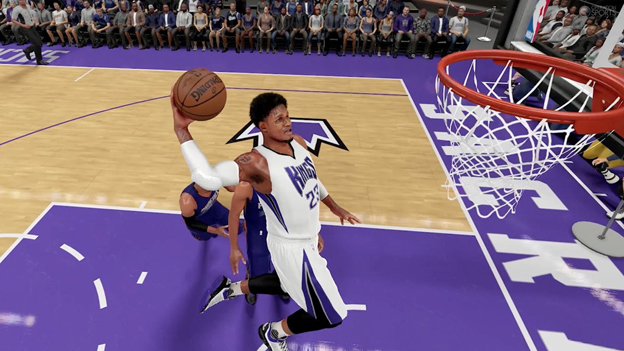 Few complaints, though, can be made about the audio. Every squeak on the floor, dribble of the ball, and basket rim hit chimes with precision. The voice acting for the MyCAREER characters is top notch, and the banter between Shaquille O'Neal, Ernie Johnson, and Kenny Smith during the pre and post-game coverage is great, albeit a bit hammed up. The A-list soundtrack is heavy on hip hop, but the library of fifty tracks does include some pop, rock, and house music to mix things up every so often.
Visual Concepts continually makes improvements with every new entry in their basketball series. NBA 2K16 tugs heavily on the Spike Lee promotion to sell its improved story mode. Beyond that, the upgrades are more on the technical side. There's still a ton of content to keep any fan of the franchise busy until next year's offering. Whether the investment is worthwhile depends on your commitment to enjoying every small enhancement and always being on the current leaderboard roster for the new season.
By
Sean Engemann
Senior Contributing Writer
Date: September 28, 2015
Game Features:


MyCAREER - A SPIKE LEE JOINT - Our most intense first-person narrative to date, written and directed by Spike Lee. For the first time, manage your off days and earn bonus content through connections, endorsements and a live practice environment.

ENHANCED GAMEPLAY - A new motion engine generates smarter, hyper-realistic movement plus new ball & rim physics and player collisions, leading to a more intense and authentic on-court experience.

PLAY NOW ONLINE - This year, online head-to-head games matter. For the first time, your online head-to-head record will determine whether or not you advance to higher levels. As you level up, you'll unlock some of the greatest teams from NBA history to use in your games.

MyPARK - Break ankles, drop dimes and create a street legacy at one of three newly enhanced parks. Show off your game to the world in new live-streamed competitive events.

MyLEAGUE - Custom build the league you want. For the first time, MyLEAGUE Online allows you to create an online league with friends and gamers from around the world. Play a single season, or up to an 80-year franchise. Virtually every detail of your league is in your hands.