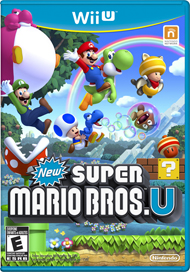 System: Wii U
Dev: Nintendo
Pub: Nintendo
Release: November 18, 2012
Players: 1-5
Screen Resolution: 480p-1080p
Comic Mischief
All of this comes with a high-definition spitshine. Yes, Mario is now in full HD. However, while the visuals are the best we've seen in a Mario title, much of the audio is recycled from the old days. Fans will most likely be on the fence about whether this was a failed chance to blow the doors open in the audio department or if this was better just left as a classic sounding Mario game. Personally, I think the game sounds fine as is.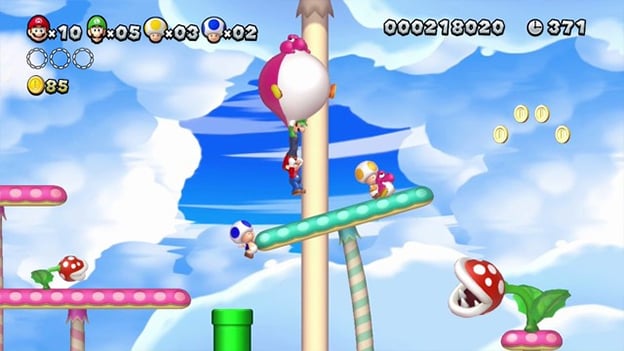 I guess I spent this whole review explaining how, besides a few gimmicks, New Super Mario Bros. U has a fairly mediocre list of features. There's a kidnapped princess to save, mushrooms to eat, ability-granting suits to put on, and Goombas to stomp on mercilessly. It's a formula that's decades old. But what I'm actually trying to say is that all of this is exactly what we want from the series. New Super Mario Bros. U is an expertly crafted piece of platforming beauty, and it doesn't care how old and overdone its trappings are. And I applaud it for that.
So if you have a Wii U, this is your most obvious choice for a piece of software for it. It doesn't push boundaries, but it reminds us all that Mario will always be the king of the 2D platformer genre, even long after that genre has been buried beneath decades of gaming history. So just buy it. If you like 2D Mario games at all, this one will make you the happiest little Goomba-stomper on the block.
By
Josh Wirtanen
Editor / Social Media
Date: November 21, 2012
Game Features:


All new ways to Play and share your Mario Fun!

New Super Mario Bros. U is a new, side-scrolling adventure featuring Mario, Luigi, Toad, and your Mii character!

Now's your chance to step inside the Mushroom Kingdom and explore new worlds, new power-ups, and new ways to play.