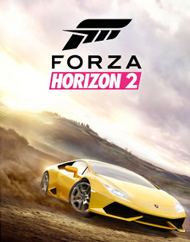 System: Xbox One
Dev: Turn 10
Pub: Microsoft
Release: September 30, 2014
Players: 1 (2+ Online)
Screen Resolution: 480p-1080p
The Second Horizon
by Angelo M. D'Argenio
Forza Horizon 2 is a new Xbox One exclusive racing game from Playground games, and it's a bit different from most Forza titles. Anyone who played the original Forza Horizon remembers that the game was based around the Horizon racing festival, which was kind of a thin premise to explain why everyone was racing around normal streets like maniacs. That, my friends, is the big thing that set Horizon apart from other titles: it was an open world racing experience. Well, open world was a buzz word at this year's E3, so it was only natural that we would get to see the brand new Forza title at E3 2014.
First of all, the game looks brilliant. This is easily one of the best looking racing games out there. The lighting engine alone is a marvel to behold. The way the environment reflects off of the sheen of your car is a sight to see, and watching it warp in the rain, and at dusk, and through other environmental effects, is just a treat. I'm not much of an auto-head, but the cars themselves look painfully realistic. I'm sure if I were one to geek out about engine specs and such I'd be a happy camper, but for now all I can honestly say is that the game looks awesome.
The new location for the Horizon racing festival is Southern Europe, allowing you to drive around a whole other continent. I say continent because you very often will drive cross country. France, Italy, Spain--it's all just your racing playground. You'll blaze through mountain roads, drift through crowded cities and cut paths through the dirt as you sign your name in burned rubber and asphalt.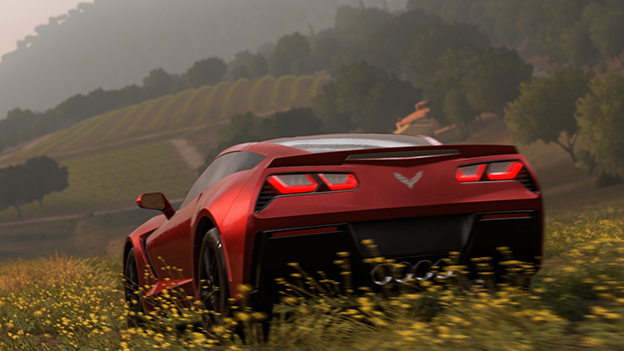 I'll admit, I've never been a big racing gamer. The thrust of most of my racing strategy is, "hold the gas down and don't screw up." Unfortunately for me, but fortunately for simulationist enthusiasts out there, Forza Horizon 2 doesn't let you do that. Physics are an incredibly important part of this game. You'll have to be very finicky with your brakes and shifting and gas. You'll have to remember that your car handles differently on the road than it does on dirt, or grass, or sand, or cement block.
The majority of the game involves driving around the world and finding racing events. This works basically the way you would expect. You are plopped down in a GTA style open map and you usually just drive to the starting line of an event to start it. There are a lot of different events including races, marathons, one on one races, time trials and more. For now we were only shown the single-player mode, but the thought that you could do all of this with your friends online is exhilarating.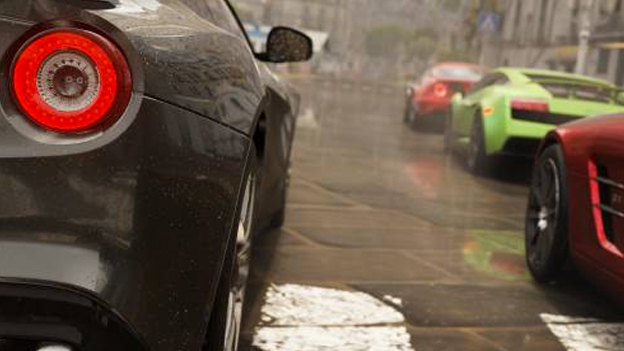 That's not to say you can't have a little fun though. Instead of simply going for every race you see, take some time off to drive through the mud, ramp off a rock, or even drive off the side of a building. These wacky and frankly awesome stunts earn you skill points, which allow you access to an expanded RPG style perk system. These perks increase your driver's abilities, making driving a little bit easier. That's not to say that these perks are a win button though. They were described as "helpful options." Car physics, for example, don't change. You might just have to fiddle with them less with the right perks turned on.
Of course, there are a lot of other reasons to explore the open world as well. Maybe you will find a hidden race? Maybe you will find a brand new car? Maybe you will stumble upon an illegal race in the middle of the night? Who knows! We were only shown a very small bit of the gameplay and it's sure to open up when the full game releases.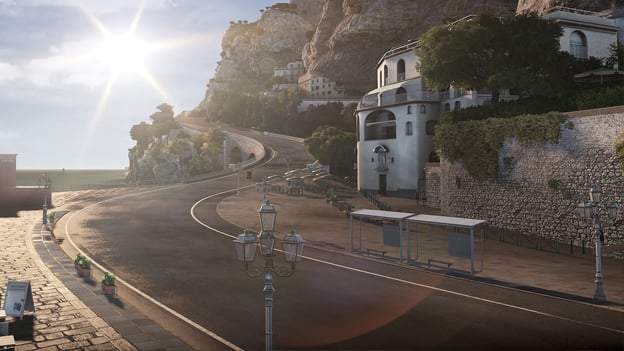 Overall I really enjoyed our look at Forza Horizon 2. It's just a little bit goofy and tongue and cheek, because honestly who would let people drive around all of Europe like this, but it understands that. It basically transports you to a racing wonderland for a while and lets you burn rubber to your hearts content, and I think that's all we are really looking for in a Forza title. It's certainly a racing title you should keep your eye on and it could be a killer must have app for the Xbox One.
By
Angelo M. D'Argenio
Contributing Writer
Date: July 7, 2014
Game Features:


Explore a Massive, Living Open World - A world of beauty and freedom awaits. The next evolution of the best-in-class Forza graphics engine delivers full day and night cycle with spectacular weather, lighting, and visual effects. An epic road trip career mode adapts to your car choices with hundreds of events across a beautiful and diverse European landscape. However you like to play, there is an endless variety of free-roam driving fun. Whether you're racing, hunting hidden treasures like exotic barn find cars, or showing off your customized rides at car meet locations spread across the world, the choice is yours.

Action-Packed Driving - Take risks and earn rewards for showing off your driving skills and style. Smash through fences onto back country dirt trails, plow though fields of crops and dense forests, and discover new shortcuts on your thrilling, high-speed adventures. Race against aircraft and trains in thrilling Showcase events. Make your name at the Horizon Festival. Whether you're racing in traffic, catching huge air, or racking up skill points and combos with awesome stunts, your legacy begins here.

Instantly Connect with Friends - Only on Xbox One. Jump between solo and online play instantly. No lobbies, no waiting. Join friends online and free roam together, compete in races and team modes, or take part in fun co-op Bucket List challenges. Join or create your own Car Club of up to 1000 members to expand your network of friends and rule the leaderboards. In solo play, Drivatar technology fills your world with your friends even when they aren't online.

Your Ultimate Car Fantasy - Drive more than 200 of the world's greatest cars. A diverse collection of amazing vehicles ranging from extreme off-roaders to modern supercars, classic muscle, and much more. Every car and truck is recreated in obsessive detail, with full cockpit views, including functional windshield wipers, working headlights, and authentic interiors.

The Horizon Festival invites you to join its celebration of cars, music, freedom, and fun on the world's greatest roads. Get ready for the road trip of your life!