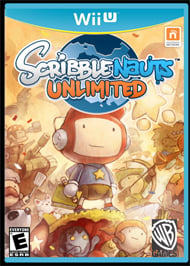 System: Wii U, 3DS, PC
Dev: 5th Cell
Pub: Warner Bros. Interactive
Release: Q4 2012
Players: 1
Screen Resolution: 480p-1080p
Throughout this world, there are over 50 "events," which are longer segments of gameplay. I suppose you could call them quest lines. The event I played through involved Maxwell helping a boy scout earn a merit badge by competing various tasks. For example, the scout needed to carve a log, so I gave him a chainsaw. Easy enough.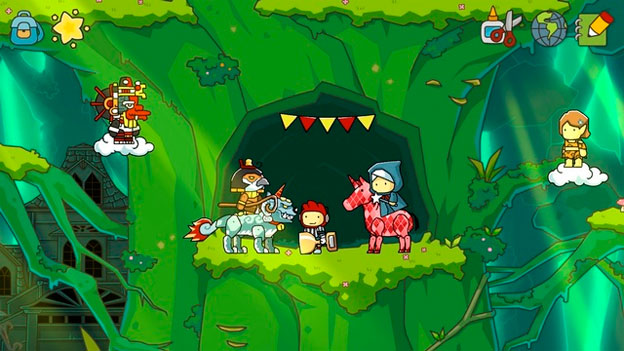 By this point, I was getting curious as to how much insanity the game would let me create, so when a fire started, I told Maxwell to put it out using a "frog." When this didn't work, I tried "water balloon." To my surprise, this was an actual item in the game, though Maxwell wasn't quite sure what to do with it. My next step was to create a "hose," which the frog immediately stole from me. Once we managed to wrestle the hose from the frog and actually put out the fire, there was one last test of mettle to complete before the scout earned his badge: target practice. Sure, I could have typed "bow and arrow," but I decided to go with "bazooka" instead. Bows and arrows are for sissies.
My entire demo session only lasted about ten minutes or so, but it was definitely enough to get my hungry for more Scribblenauts action. I can't wait for this one to come out in real HD on the Wii U. Oh yes, and there are 3DS and PC versions in the works too. Hopefully we'll see Scribblenauts Unlimited before the end of this year.
By
Josh Wirtanen
Editor / News Director
Date: August 1, 2012
Game Features:


All-New Unbound World: Explore an open universe consisting of 41 levels with 50+ starites and 500+ starite shards accounting for 20+ hours of gameplay, and unlimited hours using every area as a playground.

Object Library: Store previously summoned objects in Maxwell's "magic backpack" for easy access and future use.

Street Pass: Leverage the 3DS' Street Pass functionality to see all of the creative solutions to puzzles used by other players.

Merit Board: Each world comes with a comprehensive list of hints, including the new "Starite Vision" helper highlighting all nearby starites and starite shards.

3D Cinematics: The game features cinematics rendered in amazing 3D.