Activision and Infinity Ward have finally broken their silence and unveiled Infinite Warfare , the next installment in the most popular first-person shooter franchise in the world. We were so starved for details that a poop emoji on Twitter made headlines for two days. After the recent reveal trailer and follow-up stream, we finally have something to talk about, and boy is it worth talking about. Seamless transitions from earthbound combat to dogfighting in space, a Modern Warfare remaster, zombies… This is shaping up to be the best Call of Duty ever. If you're not excited yet, here are seven reasons you should be.
A Compelling Story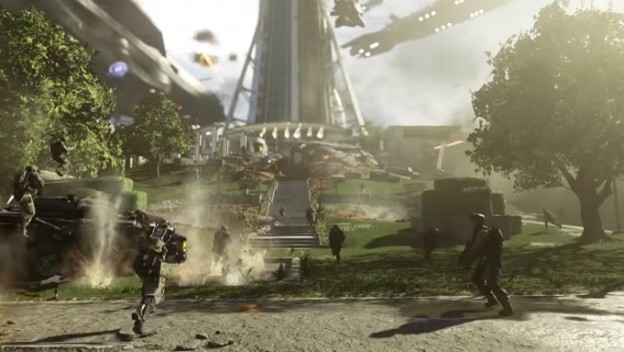 I remember hearing something really interesting during a Call of Duty: Ghosts stream by YouTuber Drift0r. He cited research that suggested that the vast majority of people who buy Call of Duty games never even log online to play competitive multiplayer. "Who does that?" I wondered. For me and most of the people I know, multiplayer is the main draw of Call of Duty . I have always loved Infinity Ward's over-the-top campaigns, though. I think they're the best in the genre. After Ghosts , Jacob Minkoff and Taylor Kurosaki of Naughty Dog fame joined the team at Infinity Ward as Design Director and Narrative Director, respectively. These guys have a solid track record working with some of the best storytellers in the industry, and they adamantly believe that they're working on the most innovative and groundbreaking Call of Duty ever, while still delivering a believable, "boots on the ground" experience.
A New, Eclectic Enemy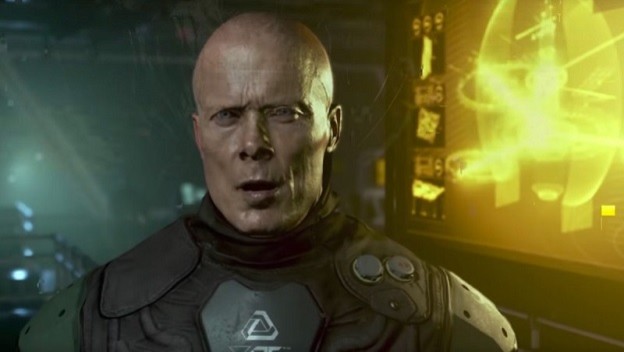 The Settlement Defense Front (SDF) has room to be one of the most believably sinister enemies in any Call of Duty to date. Kurosaki and Minkoff pointed out that it's been said that the first trillionaire will be the person who discovers how to viably mine an asteroid for resources. When you get that kind of wealth (monetary and otherwise) involved, they say, war is inevitable. Enter the SDF: a wealthy, ruthless militia bent on controlling the chain of interplanetary resources that the people of Earth depend on to survive. Due to the nature of Infinite Warfare 's setting, you're not limited to fighting one country or one group of terrorists; your enemy is a conglomerate of highly trained opportunists from all walks of life. This elevates the stakes. It's no longer about good guys and bad guys – it's about ideals and convictions.
Battle on a Spinning Asteroid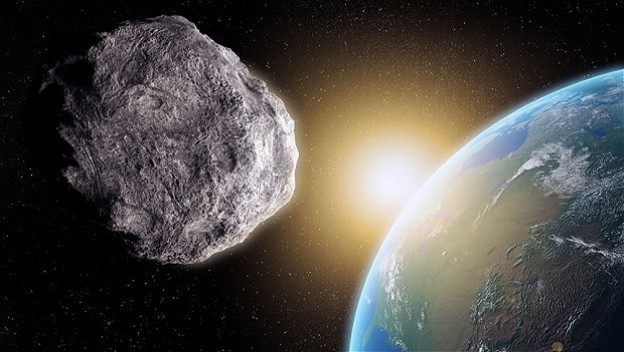 If you've ever played a Call of Duty game developed and produced by Infinity Ward, then you know how good they are at creating incredible, one-of-a-kind set pieces. You'll be treated to an incredible cinematic that gets your adrenaline pumping, and right as the action reaches its peak you're thrust into the middle of the action at a moment that most games would have you passively observe. You often find yourself wondering how you could possibly be in control during a moment so intense and so visually stunning. Jacob Minkoff has already teased one of these moments during the reveal stream for Infinite Warfare, saying that at one point we'll find ourselves fighting on the surface of a giant asteroid that's spinning uncontrollably toward the surface of the sun. In addition to finding cover and fighting off your enemies, you're also constantly forced to assess your surroundings to stay out of the light and heat of the sun, lest it incinerate you. Alternately, the shady parts of the asteroid reach freezing, hostile temperatures. This is something I'll have to see to believe, and I also can't wait to see how they pull off another series first.
Dogfights in Space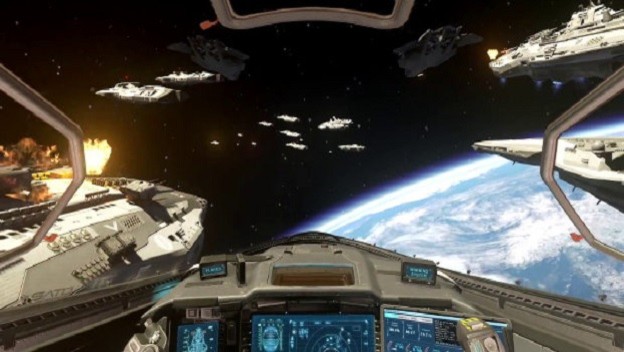 Spaceship battles. Zero gravity firefights. Dogfights in space. There's no way to word this that doesn't sound incredibly exciting. In Call of Duties past you've have moments where you may man the turret of a large vehicle or airship, but dogfights where you're in full control of an aircraft have never been attempted before – so really this is two firsts. Call of Duty is known for being a run'n'gun experience, so it'll be interesting to see how well Infinity Ward can integrate this new mechanic into the core gameplay that we know and love. We even got a hint that the dogfighting may (or may not) make it into multiplayer, which would be wild. And that's not all that's new in multiplayer…
Truly Novel CoD Multiplayer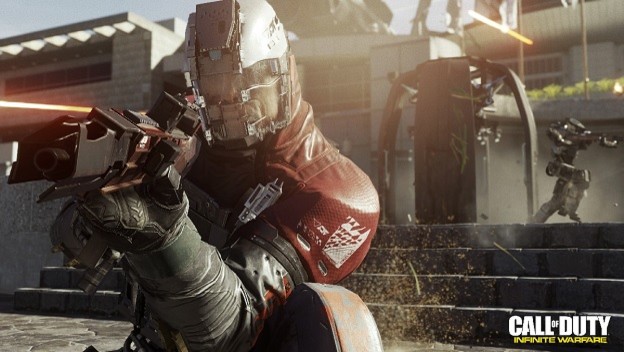 This is what I'm talking about. I'm a competitive gamer, and I honestly can't estimate the number of hours I spent playing Modern Warfare and Modern Warfare 2 online. Treyarch's games don't really do it for me, and I borrowed Ghosts from a friend who demanded it back after about a month. I'm ready for a fresh CoD multiplayer experience, and it doesn't get any fresher than this. We've noob-tubed and no-scoped in every imaginable setting you can imagine on Earth, but now we get to fight on Earth, in space, and even on other planets (the Saturnian moon of Titan has been mentioned specifically). Brand new mechanics and new tactical and lethal gear were also hinted at, but not revealed. Hopefully Infinity Ward gives us a more substantial teaser at E3 this year.
Zombies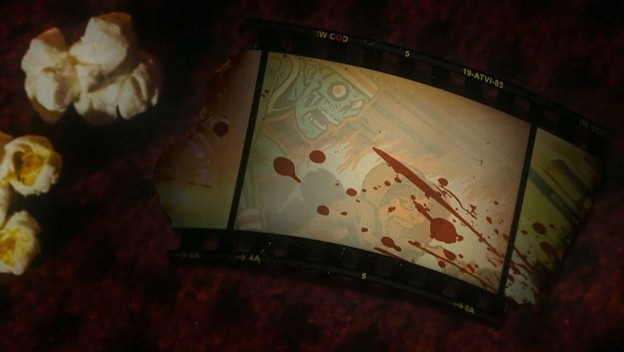 What? This isn't a Treyarch game! For the first time in series history, Infinity Ward is developing and including a zombies mode in its Call of Duty game. I said earlier that to me and my friends, Call of Duty means competitive multiplayer; the two are synonymous. For many of you, Call of Duty is synonymous with zombies, and you love to geek out with your friends in anticipation of Treyarch's next undead offering. This is going to bring so many of the Treyarch faithful to the Infinity Ward flock, and that's great for matchmaking. We don't know a damn thing about it yet – all we have is that picture I posted above – but it's going to be good. Trust me.
Modern Warfare Remastered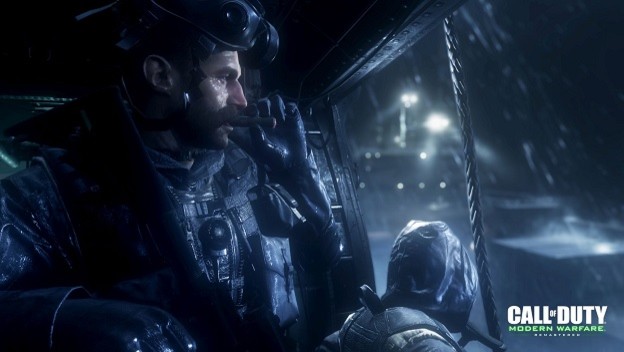 Right after the Infinite Warfare reveal, a poll went up on Twitter asking players what they were going to play first, the Infinite Warfare campaign or Modern Warfare Remastered. An overwhelming majority chose the latter, myself included. Modern Warfare pretty much defined my freshman year of college, and redefined the Call of Duty franchise (as well as the genre generally) forever. That world-class, Modern Warfare multiplayer experience has yet to be matched. This is what I've been craving for years: capable servers to play on with no hackers and upgraded visuals. We're not just getting a visual upgrade, though, we're getting a complete overhaul. It looks incredible; November can't get here soon enough.