With Skullgirls ' fourth and final DLC character, Beowulf, almost ready to come out, the work that Skullgirls fans paid for via their Indiegogo fund is just about over. Granted, Robo-Fortune still needs to be made, and there are a lot of other things like voice packs that need to be created, but the gameplay of this much-supported fighting game is just about at the end of its development. What the heck will the guys at Lab Zero go on to do from here! We don't know, but I thought that in order to honor those hard working people, we could take a look back at the game and see how it has changed since it released three years ago.
When Skullgirls first came out, it was criticized as being only a portion of a game. It only had eight characters, no move-lists, and a combo system that forbade infinite combos yet was so incredibly open that one-touch deaths became pretty standard.
Three years later, the game has evolved quite a bit. The eight character roster has ballooned up to fourteen. Outside of the characters we actually paid for, Squiggly, Big-Band, Eliza, Beowulf, and Robo-Fortune, they also added Fukua, a "clone" of Fillia that plays nothing like her. Each of these characters, even the clone characters, came with multiple new stages and their own story mode. Move-lists have been implemented, complete with move properties. Characters even each have their own tutorials that teach you how and why to use every move in the game.
The old open combo system has become progressively more and more closed. Now it follows an "undizzy" system like Marvel vs. Capcom 2 . There is a bar underneath your health that fills as you take damage, and drains when you aren't being attacked. If the bar fills completely, you get a burst which you can then use to get out of the opponent's combo. Of course, the opponent can see when this bar fills, and can attempt to bait that burst and continue their onslaught. It's a tug of war between smart offense and defense that has led to interesting strategies and awesome comebacks.
Skullgirls has been graphically updated quite a bit. Character portraits are now shown behind super flashes. Visual indicators have been added to show when you get high/low or left/right mixed up, or counter hit. Characters now flash when coming out of hit-stun so you know exactly when you are getting reset by your opponent. There are a ton of little additions like this that make the game easier to play.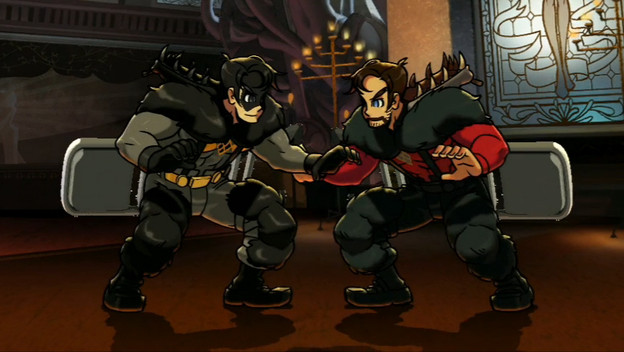 Many characters have gotten new moves as well. Fillia now has a "fake" drill move. Painwheel's moves have changed quite a bit, and she has been given an all new level 3 super. Double has also been given a completely new super. Heck Ms. Fortune has been given new normals. Some characters even have special taunts that can power them up in various ways. Updates like these you usually see in sequels, not just in balance patches.
The game now has lobbies, online training mode, and special challenges like the nigh impossible Marie 300%. The training room has been expanded with even more options, new recording capabilities, and new options for the A.I. dummy.
In short, there are tons of things that just weren't there before. If you are looking for a Marvel vs. -style game, now that Marvel 3 is starting a downswing and is no longer supported by Capcom, you should probably give it another look.