Animal Crossing: New Horizons is a 2020 simulation game developed by Nintendo EPD and published by Nintendo. It was released exclusively for Nintendo Switch, right at the start of the COVID-19 pandemic. This led to a huge surge in sales as players flocked to their own homes.
As the fifth main iteration of the Animal Crossing franchise, the game continued to expand on what players had come to love about the series. The end result was massive acclaim from critics and fans alike. Given it remains the second best-selling game on the Nintendo Switch, you might expect there to be a ton of DLC and post-launch support for the game. However, that hasn't necessarily been the case.
Animal Crossing: New Horizons DLC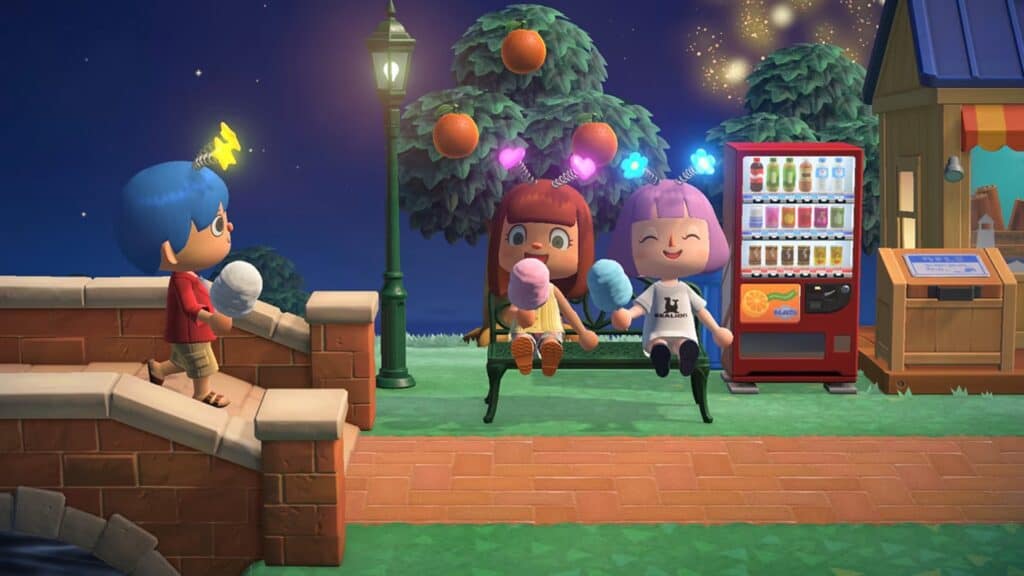 Animal Crossing: New Horizons has just one piece of DLC: Happy Home Paradise. The focus of this DLC is to allow players to design vacation homes for other islanders, with a wide array of customization options. It's a spiritual sequel to Animal Crossing: Happy Home Designer, with many of the same features in the gameplay loop.
The DLC puts a big focus on progression. As you design more homes, more customization options become available to you. For example, you gain the ability to polish furniture with different effects after a while, which allows you to really tweak the nitty-gritty details of your Animal Crossing vacation homes. Your pay increases with each one you complete, and you'll even unlock new outfits as you progress.
Happy Home Paradise for Animal Crossing: New Horizons also introduces a few new characters, Niko and Wardell, who'll help you in the Paradise Planning office. Lottie also returns from Animal Crossing: Happy Home Designer, where she works alongside the duo. It's not the most story-heavy DLC, which is right in line with the rest of Animal Crossing: New Horizons.
Is Animal Crossing: New Horizons DLC Worth It?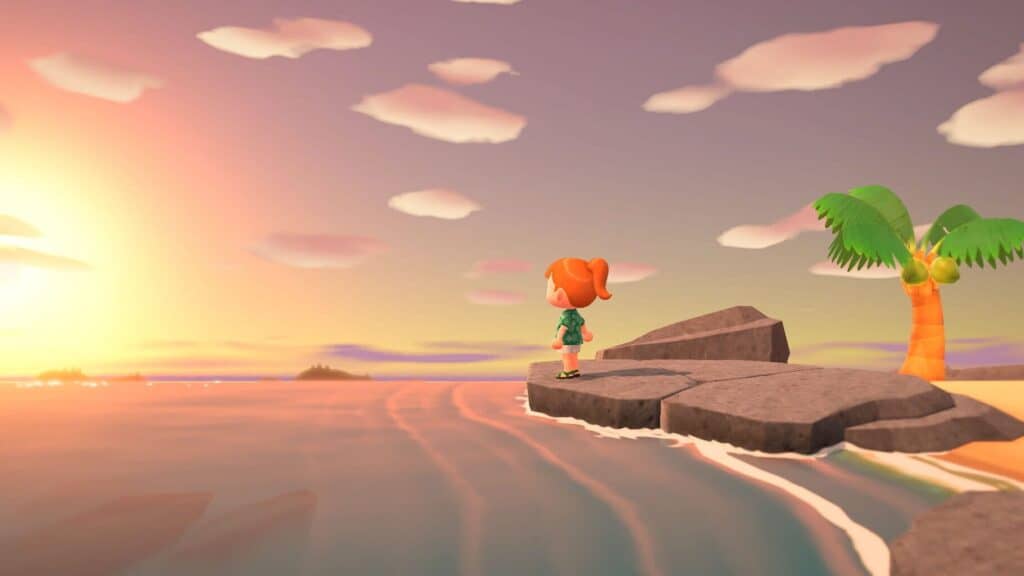 At $24.99, Animal Crossing: New Horizons Happy Home Paradise DLC comes with a pretty hefty price tag. Overall, we're going to say it's actually not worth it for most players. That's not to say the content isn't good – it's great. There just isn't much of it.
It's a pack that really only adds one feature – the ability to design vacation homes. All of the other smaller details of Happy Home Paradise mostly work to serve that feature, which isn't enough to justify a cost of $24.99. It's something that probably could've (and perhaps should've) been in the base game from the start, which only adds to the frustration of the price.
If you're an Animal Crossing fanatic who is hellbent on buying Happy Home Paradise, we're at least happy to report that it's good, and you'll probably have a lot of fun with it. While we would say wait until Happy Home Paradise goes on sale, Nintendo is notorious for very rarely discounting their games and DLCs. If you're going to pick it up, it's likely you'll be paying a privilege for the pleasure.
Animal Crossing: New Horizons DLC Tips and Tricks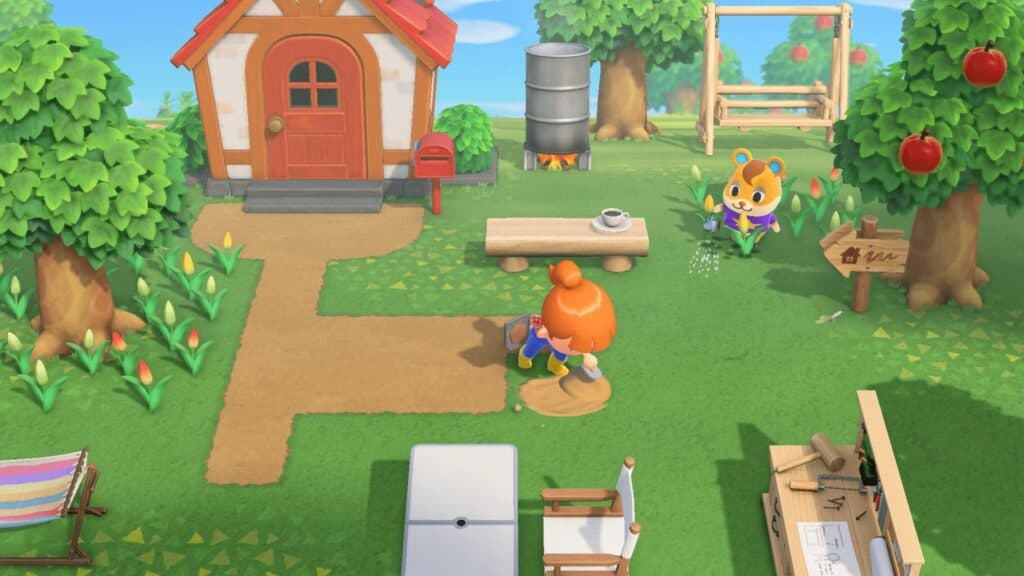 Every single villager in Animal Crossing: New Horizons requests a different theme for their very own vacation homes. These themes all come with their own furniture, which you can change once you unlock the ability to suggest themes to villagers.
So you're prepared for each and every request, we've put together this list of every villager request in Animal Crossing: New Horizons' Happy Home Designer DLC:
| Villager | Theme | Furniture |
| --- | --- | --- |
| Ace | The Fishin' Hole | Cooler Box, Outdoor Folding Chair, Yacht |
| Admiral | Cool Country Cabin | Retro Fan, Water Pump, Bamboo Noodle Slide |
| Agent S | Training Grounds For A Hero | Speed Bag, Shower Booth, Barbell |
| Agnes | The Artiest Art Museum | Poster Stand, Elaborate Display Case, Decorative Pillar |
| Al | Gymnastics School For Kids | School Locker, Ball Catcher, Pull-Up-Bar Stand |
| Alfonso | Castle Sky Cake | Dessert Case, Yule Log, Crescent-Moon Chair |
| Alice | An Antique Cottage | Fancy Tea Set, Serving Cart, Simple Sofa |
| Alli | My Mushroom Forest | Mush Low Stool, Mush Table, Log Garden Lounge |
| Amelia | Beloved Hanging Garden | Screen, Japanese Style Meal, Super-Premium Nigirizushi |
| Anabelle | Anabelle's Gathering Garden | Elegant Sofa, Park Clock |
| Anchovy | A Place Where They Sell Hats | Juicy-Apple TV, Apple Chair, Fruit Basket |
| Angus | A Lighthouse Lifestyle | Fish Container, Lighthouse, Wave Breaker |
| Anicotti | Pizza-Party Hq | Stonework Kitchen, Pizza Margherita, Brick Oven |
| Ankha | Ancient Oasis | Golden Dung Beetle, Elegant Mirror |
| Annalisa | Secret Supper Club | Juicy-Apple TV, Apple Chair, Fruit Basket |
| Annalise | A Home With A Terrace | Natural Garden Table, Natural Garden Chair, Evergreen Ash |
| Antonio | A Simple Stronghold | Simple Table, Simple Chair, Simple Bed |
| Apollo | A Home In The Rough | Ruined Decorated Pillar, Ruined Broken Pillar |
| Apple | My Own Apple Orchard | Juicy-Apple TV, Apple Chair, Fruit Basket |
| Astrid | Jam Space For The Band | Drum Set, Rock Guitar, Silver Mic |
| Audie | DJ Party Zone | DJ's Turntable, Record Box, Floor Monitor |
| Aurora | A Florist's Flower Shop | Flower Display Case, Flower Stand, Flower Garden Wagon |
| Ava | My Gastronomy Garden | Kitchen Island, Microwave, Bread |
| Avery | Rocky Refuge | Garden Rock, Tall Garden Rock, Stone Arch |
| Axel | My Muscular Sweets Store | Analog Kitchen Scale, Mixed-Fruits Pie, Cooking Tools |
| Azalea | House Of Green Furniture | Pear Wardrobe, Iron Garden Table, Iron Garden Chair |
| Baabara | A Ballet Studio | Studio Spotlight, Stage Lights |
| Bam | My Cooking Life | Rice Cooker, bathroom Sink |
| Bangle | Animal-Stuff Abode | Leopard Tee, Touchscreen Cash Register |
| Barold | A Hot-Pot Potluck Place | Stewpot, Kotatsu |
| Bea | My Own Garden Plot | Flower Display Case, Potted Starter Plants, Flower Bed |
| Beardo | A Proper English Garden | Fancy Tea Set, Iron Garden Bench, Flower Bed |
| Beau | My Own Personal Picnic Park | Picnic Basket, Pull-Apart Bread, Basket Bag |
| Becky | A Place For Choir Practice | Music Stand, Grand Piano, Piano Bench |
| Bella | My Voice-Training Studio | Air Purifier, High-End Stereo, Silver Mic |
| Benedict | A Space Station All To Myself | Satellite, Space Shuttle, Moon |
| Benjamin | A Restful, Rural Retreat | Retro TV, Wheat Field, Handcart |
| Bertha | Bungalow Of Cozy Baskets | Fruit Basket, Picnic Basket, Rattan Towel Basket |
| Bettina | A Peerless Patisserie | Dessert Case, Afternoon Tea Set, Dessert Carrier |
| Bianca | My Winter Wonderland | Frozen Sculpture, Ski Rack, Three-Tiered Snowperson |
| Biff | Alien Cyborg Lab | Amazing Machine, U.F.O., Science Pod |
| Big Top | A Hero's Buffet | Double Door Refrigerator, Rice Cooker, Soup Kettle |
| Bill | My Old Summertime Shelter | Shaved-Ice Maker, Beach Ball, Melon Soda |
| Billy | A Place For Pottery | Brick Oven, Classic Pitcher, Modeling Clay |
| Biskit | A Personal Park To Picnic In | Garden Faucet, Outdoor Folding Chair, Picnic Basket |
| Bitty | My Fashion-Mag Office | Magazine, Slr Camera |
| Blaire | A Home With Fruit Flavor | Clothes Closet, Cardboard Box |
| Blanca | Up To You | |
| Blanche | A House That Looms Large | Loom, Elaborate Kimono Stand |
| Blathers | Up To You | |
| Bluebear | A Sweet Candy Workshop | Stand Mixer, Ranch Kitchen, Cooking Tools |
| Bob | A Blooming Indoor Garden | Red Tulips, Yellow Tulips, White Tulips |
| Bonbon | Best House On The Block | Giant Vine, Inflatable Plaza Toy, Glowing Moss Statue |
| Bones | A Pup's Playpen | Mini Circuit, Tricycle, playground Gym |
| Booker | Up To You | |
| Boomer | Classic Coffee Café | Old Sewing Machine, Street Organ, Mug |
| Boone | Dusty Desert Dwelling | Cactus, Covered Wagon, Brick Well |
| Boots | A Peaceful Working Farm | Handcart, Chainsaw, Tractor |
| Boris | A Music Producer's Home | Sampler, Pa Speaker, Silver Mic |
| Boyd | Heavy-Duty Safety Zone | Excavator, Bulldozer, Steamroller |
| Bree | Toy Box From My Dreams | Toy Box, Dress-Up Doll, Dinosaur Toy |
| Brewster | Up To You | |
| Broccolo | A Wheat-Harvest Home | Wheat Field, Brick Oven, Scarecrow |
| Broffina | Anticipation Station | Public Bench, Street Trash Can |
| Bruce | My Board-Game Paradise | Board Game, Cool Dining Table, Instant Noodles |
| Bubbles | My Seaside Photo Studio | Bistro Table, Poolside Bed, Wave Breaker |
| Buck | Locker-Room Lodge | Shower Booth, Outdoor Bench, Upright Locker |
| Bud | Seaside Sports Arena | Scoreboard, Volleyball Net, Lifeguard Chair |
| Bunnie | A Colorful Sewing Sanctuary | Sturdy Sewing Box, Sewing Project, Sewing Machine |
| Butch | A Dog Run For A Running Dog | Garden Table, Garden Chair, Wild Log Bench |
| Buzz | A Traditional Tea Shop | Yunomi Teacup, paper Lantern, zen Low Table |
| C.J. | Up To You | |
| Cally | A Home For Hanging Laundry | Deluxe Washer, Drying Rack, Clothesline Pole |
| Camofrog | A Natural Getaway | Sleeping Bag, Campfire, Wild Log Bench |
| Canberra | International Eatery | Chaffing Dish, Nigirizushi, Fried Rice |
| Candi | My Crafty Cabin | Sewing Project, Ironing Set, Sturdy Sewing Box |
| Carmen | Château D'chocolate | Birthday Cake, Dessert Case, Cacao Tree |
| Caroline | Dreamy Country-Ranch Home | Antique Wardrobe, Ranch Bed, Ranch Chair |
| Carrie | Green Space For My Child | Baby Bed, Flower Bed, Stroller |
| Cashmere | My Private Beach | Beach Chairs With Parasol, Beach Ball, Sand Castle |
| Celeste | Up To You | |
| Celia | A Refined Reading Residence | Elegant Bed, Wooden Book Shelf, Elegant Sofa |
| Cephalobot | My Other Home | Unknown Machine, Gear Tower, Meter And Pipes |
| Cesar | A Half-Built House | Cone, Safety Barrier, Cement Mixer |
| Chabwick | Chabwick's Smokehouse | Smoker, Firewood |
| Chadder | A Cheese-Maker's Château | Table With Cloth, Milk Can, Stewpot |
| Chai | A Cute Space For Fluffy Stuff | Cinnamoroll Sofa, Cinnamoroll Parasol |
| Charlise | The Greenest Of Gardens | Wooden Simple Bed, Wooden Chest, Plant Partition |
| Chelsea | My Own Fairy-Tale Forest | Frosted Cookies, Swinging Bench, Mush Parasol |
| Cheri | A Fruity-Smoothie Fort | |
| Cherry | A Runway For A Fashion Show | Changing Room, Hanger Rack, Powder-Room Booth |
| Chester | My Dream Bamboo Garden | Bamboo Bench, Bamboo Partition |
| Chevre | World's Safest Vault | Jail Bars, Pile Of Cash, Safe |
| Chief | Garage Space For My Pals | Tool Shelf, Paint Cans, Tool Cart |
| Chip | Up To You | |
| Chops | The Winner's Circle | |
| Chow | A Humble Life | |
| Chrissy | Star-Model Showcase | |
| Claude | Home Game Hideaway | Arcade Fighting Game, Arcade Seat, Crane Game |
| Claudia | Vintage Jazz Café | |
| Clay | Clay's House Of Chills | Simple Well, Creepy Skeleton, Decayed Tree |
| Cleo | A Home Bathed In Elegance | Claw-Foot Tub, Casablanca Lilies, Rattan Towel Basket |
| Clyde | Wood-Burning Bungalow | |
| Coach | Track-Meet Training Grounds | Exercise Ball, Cone, Scoreboard |
| Cobb | Secret Research Lab | |
| Coco | Coco-Style Retro Living | Unglazed Dish Set, Pot |
| Cole | My Island Resort | Rattatan Armchair, Coconut Milk, Beach Chairs With Parasol |
| Colton | House Of Tea And Sweets | Afternoon-Tea Set, Tea Set, Bistro Set |
| Cookie | The Ultimate Pop-Star Café | |
| Copper | Up To You | |
| Cousteau | Family-Style Restaurant | |
| Cranston | A Nice Rice Paradise | |
| Croque | Popular Ramen Restaurant | |
| Cube | Eco-Friendly Factory | |
| Curlos | House Of Eternal Toy Day | Big Festive Tree, Holiday Candle, Illuminated Tree |
| Curly | Game-Development Studio | |
| Curt | A Painter's Retreat | Iron Garden Table, Iron Garden Chair, Painting Set |
| Cyd | My Streaming HH | |
| Cyrano | Construction Job Site | |
| Cyrus | Up To You | |
| Daisy | Santa's Favorite House | Illuminated Present, Big Festive Tree, Holiday Candle |
| Daisy Mae | Up To You | |
| Deena | The Old School Gym | |
| Deirdre | A Little Slice Of Fall | Leaf Campfire, Mush Table, Tree's Bounty Lamp |
| Del | A Cabin For My Sea Voyage | Life Ring, Palm-Tree Lamp. |
| Deli | Curry Kitchen | |
| Derwin | My Smart Study Space | |
| Diana | A Place To Meditate | Aroma Pot, Fortune-Telling Set, Elegant Lamp |
| Digby | Up To You | |
| Diva | Island Power Spot | |
| Dizzy | A Fun Yard For Playing | |
| Dobie | The Author's Retreat | Cypress Bathtub, Essay Set, Shoji Divider |
| Doc | A Children's Library | |
| Dom | House Of Gizmos | |
| Don Resetti | Up To You | |
| Dora | A Serious Home Garden | Glowing-Moss-Jar Shelves, Brick Well, Handcart |
| Dotty | A Fair Floral Greenhouse | |
| Dr. Shrunk | Up To You | |
| Drago | My Lucky Lodgings | |
| Drake | Home Of The Bread Refill | |
| Drift | A Vacation Home With A Well | |
| Ed | Dinner-Party Central | Kitchen Island, Table Setting, Table With Cloth |
| Egbert | A Niche Full Of Numbers | Colorful Wheel |
| Elise | Spectacle Collector's Home | |
| Ellie | A Sweet Space | Candy Machine, Soft-Serve Lamp, Cotton-Candy Stall |
| Elmer | A Bustling Sock Store | |
| Eloise | My Relaxing Reading Room | Rocking Chair, Stack Of Books, Wooden Bookshelf |
| Elvis | Castle For A King | Throne, Castle Gate, Castle Tower |
| Erik | A Hut In The Mountains | |
| Étoile | Home For Handicrafts | |
| Eugene | A Place To Tell My Story | TV Camera, Studio Spotlight, Cool Low Table |
| Eunice | Cozy Winter Cabin | Stewpot, Sewing Project, Wood-Burning Stove |
| Faith | Marching-Band Hq | Clarinet, Snare Drum, Trumpet |
| Fang | Chic Chair Chalet | |
| Fauna | My Piano Hangout | Flower Stand, Grand Piano, Velvet Stool |
| Felicity | Felicity's Talk Show | Podium, Lecture-Hall Bench, Flower Stand |
| Filbert | Driver's Ed. Study Lounge | Space Shuttle, Vehicle Cabin Seat, Minicar |
| Flick | Up To You | |
| Flip | A Relaxing Spa | Bath Bucket, Bath Stool, Square Bathtub |
| Flo | A Guitarist's Home | Rock Guitar, Floor Monitor, Amp |
| Flora | A Fortress As Flush As Flora | |
| Flurry | Flurry's House Of Flurries | |
| Francine | Home For A Classy Designer | Hanging Clothing Rack, Sewing Machine, Chrissy's Photo |
| Frank | My High-Up Home | Climbing Wall, Pull-Up-Bar Stand |
| Franklin | Up To You | |
| Freckles | An Underwater Utopia | |
| Frett | A Sports Fan's Dugout | |
| Freya | A Pro Chef's Kitchen | Kitchen Stove, Kitchen Counter, Cooking Tools |
| Friga | A Movie-Projection Palace | Popcorn Snack Set, Projection Screen |
| Frita | My Fast-Food Restaurant | Bussing Station, Standing Shop Sign, Diced-Salad Sandwich Set |
| Frobert | A Backflip Bungalow | |
| Fuchsia | My Manor Of Mischief | |
| Gabi | A Place With A Piano | |
| Gala | A Bank For Everyone | |
| Gaston | The Local Doctor's Office | |
| Gayle | My Home On The Prairie | Nordic Chair, Green-Leaf Pile, Pergola |
| Genji | A Place To Play Go | |
| Gigi | An Actress's Greenroom | Casablanca Lilies, Changing Room, Powder-Room Booth |
| Gladys | Refined Japanese Garden | Paper Lantern, Deer Scare, Tall Lantern |
| Gloria | A Stylish But Functional Spot | Nordic Chair, Nordic Shelves, Nordic Table |
| Goldie | A Real Chef's Château | Mixer, Ranch Cupboard, Ranch Kitchen |
| Gonzo | Campground For Glamping | Log Chair, Log Dining Table, Outdoor Kitchen |
| Goose | My Wake-Up Waypoint | |
| Gracie | Up To You | |
| Graham | Office For A Venture Capitalist | |
| Grams | Up To You | |
| Greta | An Inn With A Hot Spring | Paper Lantern, Outdoor Bath, Bamboo Bench |
| Grizzly | A Magnificent Mansion | |
| Groucho | A Real Farmer's Farm | |
| Gruff | House Of Horrors | Video Camera, Creepy Skeleton, Western-Style Stone |
| Gullivarrr | Up To You | |
| Gulliver | Up To You | |
| Gwen | A Trendy Spa | |
| Hamlet | My Own Soccer Field | Stadium Lights, Ball |
| Hamphrey | A Smoky Room | Smoker, Fire Pit |
| Hans | My Personal Ski Slope | |
| Harriet | Up To You | |
| Harry | My Messy Manor | |
| Harvey | Up To You | |
| Hazel | Comic Artist's Workplace | Wooden Waste Bin, Scattered Papers, Cartoonist's Set |
| Henry | A Voyage Of Self-Discovery | |
| Hippeux | Legendary Art Studio | |
| Hopkins | Bouncy Balloon Bungalow | |
| Hopper | A Lifeguard's Lodgings | |
| Hornsby | Gateway To The Sky | |
| Huck | Huck's Adventure Camp | Elegant Sofa, Western-Style Stone, Cave |
| Hugh | A Place To Sleep And Eat | Futon, Instant Noodles, Simple Table |
| Iggly | Elite Cooling Station | Fan, Frozen-Treat Set, Barbell |
| Ike | Retro Ice-Cream Shop | Wood-Plank Table, Shaved-Ice Maker, Retro Ice-Cream Case |
| Ione | A Diva's Dwelling | Virgo Harp, elegant Bed, Valiant Statue |
| Isabelle | A Moment Of Relaxation | |
| Jack | Up To You | |
| Jacob | Inventor's Workshop | |
| Jacques | The Most Exclusive Club | DJ's Turntable, Laptop, Sampler |
| Jambette | My Beauty-School Dream | Desk Mirror, Makeup Pouch, Whiteboard |
| Jay | A Street For Sports | Skateboard, Basketball Hoop, Fence |
| Jeremiah | House Of Nap | |
| Jingle | Up To You | |
| Jitters | A Futsal Fortress | |
| Joan | Up To You | |
| Joey | A Café That's Also A Spa | Rattan Armchair, Rattan End Table, Iced Caffé Latte |
| Judy | Judy's Recital Hall | |
| Julia | A Place To Enjoy My Guitar | Acoustic Guitar, Music Stand, Wooden Stool |
| Julian | Cloud-Nine Chalet | |
| June | My Very Own Pharmacy | |
| K.K. Slider | Up To You | |
| Kabuki | An Authentic Art Museum | Paper Tiger, Samurai Suit |
| Kapp'n | Up To You | |
| Katie | Up To You | |
| Katrina | Up To You | |
| Katt | A Rockin' Amphitheater | Silver Mic, Electric Bass, Stage Lights |
| Keaton | My Beachside Café | |
| Ken | A Dojo For Ninjas And Samurai | Bow, Samurai Suit, Sword |
| Ketchup | Tomato Paradise | Gas Range, Salad-Stuffed Tomato, Pile Of Cardboard Boxes |
| Kevin | Planet Peace Force Hq | |
| Kicks | Up To You | |
| Kid Cat | A Hero's Secret Base | Server, Throwback Rocket |
| Kidd | Pro Photo Studio | Studio Spotlight, SLR Camera |
| Kiki | My Seafood Snack Bar | |
| Kitt | A Home Full Of Appliances | Deluxe Washer, Vacuum Cleaner |
| Kitty | An Open-Air Café | |
| Klaus | A Life In Antiquity | Aquarius Urn, Ruined Arch |
| Knox | Castle Of The Noble Knight | Double-Edged Sword, Plate Armor |
| Kody | A Blue Bodybuilding Base | |
| Kyle | A Home With Cool Lighting | |
| Label | Up To You | |
| Leif | Up To You | |
| Leila | Up To You | |
| Leilani | Up To You | |
| Leonardo | Sports Star's Field House | Volleyball Net, Scoreboard, PA Speaker |
| Leopold | Camper's Paradise | Fire Pit, Wild Log Bench, Campfire Cookware |
| Lily | A Calm Clearing In Nature | Humidifier, Glowing-Moss Stool, Schefflera |
| Limberg | A Self-Sufficient Homestead | |
| Lionel | Restroom Refuge | Plain Sink, Standing Toilet, Tankless Toilet |
| Lobo | A Retro Residence | |
| Lolly | An Emcee's Training Grounds | |
| Lopez | My Piece Of The Big City | Cool Low Table, Hi-Fi Stereo |
| Lottie | Up To You | |
| Louie | An Actual Jungle Gym | |
| Lucha | A Real Wrestling Ring | |
| Lucky | The Cradle Of Civilization | Golden Casket, Ruined Arch, King Tut Mask |
| Lucy | Doll Manor | Dollhouse, Dolly |
| Luna | Up To You | |
| Lyle | Up To You | |
| Lyman | A Variety Of Veggies | Salad Bar, Veggie Sandwich, Pickled Veggies |
| Mabel | Up To You | |
| Mac | Camp Mac | |
| Maddie | Stylish Streamer Estate | Nordic Sofa, Studio Spotlight, Video Camera |
| Maelle | A Boutique For My Top Brands | |
| Maggie | Garden Of Regeneration | Flower Bed, Garden Chair, Garden Table |
| Mallary | Relaxing Hot-Spring Resort | |
| Maple | A Bountiful Bear Bungalow | Mama Bear, Papa Bear, Ranch Wardrobe |
| Marcel | Luxury Bathroom With A View | |
| Marcie | A Homey Daycare Dwelling | Baby Bed, Dollhouse, High Chair |
| Margie | A Very Fancy Boutique | |
| Marina | Marina's Underwater Palace | Aquarius Urn, Shell Stool, Shell Table |
| Marlo | A Movie-Star Mansion | Den Chair, Den Desk, Rotary Phone |
| Marshal | Retro Café Cabin | |
| Marty | Come-And-Go Calorie Castle | Pompompurin Pudding, Yoga Mat, Milk Can |
| Mathilda | An Eco-Friendly Environment | Casablanca Lilies, Fan Palm, Hammock |
| Megan | A Place For Dreamy Thrills | |
| Melba | Fairy-Tale World | Mush Low Stool, Mush Table, Plaza Arch |
| Merengue | Dessert R & D Dept. | Store Shelf, Mixed-Fruits Tart, Cooking Tools |
| Merry | A Spot To Model Myself | Painting Set, Moving Painting, Box-Shaped Seat |
| Midge | Midge's Beauty Barn | |
| Mint | The Ice-Cream Shoppe | Ice-Cream Display, Soft-Serve Lamp |
| Mira | My Cutting-Edge Keep | Cold Sleep Pod, Crew Member's Seat, Strategic Meeting Table |
| Miranda | An Elite Cross-Training Gym | |
| Mitzi | Mitzi's Mountaintop Eatery | Senmaizuke Barrel, Azumaya Gazebo, Zen Bench |
| Moe | A Magician's Mystery Manor | Stage Lights, Cards, Magic Kit |
| Molly | A Tiny Publishing House | |
| Monique | An Elegant Euro Pied-À-Terre | Elegant Bed, Elegant Dresser, Elegant Lamp |
| Monty | Mystery-Solver Club | |
| Moose | Home With A Hoop | |
| Mott | A Physicist's Home | |
| Muffy | Renaissance Manor | Antique Clock, Antique Mini Table, Street Lamp With Banners |
| Murphy | Small-Town Factory | Solar Panel, Inspection Equipment, Amazing Machine |
| Nan | A Luxury Hotel | |
| Nana | A Park For The Peckish | Bread, Picnic Basket, Plastic Bench |
| Naomi | The Art Café | Artsy Chair, Elaborate Display Case, Artsy Table |
| Nat | Up To You | |
| Nate | House Of Cardboard | |
| Nibbles | Nibbles's Study Space | Bread, picnic Basket, Plastic Bench |
| Niko | | |
| Norma | A Place Packed With Plants | |
| O'hare | Tropical Paradise | Beach Chairs With Parasol, Beach Chair, Palm-Tree Lamp |
| Octavian | A Window To The Sea | |
| Olaf | A Stellar Estate | Whirlpool Bath, Antique Bed |
| Olive | My Everyday Ice-Cream Parlor | |
| Olivia | Portal To The Land Of Nod | |
| Opal | Garden Of Serenity | Rattan Armchair, Incense Burner, Gazebo |
| Orville | Up To You | |
| Ozzie | Health Examination Station | Stadiometer, Hospital Bed, Medicine Chest |
| Pancetti | A Place For The Best Rest | Elegant Bed, Aroma Pot, Humidifier |
| Pango | Ultimate Beauty Salon | |
| Paolo | Paolo's Prep Kitchen | |
| Papi | Shrine To Wooden Furniture | Rocking Chair, Serving Cart, Wooden Table |
| Pascal | Up To You | |
| Pashmina | Flower-Art Atelier | |
| Pate | A Wired Cafe | |
| Patty | A Grilling Paradise | |
| Paula | All-Night Karaoke Club | |
| Pavé | Up To You | |
| Peaches | A Shrine To Roundness | |
| Peanut | Peanut's Americana Museum | Cherry Pie, Diner Neon Sign, Jukebox |
| Pecan | A Chic And Relaxing Home | |
| Peck | Home Field For A Sportsman | Surfboard, Golf Bag, Sporty Shades |
| Peewee | Elite Sports Gym | |
| Peggy | Supermarket Full Of Samples | |
| Pekoe | My Own Zen Resort | |
| Pelly | Up To You | |
| Penelope | My Ever-After Home | |
| Pete | Up To You | |
| Petri | Teatime Terrace | Rattan Armchair, Rattan Low Table, Tea Set |
| Phil | The Sight Of Myself In Space | Nova Light, Asteroid, Lunar Lander |
| Phineas | Up To You | |
| Phoebe | A Place To Fan The Flames | Campfire, Bonfire, Stage Flame Machine |
| Phyllis | Up To You | |
| Pierce | His Majesty's Royal Gym | |
| Pietro | Pietro's World Of Dreams | Plaza Balloon Wagon, Plaza Ferris Wheel, Plaza Game Stand |
| Pinky | A Feng Shui Field | |
| Piper | A Soothing Spa Suite | Coconut Milk, Shell Partition, Rattan Low Table |
| Pippy | A Very Convenient Store | |
| Plucky | A Home For The Hula Life | Ukelele, Portable Record Player, Hammock |
| Pompom | A Fabulous Yard | |
| Poncho | A Prairie Western Home | |
| Poppy | Pet Plushie Palace | Birdcage, Hamster Cage, Puppy Plushie |
| Porter | Up To You | |
| Portia | A Venue For Timeless Music | |
| Prince | A Monster Arena | Robot Hero, Monster Statue |
| Puck | House Of Sports And Sweets | Ball, Basketball Hoop, Ice-Cream Display |
| Puddles | A Lovely Getaway | |
| Pudge | My Pretentious Palace | Lucky Gold Cat, Pile Of Cash, Safe |
| Punchy | A Vacation-Home Treat | |
| Purrl | Purrl's Japanese House | |
| Queenie | Contrast Courtyard | Cool Sofa, Mama Panda, Office Cabinet |
| Quillson | My Own Recording Studio | |
| Quinn | A Place To Express Myself | |
| Raddle | Mad Scientist's Lair | Lab Chair, Amazing Machine, Lab-Experiments Set |
| Rasher | Not-Too-Serious Secret Base | |
| Raymond | A Home Tailored For Me | Antique Console Table, Covered Counter, Old Sewing Machine |
| Redd | Up To You | |
| Reese | Up To You | |
| Renée | Total Blank Slate | Utility Pole, Cruiser Bike, Fence |
| Reneigh | Fancy-Party House | Covered Counter, Pool, Amazing Painting |
| Resetti | Up To You | |
| Rex | A Place To Climb Mountains | |
| Rhonda | A Home For Pleasant Dreams | |
| Ribbot | A Gym Full Of Handles | Capsule-Toy Machine, Candy Machine, Minicar |
| Ricky | The Halls Of Medicine | Exam Table, Skeleton, Whiteboard |
| Rilla | A Chart-Topping Chalet | |
| Rio | Workout Workshop | Exercise Bike, Treadmill, Yoga Mat |
| Rizzo | A Secret Hideaway | |
| Roald | A Wannabe's Racetrack | |
| Robin | A Classical Estate | |
| Rocco | Rocco's Danger Zone | Cone, safety Barrier |
| Rocket | A Respite For Heroes | |
| Rod | A Pirate's Secret Hideaway | |
| Rodeo | My Wizardly Watchtower | Suspicious Cauldron, Glowing-Moss Jar |
| Rodney | Movie-Magic Studio | |
| Rolf | An Alfresco Apartment | |
| Rooney | Boxing Gym | |
| Rory | A Tropical Ocean Paradise | |
| Roscoe | Monotone House | |
| Rosie | My Very Own Talent Agency | |
| Roswell | My Mystery Workshop | Forbidden Altar, Ancient Statue, Glowing-Moss Pond |
| Rover | Up To You | |
| Rowan | Golden Shop | |
| Ruby | A Place To Admire The Moon | Telescope, Moon, Lunar Rover |
| Rudy | Indoor Ball Sports Arena | |
| Sable | Up To You | |
| Saharah | Up To You | |
| Sally | A Napping Field | |
| Samson | A Treasure-Packed Gym | |
| Sandy | An Oasis For Runners | Plush Massage Chair, Shower Booth, Water Cooler |
| Sasha | Moon-Shot Manor | Asteroid, Moon |
| Savannah | My Desert Oasis | |
| Scoot | A School With A Pool | |
| Shari | House Of Perennials | Lily Record Player, Mum Cushion, Rose Bed |
| Sheldon | Traffic-Safety Hub | Plush Massage Chair, shower Booth, Water Cooler |
| Shep | Sounds Of The Street | |
| Sherb | My Fantasy Theme Park | Cotton-Candy Stall, park Bench |
| Shino | A Stage To Jam For Japan | Zen Bench, Silver Mic, Bamboo Speaker |
| Simon | Cool Car Lot | |
| Skye | Painting School | Lily Record Player, mum Cushion, Rose Bed |
| Sly | My Hide-And-Seek Jungle | |
| Snake | The Ultimate Chef Dojo | |
| Snooty | Snooty's Indoor Swim Club | Cotton-Candy Stall, Park Bench |
| Soleil | A Relaxing Summer Home | |
| Sparro | A Gamer's Bunker | Arcade Fighting Game, Capsule-Toy Machine, Crane Game |
| Spike | Heart Of The City | Shower Booth, Cool Sofa, Skateboard |
| Spork | Wee Library In The Fall Woods | |
| Sprinkle | Castle Of Cold | Frozen-Drink Machine, Frozen Sculpture, Frozen Tree |
| Sprocket | The Robo Depot | Conveyor Belt, Robot Arm, Tin Robot |
| Static | A Thrill-Seeker's Hideaway | |
| Stella | My Pink Palace | |
| Sterling | Sci-Fi Sterling's Station | |
| Stinky | A Padded Ring For Romping | |
| Stitches | A Toy Box Full Of Colors | Document Stack, Plant Partition, Wooden Waste Bin |
| Stu | A Home With Woodsy Smells | Firewood, Log Decorative Shelves, Owl Clock |
| Sydney | A Working Vacation Home | Copy Machine, Document Stack, Plant Partition |
| Sylvana | Home Of The Salad Life | |
| Sylvia | A Family-Friendly Pool | Garden Faucet, High Chair, Plastic Pool |
| T-Bone | A Place That Stirs The Soul | |
| Tabby | A Scary Old Hospital | Hospital Bed, Skeleton, Operating-Room Cart |
| Tad | Dreams Of Strength Training | Climbing Wall, Full-Length Mirror, Electric Kick Scooter |
| Tammi | House Of Free Refills | Espresso Maker, Water Cooler |
| Tammy | My Piece Of Pasta Paradise | |
| Tangy | A Vivid Vivarium | Diner Chair, Rocket Lamp, Throwback Race-Car Bed |
| Tank | Tabletop-Game Grounds | Bingo Wheel, Die, Board Game |
| Tasha | An Orange Place | Cool Sofa, Orange End Table |
| Teddy | Always On The Move | |
| Tex | Practice Studio For The Band | |
| Tia | A Perfect Tea-Party Palace | Afternoon-Tea Set, Fancy Tea Set, Lily Record Player |
| Tiansheng | Peach Paradise | Imperial Screen, Imperial Chest, Azumaya Gazebo |
| Tiffany | Celeb Hideaway | |
| Timbra | Star-Filled Sanctuary | Nova Light, Telescope, Crescent-Moon Chair |
| Timmy And Tommy | Excavating Fossils | |
| Tipper | Tipper's Ranch | Milk Can, Lawn Mower, Storefront |
| Toby | A Peaceful Patio | |
| Tom | A Primal Boxing Ring | Punching Bag, Speed Bag |
| Tom Nook | Up To You | |
| Tortimer | Up To You | |
| Truffles | Quiz-Show Soundstage | |
| Tucker | Armchair Archaeology Dig | Forbidden Altar, Ancient Statue, Stone Arch |
| Tutu | A Place To Literally Chill | Shaved-Ice Maker, Windflower Fan |
| Twiggy | A Lively Party Space | Box Corner Sofa, Box Sofa, Karaoke System |
| Tybalt | A Slugger's Dugout | Baseball Set |
| Ursala | A Flowery Bowery | Flower Stand, Casablanca Lilies, Flower Display Case |
| Velma | Velma's Schoolhouse | Homework Set, Lecture-Hall Desk |
| Vesta | Home With A Fireplace | Fireplace, Rocking Chair, Old Sewing Machine |
| Vic | An Adventurer's Home Base | Double-Edged Sword, Barrel, Cave |
| Victoria | A Cute Cottage In Yellow | Dreamy Bed, Cute Lamp, Tulip Surprise Box |
| Violet | Cozy Eatery | Refrigerator, Open-Frame Kitchen, Modern Cash Register |
| Vivian | A Gym To Dance It Out | Exercise Bike, High-End Stereo, Rattan Towel Basket |
| Vladimir | An Underground Lair | |
| Wade | House Of Ticking Clocks | |
| Walker | A Place To Show Off My Bike | |
| Walt | The Set Of Historical Drama | Screen, Sword, Tea Table |
| Wardell | | |
| Wart Jr. | House Of Bonsai | |
| Weber | A Pro Musician's Pad | Alto Saxophone, Poster Stand, Upright Piano |
| Wendell | Up To You | |
| Wendy | Warm Winter Den | |
| Whitney | The Makeup Salon | Makeup Pouch, Nail-Art Set |
| Wilbur | Up To You | |
| Willow | Home For A Coffee Lover | Espresso Maker, Coffee Cup, Antique Mini Table |
| Winnie | A Stable For Horses | |
| Wolfgang | Rock-And-Roll Arena | |
| Yuka | My Forested Jungle | |
| Zell | My Perfect Hotel | |
| Zoe | My Cute And Tropical Corner | |
| Zucker | Festival Grounds | Cotton-Candy Stall, Shaved-Ice Maker, Pinball Machine |