Cooking Fever is a mobile cooking game that went live in 2014. It was developed by Nordcurrent, a prominent development and publishing company. In addition to creating mobile games like Cooking Fever, Nordcurrent also publishes titles like 2021's Ocean's Heart, a top-down action RPG. The company operates in Lithuania. In 2015, Cooking Fever won the Game of the Year award at the LT Game Awards, a show dedicated to spotlighting Lithuanian video game development.
Cooking Fever Premise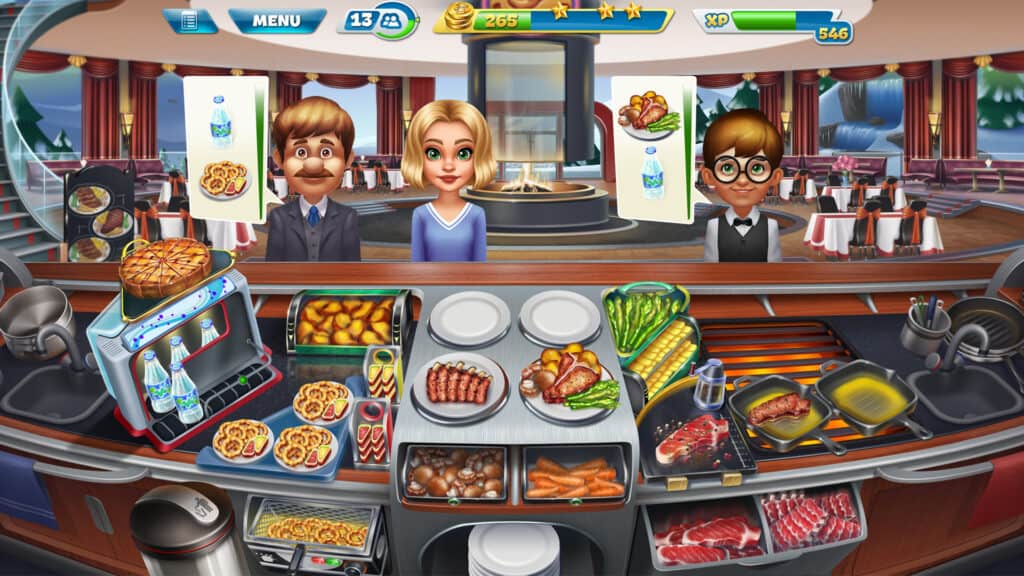 As the name suggests, Cooking Fever is a game about cooking and restaurant management. The game boasts over 1000 levels. You must overcome these by cooking food, serving customers, and upgrading kitchen appliances and tools. Cooking Fever also features over 25 locations for you to work in, encompassing multiple eatery types. You can conquer common restaurant staples like fast food joints, Chinese restaurants, and pizza shops, or you can go for something a bit more uncommon, like a cocktail bar, a corn dog van, or restaurants like House of Crab and Sunset Waffles.
Over the years, Cooking Fever has also hosted crossover events that have shaken up the game in various ways. Understandably, food has been the focus of many of these crossovers. For instance, in 2017, the game featured a collaboration with Hell's Kitchen. The crossover event tasked the player with mastering various cooking techniques and rising through the ranks to become the head chef of Hell's Kitchen, thus mimicking the course of the show. Another collab in 2019 lets players cook in the virtual halls of Hard Rock Cafe, a well-known chain of themed restaurants throughout the United States. Other crossovers have gone outside the realm of food entirely. Cooking Fever's very first collaboration, in 2015, introduced the FC Barcelona football team. Fans playing at the time could serve food to some of the team's most famous players.
Cooking Fever Main Characters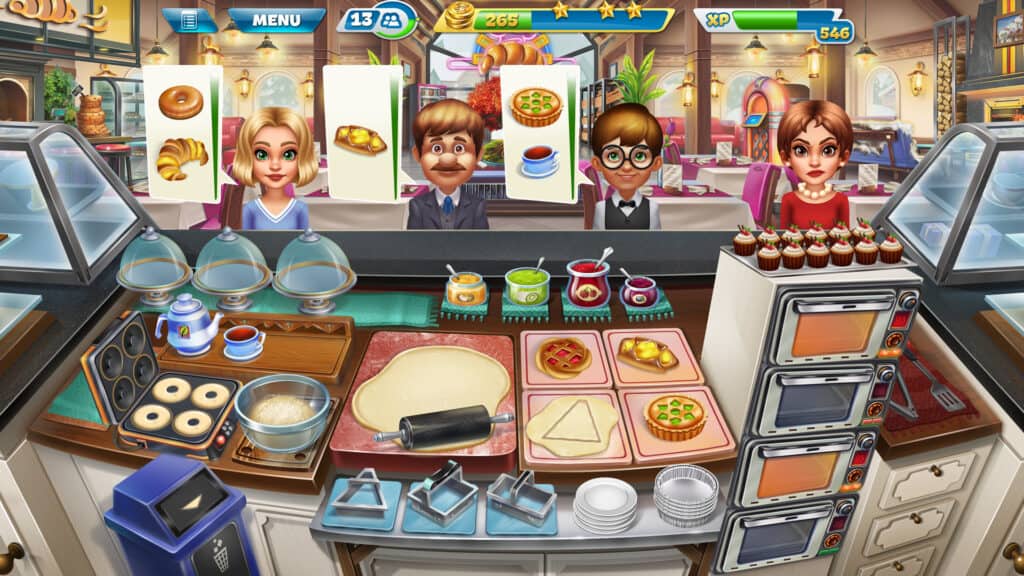 As a challenge-based mobile game, Cooking Fever doesn't have much in the way of a narrative or characters to encounter. Instead, the game's various eateries take center stage. Here's a list of the restaurants you can master during your cooking career.
Fast Food Court: This basic fast food restaurant is where you start your cooking journey.
Bakery: The Bakery, unlocked at experience level 4, lets you make a wide variety of dessert options, including Gelatin Dessert, which is a bonus option to feed customers while they wait for their order.
Sports Bar: This bar, formerly known as the FC Barcelona Sports Bar, entered the game during its collaboration with FC Barcelona. In addition to food items, you can sell sports merchandise to patrons here.
Gourmet Restaurant: This restaurant was originally the site of Hell's Kitchen during the Cooking Fever collab with the famous show. Players who take on this kitchen will need to hone their skills to become head chef.
Rock & Roll Bar: This bar was formerly the site of the collab between Cooking Fever and Hard Rock Cafe collab, and it retains the chain's signature flair.
Chinese Restaurant: This restaurant, found in the city, lets you try your hand at preparing Chinese cuisine.
Pizzeria: This restaurant lets you serve out slices of delicious pizza to hungry customers.
Seafood Bistro: The Seafood Bistro is another city-bound restaurant, standing out for its aquatic focus and beautiful seaside locale.
Indian Diner: This diner lets you serve Indian cuisine to guests once you unlock it at experience level 18.
Breakfast Cafe: This restaurant serves tea and breakfast with an undeniably British flair.
Crazy Dog's Carnival: This street fair-style eatery lets you serve guests out of a food truck in the middle of a carnival.
Sushi Restaurant: This striking sushi-shaped eatery unlocks at experience level 26.
Bubble Valley Donuts: This brightly colored restaurant lets you cater to children and families using significantly sugary treats.
The Medieval Fair: This unique city-based eatery lets you serve guests at a Renaissance fair, and to that end it deals in authentic medieval food.
The Flipping Pancake: This pancake restaurant was added in an update on March 2023, thus making it one of the most recent restaurants to grace Cooking Fever.
Ice Cream Bar: This creamery is located in Cooking Fever's Paradise Island, thus giving guests a chance to beat the tropical heat.
Paradise Cocktail Bar: This Paradise Island bar lets you serve refreshing fruity drinks to guests.
Corn Dog Van: Paradise Island's local food truck gives you a chance to fry up street food while you take in the island scenery.
Cafe Mexicana: Cooks interested in serving up Mexican food need look no further than this Paradise Island restaurant.
House of Crab: House of Crab is a striking underwater seafood restaurant on Paradise Island.
Sunset Waffles: Paradise Island's waffle restaurant is situated at the top of a high cliff, featuring beautiful views of the titular sunset.
Thai Food Stall: Customers can enjoy beachside seating while they dine at this Paradise Island Thai eatery.
Sirtaki Taverna: This Paradise Island restaurant, which was absent until 2018, lets players serve up Greek cuisine.
Sandwich Shop: At experience level 33, Cooking Fever players can unlock this sandwich shop on Paradise Island.
Sunset Cafe: Sunset Cafe is a stylish seaside coffee shop where guests can enjoy the ambience of a night on Paradise Island.
The Tropical Hideout: The Tropical Hideout is a high-level restaurant which lies hidden in the jungles of Paradise Island until you hit level 61 and unlock it.
Mount Breakfast: This is a two-story breakfast restaurant that is built into the side of a mountain in Paradise Island.
Smokey Grill BBQ: Players can find this BBQ joint in Cooking Fever's Alpine Resort area.
Italian Buffet: This classy Italian restaurant, found in the Alpine Resort, was added in 2016.
Salad Bar: At experience level 42 players can start using this salad bar, located in the Alpine Resort and added in 2017.
Aloha Bistro: This Hawaiian restaurant offers visitors to the snowy Alpine Resort a bit of tropical flavor once you've unlocked it level 44.
Michelle's Cafe: Visitors to the Alpine Resort can warm up with a cup of coffee at this mountainside cafe.
Alpine Meat Palace: This aggressively carnivorous eatery can be found in the Alpine Resort.
Michelle's Confectionery: Starting at experience level 49, you can serve customers candy and chocolate at this Alpine-based candy store.
Vegan Peak: This vegan restaurant serves as a thematic counterpart to the similarly Alpine-bound Alpine Meat Palace.
Dragon Wok: This restaurant lets you fry up Chinese dishes while you enjoy the mountain scenery of the Alpine Resort.
The Dumpling Venue: This restaurant introduces Eastern European cuisine to Cooking Fever.
Pastry Chalet: This pastry restaurant is chiefly concerned with croissants and similar baked goods.
The Frog and Snail Restaurant: As the name indicates, players can serve frog legs and escargot at this French eatery.
The Fruity Igloo: This Alpine Resort-based dessert eatery revolves around ice, which is used to make popsicles and shaved ice.
Cooking Fever Cheat Codes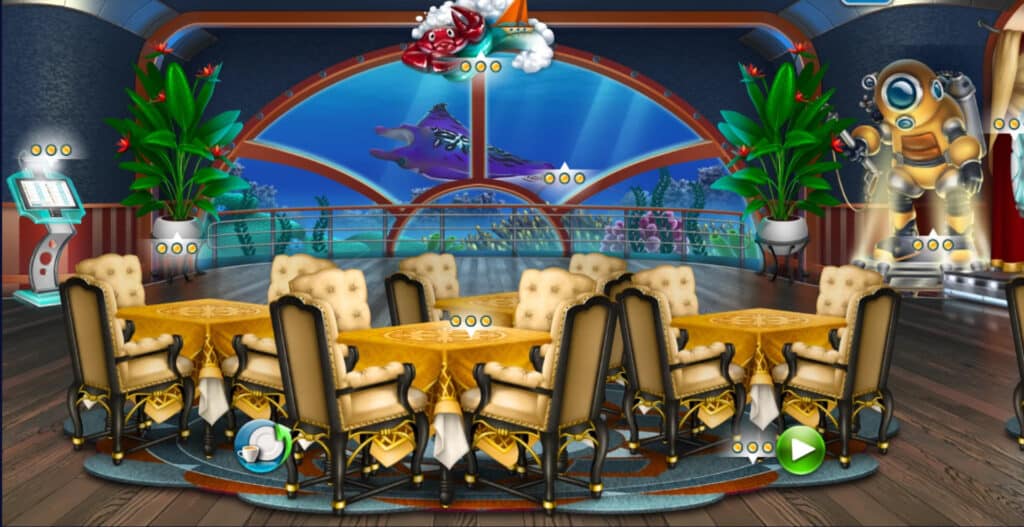 Since Cooking Fever is a mobile game, it relies heavily on its in-game economy to keep things in order. Because of this, there are no official cheat codes in Cooking Fever. Some unofficial exploits can crop up from time to time, but these are usually patched out quickly. You can also seek out third-party systems to inflate your account with extra money and gems, but these systems are iffy at best, and their sources can be questionable.
However, there is one in-game way to maximize your profits with relative ease. Cooking Fever features a list of achievements you can complete. Some of these are global, while others are tied to specific restaurants. Completing these achievements rewards you with XP and gold, so it's worth taking a look to see what you can complete. Here's a complete list of the achievements in Cooking Fever.
Winner: Beat 21 levels without losing a customer.
Happy Customers: Don't lose any customers for 7 levels in a row.
Wake and Bake: Play Cooking Fever ten days in a row.
Taking No Breaks: Play Cooking Fever for one hour straight.
24/7: Beat 50 levels in 24 hours.
Perfect Restaurant: Fully upgrade a restaurant.
Restaurant Chain: Fully upgrade three restaurants.
Restaurant Monopoly: Fully upgrade five restaurants.
New Waiter: Serve 1 client.
Experienced Waiter: Serve seven hundred clients.
Professional Waiter: Serve five thousand clients.
Millionaire: Earn a million coins.
Extra Income: Earn a thousand coins in tips.
Tip Master: Earn ten thousand coins in tips.
Speedy Service: Earn a hundred thousand coins in tips.
Working Extra Hours: Receive a thousand coins for completed tasks.
Extra Job: Receive five thousand coins for completed tasks.
Hard Earned Money: Receive ten thousand coins for completed tasks.
Surpassing All Expectations: Earn 200 coins more than the target score.
Great Spender: Spend 20 diamonds.
200 Shinies: Spend 200 diamonds.
Highroller: Spend two thousand diamonds.
Investor: Spend ten thousand coins on upgrades.
Smart Investor: Spend fifty thousand coins on upgrades.
Upgrading It All: Spend two hundred thousand coins on upgrades.
Smart Upgrading: Receive 500 XP from a single upgrade.
They're Less Fortunate: Recycle 11 dishes in one level.
You're Doing It Wrong: Burn 100 dishes.
Try Harder: Lose 50 clients.
Fast Food: Serve 4 clients in 3 seconds.
Lending a Hand: Call the repairman 10 times.
Perfect: Complete every level in the Fast Food Court with 3 stars.
Happy Moustaches: Serve 50 customers with mustaches.
Keeping them Hydrated: Sell 200 drinks.
People Are Thirsty: Sell a thousand drinks.
Quench your Thirst: Sell three thousand drinks.
Master Confectioner: Complete all levels in the bakery with 3 stars.
First Class Restaurant: Complete all levels in the Chinese Restaurant with 3 stars.
Elite Pizzeria: Complete all levels in the Pizzeria with 3 stars.
Take a Nap: Lose a level three times in a row.
Been Abroad: Unlock a new restaurant.
Experienced Traveller: Unlock four new restaurants.
Best of the Best: Complete all levels in the Seafood Bistro with three stars.
Level Up: Reach experience level 10.
Half Way There: Reach experience level 20.
Professional: Reach experience level 30.
Good Job: Complete 200 levels.
Happy Chef: Beat 5 levels in a row without burning a dish.
Great Chef: Beat 15 levels in a row without burning a dish.
Master Chef: Beat 30 levels in a row without burning a dish.
Conqueror: Unlock 6 new restaurants.
Restaurant King: Completely upgrade 7 restaurants.
Best Indian Diner: Beat all levels in the Indian Diner with 3 stars.
English Breakfast Professional: Beat all levels in the Breakfast Cafe with 3 stars.
Smart Move: Get five thousand coins from daily rewards.
Getting What You Deserve: Get 10 gems from daily rewards.
Player: Spend ten thousand coins in the Casino.
Better Luck Next Time: Spin the slot machine at the Casino 15 times in a row without winning anything.
Jackpot: Win one thousand coins at the Casino with one spin.
Show Them What You Can: Beat 250 levels with three stars.
Television Maniac: Buy 6 TVs for your restaurants.
Negative Balance: Throw away some food while you have zero coins on a level. This is a hidden achievement.
Other Way To Win: Beat a level without cooking any of the main dishes. This is a hidden achievement.
Burn Them All: Have 9 dishes burning at the same time. This is a hidden achievement.
Dirty Chef: Leave an overcooked meal on your stove for more than a minute. This is a hidden achievement.
Sushi Master: Complete all levels at the Sushi Restaurant with 3 stars.
Cooking Fever Cheat Code FAQs
How do you get unlimited gems in Cooking Fever? There used to be a glitch allowing players to obtain infinite gems in Cooking Fever. It required you to disconnect your device from the internet, enter and exit the game, then advance your system's date and time by one day in order to get repeated daily login rewards. This glitch has since been patched, however.