Its official…Germans love Microsoft!
Gamescom 2014 has proven to be a huge success for the folks on Team Xbox. As the first few days come to a close, you'd think that Microsoft was the only game company that showed up. While other bits of news and info are seeping out, it's clear the Xbox One was the real star this year (at least that's how it looks so far). Headlines across the old interwebs are abuzz reflecting the same sentiment, Microsoft is making a huge push with its next-gen console as it primes for the Holiday season.
In fact, there has been so much to come on the Xbox front, our plates have been pretty full in trying to sort through it all. Of course, I encourage everyone to check the news feed of CheatCC's main page , as we're continually updating it with the latest on all the goings on.
In the meantime, here's a quick rundown of just some of the highlights which I feel deserve an honorable mention.
Xbox Special Edition Bundles:
I'll admit, I typically don't go for this type of gimmick. I'm all for bundling games with consoles (remember a time when that was standard?) in order for gamers to save a buck or two, but the so called " Special Editions " is where I draw the line. However, these new Xbox One packages are a bit different. One bundle in particular ( Sunset Overdrive to be exact) caught my eye. The sleek new white design (trimmed in subtle black) really does look nice. If you've not picked up a next-gen console yet (and want to go with the Microsoft brand) you could do a lot worse than this sleek piece of hardware. Very appealing to the eye I must admit.
New From Forza Motorsport:
I think it's safe to say that everyone likes free stuff right? Well, if you're a Forza Motorsport fan, you're in luck! Even if you have raced all the tracks and already unlocked every car possible, the developers are looking to infuse the game with a bit of additional content that might help reinvigorate your interest. In a new patch just announced, gamers will get behind the wheel of five beautifully rendered rides (including the ultra-posh 2014 Rolls-Royce Wraith). With the Forza team focusing on Horizon 2 as of late, I didn't really expect much new from this oldie but goodie. Nice to see they're not giving up on it just yet.
Tomb Raider Becomes Exclusive:
This really was a good " get " for Xbox. Exclusive content is hard to come by in this day and age, so learning that Tomb Raider will only be available on the One is good news for those at Microsoft headquarters. It's no secret the Xbox has struggled in the sales department vs. its PlayStation counterpart, so the reveal of this much needed ace in the hole could not have come at a better time. Moves like this (combined with their recent price drop) could make for a very different Holiday season than we saw last year.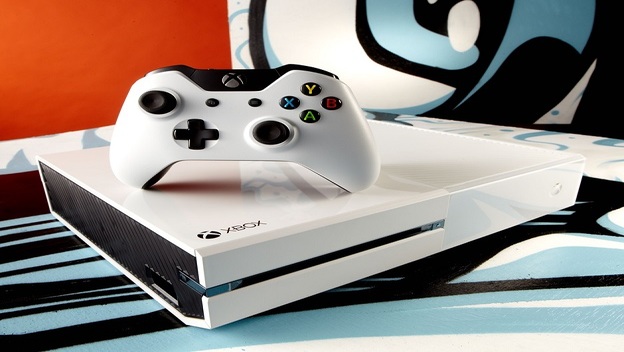 Halo, Halo and More Halo:
If you were just a casual observer, you might think that Gamescom 2014 was nothing more than a tech demo for the upcoming Halo games. On the Guardians front, we learned the Halo 5 beta will go live in late December and run until early January. In a behind the scenes video , the designers talk about getting back to basics with their arena-style 4v4 gameplay. The beta will feature what they call a " fair start " load out, which ensures all players spawn on equal footing. Also, we've learned about a new Halo channel as well as an updated version of Sanctuary making its return in the newly revamped Master Chief compilation (due out this November).
And we're just getting started! The highlights above only scratch the surface of what Microsoft and the rest of the industry had to offer in the first day or two! We'll continue our coverage all week long and bring you the very latest news and announcements coming from the trade show floor…so stay tuned!
Buckle up everyone, this ride ain't over just yet!