Madden NFL 20 Drops Longshot for Safer Bets
For longtime players of the Madden NFL series, the conversation around each new annual release has shifted in recent years. As it has adapted to a world in which games as a service are the standard, it's been less about enticing players to pick up the installment with flashy new modes and justifying its existence through the sheer length of its features list. Instead, it feels more like a major version update, offering new features to enhance what it's already doing and trying its hardest to keep the core experience fresh and fun to play. Madden NFL 20 feels like the culmination of this effort, and the result is a game that doubles down on its existing appeal.
The headline feature for this year's installment ‒ and it's literally the first thing you'll see everytime you start the game ‒ is Superstar X-Factor, a system of special abilities designed to make the league's 50 best players feel different and special. Each takes a certain amount of on-field success to unlock, and when active, they give you an unparalleled advantage. Some running backs will always successfully juke the first tackler, some quarterbacks will get a bright indicator of the first open receiver and  some defenders will have way higher interception rates.
You essentially have to prove yourself worthy of these things by playing well as that player, which means that this feature does have the genre's usual problem of rewarding success with more success and thereby punishing players who are still learning the ropes. Ratcheting down the difficulty could help those players, and the Arcade mode is now tuned to make these big and easy to use, so they're not totally left out in the cold. Still, this is an example of the game's shift in focus toward rewarding the existing active player base with its updates rather than reaching out to new fans with something unrelated to what players already like.
Madden NFL 20 does its best to push these X-Factors by building its visuals around these players. Menus and load screens constantly show them and tell you what they can do, often featuring assessments by members of the ratings adjustment team. (Who, unlike the players, remain unnamed on these screens.) Professional football is a team game, but Madden generally isn't: you're controlling one player and handling the bulk of the on-field action, and cooperative play has never really caught on despite being an option for decades. So, perhaps, it makes sense to build these special abilities and put such a focus on them, if only to make them feel at home in the Madden spotlight under which they'd already found themselves.
Serving as the showpiece narrative mode of the game in the place of previous years' Longshot is QB1, a more streamlined single-player franchise option. Essentially, you get to play out a few key moments in your college career before you're drafted, and there are a few events through your rookie stint that can pop up as you play. This is much less about telling a story, though there are occasional flashes of what once was. Instead, it lets you customize your background a bit by choosing your college from a few options, runs you through a combine to determine your draft situation and… yeah, that's about it! There's a wrap-up scene at the end of your first season that changes based on your performance, but you're otherwise left to care about your on-field performance for, well, the usual reason: your own success and the fun of playing Madden.
The name of the mode, QB1, basically sums up its focus: Madden has long been a game about being the quarterback, and designing an experience about doing solely that means you can build a compelling skill tree of sorts to explore and control all the "fun" plays while skipping defense and kicks. It makes this a mode that's a bit snappier to play through than the standard franchise (which is still here and exactly as you remember it), and easier to enjoy in smaller sessions. It's understandable to play and yearn for the weirdness and ambition of Longshot, though, even if last year's sequel story did drop the ball a bit. While it's never reached the heights (or, well, "heights") of FIFA and NBA 2K's narrative modes, it was still nice to have a weird distraction every release.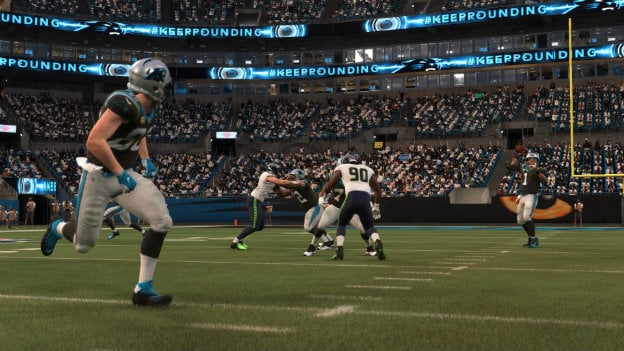 Madden Ultimate Team is back for another season, unsurprisingly, and it continues to embrace its influences. It's the ongoing management experience with all the customization, bite-sized play, constant reward and, yes, microtransactions of a mobile or free-to-play title. There's definitely a path to enjoying play without further investment, and it's not shy about offering you walls upon walls of specific short challenges to keep you busy for a long time. Still, it's the sort of thing that is all about offering you the pleasure centers of earning coins and the visual spectacle of pack-opening animations, and that's not changing anytime soon. It would be nice if it would just, for example, reward you with currency instead of making you open a pack that reveals one card that has one purpose and that's to be sold for currency. It's that sort of design choice that makes playing it much more tedious than it has to be.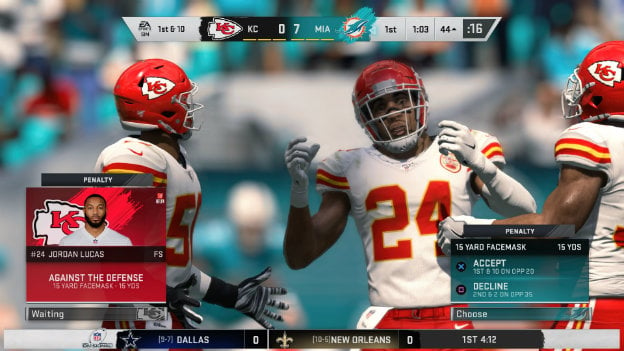 There are lots of under-the-hood tweaks to how the game's played, from special animations for stars and new team-specific plays. And hey, those are nice! Dedicated fans will appreciate seeing Aaron Rodgers looking more like Aaron Rodgers as he plays, even if that doesn't dramatically change how they play the game. What is much more appreciated is an effort to shave off time here and there to make the process of playing through a game just a bit faster. It's not much each time, but getting through all four quarters in a minute or two less? That adds up. And hey, there are also some new option plays. They're situational and players may need a few tries to get used to them, but for high-level competitive players, any new tool available is a benefit. What may need further tuning is the frequency of face mask penalties, though, as they'll regularly comprise over half of the blown whistles in a game. It's not so bad in QB1, as you're locked to offense and they're always to your benefit, but when you're on defense and the AI keeps ruining your day, it's less fun.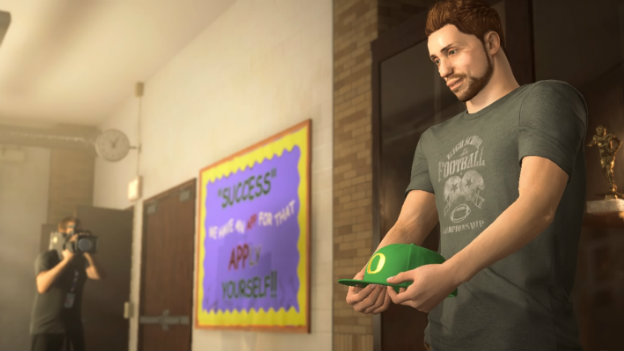 At this time in the console life cycle, we'd expect games like Madden to be at their largest and most feature-rich, trying everything they can and retaining previous work before shedding it all at the launch of the next generation. And Madden NFL 20 simply isn't that. Perhaps we're past that now, with new hardware not meaning a full engine rework and development teams considering other factors in their decisions. However it got here, it's a distilled, slightly faster game that focuses on ironing out its rough spots rather than introducing anything that could cause new ones. And as much as we love the spectacle of an attempt at interactive story or the novelty of a quirky new side mode, enhancing the part people actually play could be of more long-term value.
RATING OUT OF 5 RATING DESCRIPTION 4.3 Graphics
Madden's worked for years to make its on-field animations smoother, and it shows. The new menus and UI elements are stylish and usable 4.4 Control
No real changes here, but it controls how it should and there are a wealth of difficulty and accessibility options 4.3 Music / Sound FX / Voice Acting
There's some recycled work and inevitably there will be a song you'll want to skip, as usual, but what's here works well. Some voice clips in menus repeat a lot 4.1 Play Value
If you're here for new modes, you'll be disappointed. But if you like the core offerings, you'll appreciate the extra time spent polishing them 4.3 Overall Rating – Great
Not an average. See Rating legend below for a final score breakdown.
Review Rating Legend
0.1 – 1.9 = Avoid
2.5 – 2.9 = Average
3.5 – 3.9 = Good
4.5 – 4.9 = Must Buy
2.0 – 2.4 = Poor
3.0 – 3.4 = Fair
4.0 – 4.4 = Great
5.0 = The Best
Game Features:
Face of the Franchise: QB1 – Be the Face of an NFL franchise where the decisions you make matter in your journey to become an NFL Superstar. Create your own College Quarterback to play through the College Football National Championship playoffs and the NFL Combine for your shot at the NFL Draft and to be the face of a franchise in a new and personalized career campaign centered around you. Once selected to a team, engage with Madden's new Scenario Engine which generates personalized playable scenarios, events, and dynamic challenges that build the story of your unique NFL career.

Superstar X-Factor – Feel the emotion, personality, and power of NFL Superstars with Superstar X-Factor, an all-new abilities progression system that reveals special abilities for today's most exciting NFL Superstars when certain objectives are met in games. Combined with authentic personality & real player motion, the stars of the NFL truly come to life in Madden NFL 20. Take full control of player development with new ways to customize player abilities.

Ultimate Team – Compete in the ultimate NFL fantasy team-building mode featuring your favorite NFL players from the past and present. Play games, collect rewards, and upgrade your team with daily, fun and engaging challenges with live NFL content all year-long.