Publish Date: Thursday, August 6, 2020
Gaming isn't always a stationary hobby. There are plenty of times when you need to play on the go. Whether it is with a laptop or because you tend to play a lot of games on your Switch or tablet, getting out and about and still keeping your tech with you and safe can be a big deal. Dedicated bags are great, and Mobile Edge is fantastic about offering laptop totes that can take care of people wherever they might go.
For example, the Mobile Edge Urban Laptop Tote is one sort of bag. It's genuinely a gender-neutral sort of bag that can hold everything for $89.99. Of course, it's an understated, but stylish bag. It is made of cotton canvas, so it is durable, and is a black that goes with anything. Its interior is tartan cotton-twill, so it is soft and gentle on your electronics. It also has vegan leather accents, for the sake of style and durability. There are also metal feet on the bag, so its kept a little safer if it has to be on the floor, and it fits in all of an airplane's tight spaces.
What's also great about the Urban Laptop Tote is how it is ready for anything you might have to hold on the go. You have one pouch perfectly designed to hold a tablet (or maybe even a Switch). That pocket has fake fur lining, to help with cushioning and to keep it safe. You have an outside pocket for a phone, though there are also inside pockets that could hold a phone too. It also comfortably fits a 15.2" laptop, which has its own pocket with strap to keep it safe. It is about ensuring everything is cushioned, padded, and in its proper place when you're traveling.
For the people who favor pink, Mobile Edge has another option that's slightly more expensive. However, the higher price tag also means a few extra features. First, this Pink Faux-Suede Tote is designed to be a little softer and offer different shades of pink. It has the same metal feet, to offer a little protection when it is on the ground. It also has a breast cancer awareness keychain, is compatible with underseat and overhead bin spaces on planes, and has exterior pockets.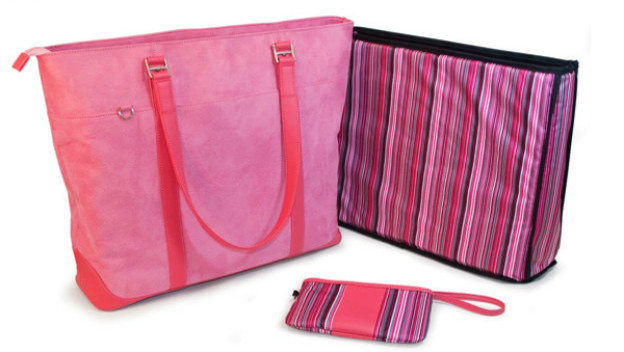 But it's when it comes to accommodating electronics that the Pink Faux-Suede Tote gets real good. First, it has the same sorts of specific electronic pockets and pouches as other bags, so you have pockets and zippered spaces for things like phones, tablets, Switches, and laptops. But, since people know not all laptops are equal sizes, you have a space that can fit anywhere from a 15-17.3" laptop. Plus, its computer section that can hold a 15" laptop is removable, so you can have extra protection for it. You even have an extra pouch with it, which might be a good fit for Switch cartridges.
Basically, the Mobile Edge Laptop Totes are the sorts of bags to keep people on the go. They each have all sorts of spaces for whatever valuable electronic you might have with you. These precious devices won't be shifting around. They'll all be secure in their spots. The bags themselves are durable and made of high quality material. They even both have self-healing zippers, in the event you get rough with them or there's a travel-related incident that gets things askew. And, if there was ever any sort of issue, the company has a lifetime warranty to offer additional protection. Ideally, both of these bags would be around for the long haul.