Mount & Blade is a 2008 strategy action RPG, developed by TaleWorlds Entertainment exclusively for PC. While the game received mixed reviews upon its initial release, it left brilliant foundations that subsequent entries in the franchise later expanded upon to great success and fanfare. Mount & Blade is the only single-player game in the entire series, with multiplayer madness eventually becoming one of its key selling points. 
Mount & Blade Premise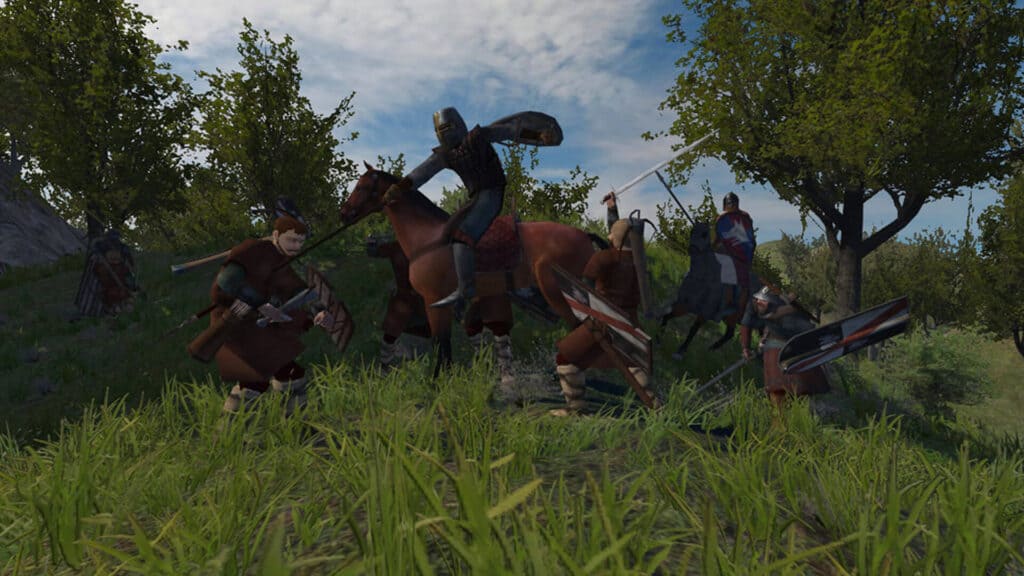 Mount & Blade offers a variety of ways to play amidst the chaos of medieval plotting and scheming. In the game, you assume the role of a custom character, and the world is your oyster! You can join any of the five feuding factions and complete quests within them to further their cause. Or, you can cause chaos from within and overthrow these factions as a Trojan horse character. Mount & Blade doesn't even force you to do that; you choose to remain neutral and go it alone if you please. 
This political drama takes place on the world map, where you point and click to move around the land of Calradia. Along the way, you encounter a variety of enemy parties, and this is where combat takes place. The combat in Mount & Blade is arguably the most dated aspect of the game. Despite being in first person, it's rough, even by today's standards. It takes place on small-scale battlefields, with poor AI that makes it quite tough to play. Ultimately, it's a necessary evil so the rest of Mount & Blade can work as intended.
Once you reach your destinations, Mount & Blade moves to a third-person perspective, where you can engage with different political leaders. This is where your scheming comes in handy as you craft plans from conversation to conversation. It's the most interesting part of the game, and it has been good to see the newer titles expand upon it more. 
Mount & Blade Main Characters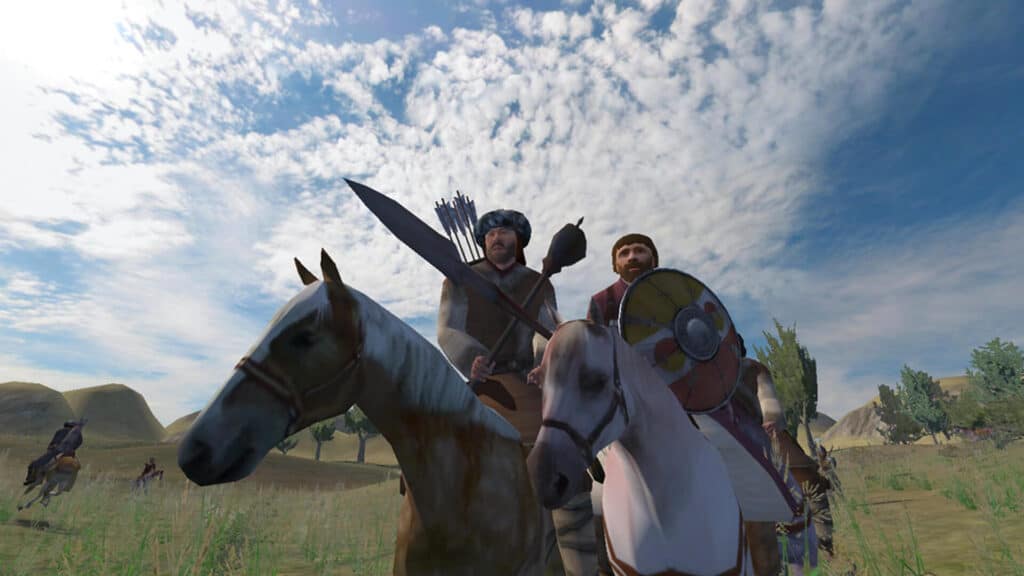 As a game that takes an action-first approach, there are not a lot of characters to get attached to in Mount & Blade. Instead, the game has you interact mostly with the leaders of each faction, dealing with them on a personal basis. Here's everyone you need to know before attempting to conquer Calradia.
The Main Players
The Protagonist: It's you! At the start of Mount & Blade's campaign, you create your own character before you head into the land of Calradia. In true RPG fashion, you're able to create your own backstory which affects how lords regard you throughout the game. The protagonist is very much a blank slate, without much of a personality to speak of.
Sanjar Khan: Sanjar Khan is the leader of Khergit Khanate, as well as the lord of Tulga. Khan is a fair ruler, usually handing out towns and castles to vassals who have captured them themselves. Throughout the campaign, you can overthrow Khan by allying with his brother, Dustum Khan.
King Ragnar: King Ragnar rules the Kingdom of Nords with an iron fist, and has the potential to grow the biggest army in the game if you don't keep him in check. If he is allowed to obtain a warband of 400 troops, you're in big trouble. By helping Lethwin Far-Seeker, you can overthrow King Ragnar.
King Graveth: King Graveth starts the game as ruler of the Kingdom of Rhodoks. A selfish ruler, he prefers to give himself as many towns as possible, although on occasion will assign castles and villages to his vassals. Graveth was elected King by a voting council, which he threatened to kill if not elected ruler. You can overthrow Graveth by working with his political opponent, Lord Kastor of Veluca.
King Harlaus: King Harlaus is the monarch of the Kingdom of Swadia, and is one of the oldest rulers in the game. Despite this, he remains one of the most powerful, and shouldn't be underestimated. His cousin, Lady Isolla of Suno, plans to remove him from his throne, a plot you can assist with.
King Yaroglek: Headstrong and stubborn, King Yarolek rules the Kingdom of Veagirs however he likes. He grants villages to anyone he thinks is worthy, including yourself. Yarolek can be challenged by assisting his cousin, Prince Valdym the Bastard, with his own claim to the throne.
Mount & Blade Titles in the Series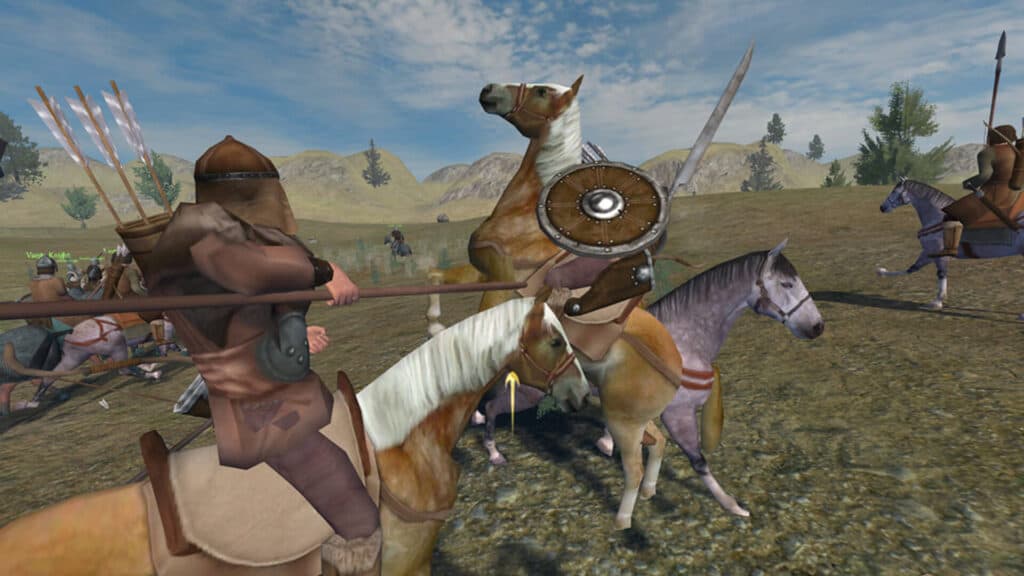 When the Mount & Blade franchise began, it wasn't too popular with gamers. The original game was clunky and, even for 2008, was quite difficult to play due to dated mechanics. TaleWorlds Entertainment began with just a handful of developers, so it was very much a passion project. The game was still popular enough to spawn a standalone expansion, Mount & Blade: Warband. For many, this is where the series truly came into its own and began to fulfill its potential, becoming a must-buy for many PC players.
The series had been officially dormant for over a decade when it made its 2022 return with Mount & Blade II: Bannerlord. However, the incredible modding community for the earlier titles ensured the series remained at the forefront of many gamers' minds, maintaining an active player base until the release of the new title.
Mount & Blade Cheat Codes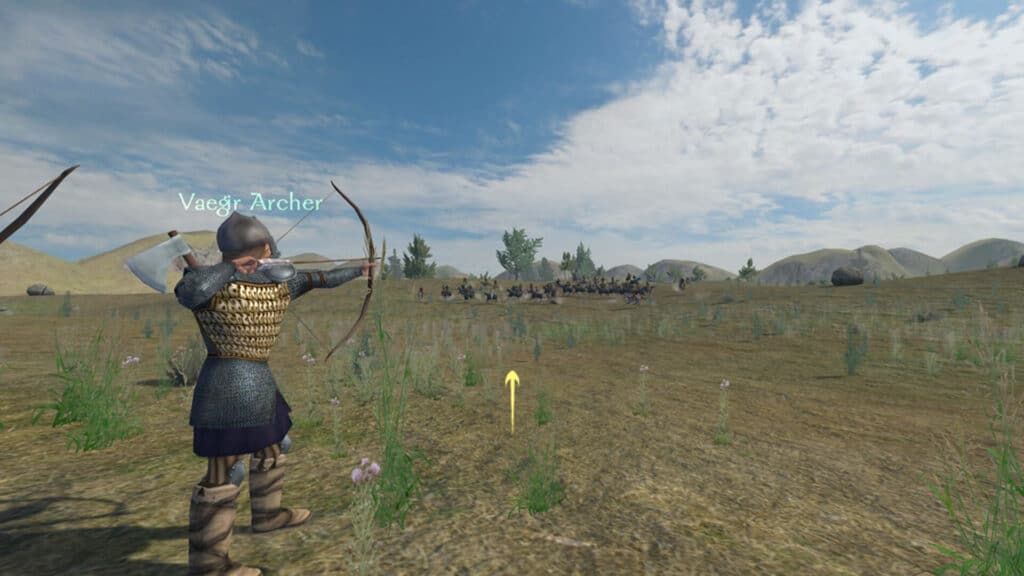 As Mount & Blade is a completely single-player experience, it offers a few different cheats that you can use to gain an advantage on the battlefield.
Before you do anything, you must first select the Configure option in the main menu, then select the Game tab. From here, press the Enable Cheats option. Voila! You're now ready to use this selection of Mount & Blade cheat codes.
CTRL: Hold while clicking on the map to fast travel
CTRL+F3: Inflicts blunt damage to your own character
CTRL+F4: Inflicts blunt damage to a random enemy
CTRL+Shift+F4: Inflicts blunt damage to all enemies
CTRL+F5: Assigns control of your character to AI
CTRL+F6: Inflicts blunt damage to a random ally
CTRL+Shift+F6: Inflicts blunt damage to all allies
CTRL+F9: Toggles slow motion on or off
CTRL+F11: Freezes time
CTRL+H: Refills your character health to max
Ctrl+Shift+H: Refills your horse's health to max
CTRL+L: Automatically levels you up (breaks the game after level 62)
CTRL+T: See all enemy parties on map
CTRL+W: Improves all Weapon Proficiencies by 10 points (when used on the Character screen)
CTRL+X: Assigns a selected soldier 100 experience points (when used on the Party screen)
CTRL+X: Assigns your character 1000 experience points (when used on the Character screen)
CTRL+X: Receive 1000 denars (when used on the Inventory screen)
Mods
Alternatively, if you want a bit more versatility from your Mount & Blade cheats, you can also choose to mod the game to your liking. The game's modding community has released plenty of mods that do a wide variety of things. This can be as small as new animations to entire Star Wars total conversions.
We're going to highlight the OSP Cheat Menu Mod Merger Pack, available on Nexus Mods. This great mod adds a Developer's Menu where you can do nearly anything, from moving to any level, giving yourself unlimited money, or spawning any item in the game at a whim. 
If you find the official Mount & Blade cheats to be a little restrictive, this is definitely the way to go.
Mount & Blade Cheat Code FAQs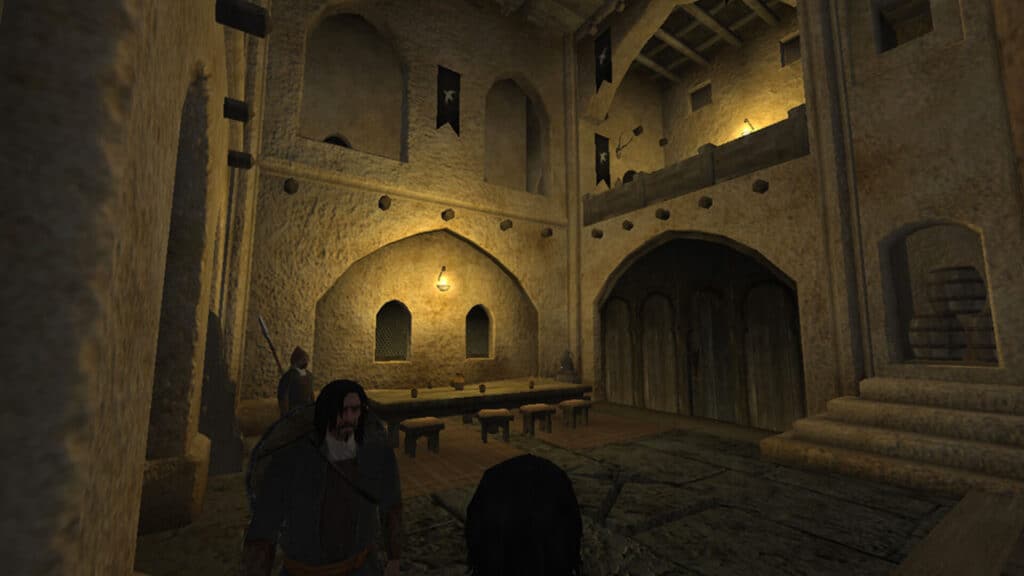 Can I Use Console Commands in Mount & Blade?
Sadly, there's no official developer console in Mount & Blade. Later iterations of the franchise would include the feature, but it was too much to ask of the original game.
Despite this, the actual cheat codes featured in Mount & Blade cover most of what console commands would allow for anyway.
Why Does the Mount & Blade Level-Up Cheat Break The Game?
When you pass level 62 in-game, it automatically overflows the level. This sends you instantly to around level 2000. Sounds great, right? Wrong. Many of the quests in Mount & Blade scale with your level, making them completely impossible to complete. Even clearing out a bandit camp would result in you facing thousands of enemies due to how the game's designed. Save The Village quests are a particular casualty and, given how prevalent they are, it's a big issue.
For some reason, this glitch also makes every hostile party run away from you in combat. The game is technically playable, but at the same time, it ends up so broken that it's not even worth trying.
Can I Use Mount & Blade Cheats With Mods?
Sure! If you're a Mount & Blade player nowadays, chances are you're playing a heavily-modded version of the game. Rest assured, the Mount & Blade cheats should all work no matter how modded your game is.