Rainbow Six Siege Summary
Rainbow Six Siege is the 10th mainline game in the long-running Tom Clancy's Rainbow Six series. Ubisoft Montreal developed the title for the parent company and publisher Ubisoft. Unlike previous games in the series, Rainbow Six Siege is a fully-online competitive tactical shooter. The title does not feature a single-player campaign. Siege was developed as a "reboot" of sorts following the technical issues and development difficulties suffered by the canceled Rainbow Six: Patriots.
Released in 2015, the game garnered positive reviews, but many fans decried the lack of a single-player campaign. Despite an initial slow start to player adoption, Rainbow Six Siege is now one of the premier esports titles. A large portion of this successful turnaround comes from its transition to a live-service game. Ubisoft continues to support the title with free updates and DLC, including new Operators and themed events.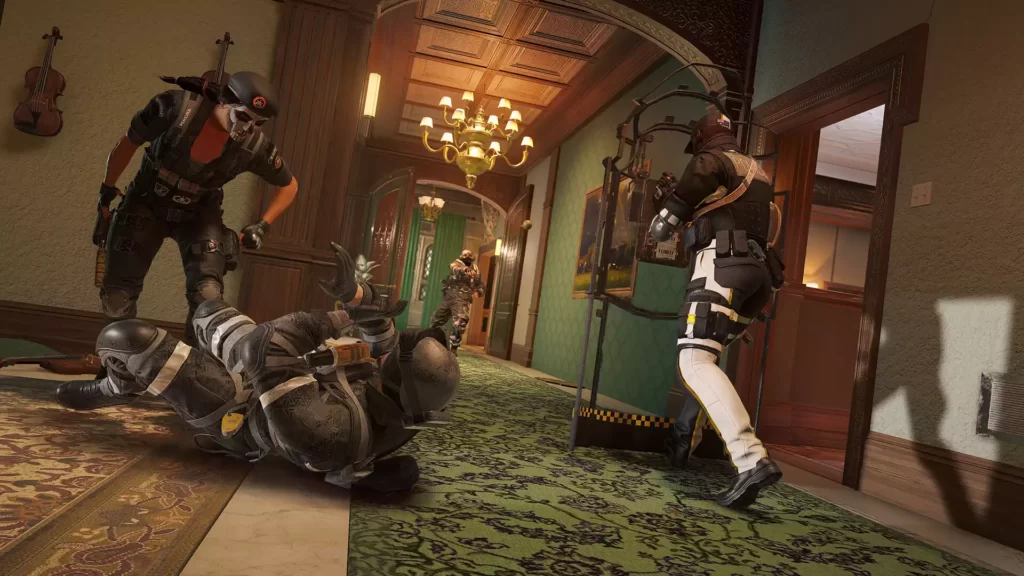 The redemption of Rainbow Six Siege may have influenced the recent live-service push from many developers. Several fans and critics now consider Siege to be one of the best multiplayer shooters on the market. Additionally, Siege has one of the best competitive scenes in esports. To date, the title has roughly 70 million players across all platforms, making it the most successful title in the franchise.
Rainbow Six Siege Premise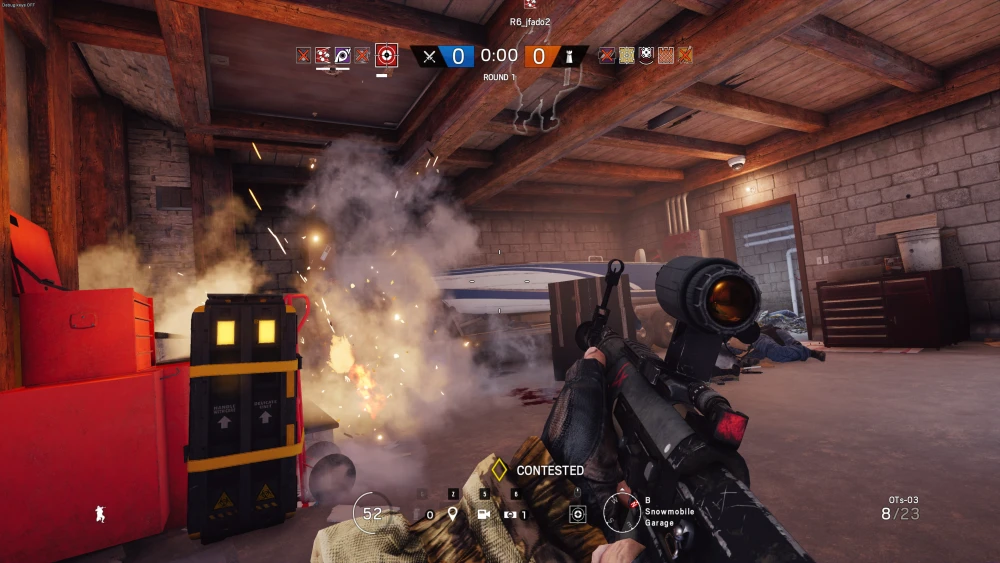 The Rainbow Six series is built upon the fictitious "Rainbow Team" – an international counter-terrorism unit featuring operators from all over the globe. Rainbow Six Siege takes this concept a step further by allowing players to choose individual Operators. Each Operator has their own loadout kits and unique abilities. Similar to other titles in the franchise, Siege is a first-person shooter with tactical "breach-and-clear" gameplay based on real-world terrorism scenarios.
The game runs on Ubisoft's proprietary AnvilNext 2.0 engine, allowing for destructible environments. Players can blow apart walls and doors by placing explosives on them or shooting them, creating pathways in the process. Many of the game's modes involve holding or defending a position, making the destructible environments an entertaining wrinkle in the gameplay.
Most matches are split between attacking and defending teams. At the start of a match, players choose spawn points based on their team. Following the selection of spawn points, the attackers are given one minute to deploy drones. These drones scout out locations of enemy operators and can plant traps or other devices as well as scout out the target objective. Once in-game, a downed player cannot respawn until the match is over. Since players are part of a team, the game encourages constant communication and coordination.
Rainbow Six Siege Main Characters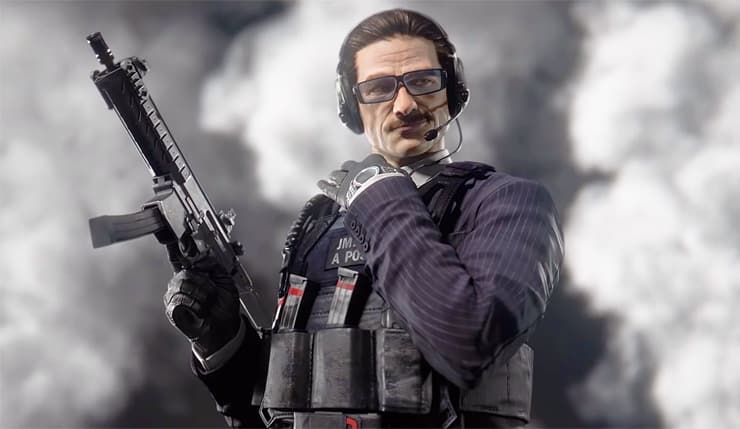 While almost all games in the Rainbow Six series feature unique characters, Rainbow Six Siege is the first title in the series to adopt the "Hero Shooter" model. As a result, Siege features more than 60 unique Operators, each with their own unique kits and abilities. Operators are either on the side of the Defending or Attacking teams, and all are members of one of the game's five unique squads. Rainbow Six Siege's Operators include:
Wolfguard
Gustave "Doc" Kateb (Squad Leader)
Emmanuelle "Twitch" Pichon
Dominic "Bandit" Brunsmeier
Ghosteyes
Taina "Caveira" Pereira (Squad Leader)
Meghan "Valkyrie" Castellano
Collinn "Warden" McKinley
Redhammer
Jordan "Thermite" Trace (Squad Leader)
Alexsandr "Tachanka" Senaviev
Shuhrat "Fuze" Kessikbayev
Craig "Blackbeard" Jenson
Tori "Gridlock" Tallyo Fairous
Viperstrike
Yumiko "Hibana" Imagawa (Squad Leader)
Adriano "Maestro" Martello
Nighthaven
Jaimini Kalimohan "Kali" Shah (Squad Leader)
Anja Katarina "Osa" Janković
Ngũgĩ Muchoki "Wamai" Furaha
Charlie Tho "Grim" Keng Boon
Games in the Rainbow Six Series
Since 1998, Rainbow Six continues to be one of the most successful gaming franchises based on the works of author Tom Clancy. Across multiple hardware generations, the series has been in the capable hands of Ubisoft Montreal since 2003. Games in the Rainbow Six franchise include:
Tom Clancy's Rainbow Six (1998)
Tom Clancy's Rainbow Six: Rogue Spear (2000)
Tom Clancy's Rainbow Six 3 (2003)
Tom Clancy's Rainbow Six: Lockdown (2005)
Tom Clancy's Rainbow Six: Critical Hour (2006)
Tom Clancy's Rainbow Six: Vegas (2006)
Tom Clancy's Rainbow Six: Vegas 2 (2008)
Tom Clancy's Rainbow Six Siege (2015)
Tom Clancy's Rainbow Six Extraction (2022)
Rainbow Six Siege Cheats
As a competitive online shooter, there are no officially supported cheats for Rainbow Six Siege. Cheats are considered to be unacceptable in online shooters, resulting in many online games employing powerful anti-cheat software. Siege is no exception, having some of the best anti-cheat detection on the market. There are unofficial third-party cheat providers that develop hacks for the game, but using these can result in detection from anti-cheat bots and deletion of your profile. Repeat cheat offenders can have their accounts permanently banned as well. That said, some of the more common and popular Rainbow Six Siege cheats include hacks such as:
Aimbots (AI-assisted aiming)
ESP (color-coded hitboxes and player outlines)
Radar (ability to see all players on the map)
It should be noted that all of these third party cheats are PC only, with unsupported third-party cheat software unavailable on consoles.
Rainbow Six Siege Cheat FAQs
What is Rainbow Six Siege anti-cheat?
Siege utilizes the Mousetrap anti-cheat system. Once identified as a cheater, Mousetrap will create growing amounts of lag to delay the response time for inputs. This is done as a means to counteract any benefits gained through cheating.
How long do you get banned for cheating in R6?
Temporary bands are typically up to 15 days. Once a player has received a temporary ban, if they are caught chearing again they will receive a permanent ban.
What can you get banned for in R6?
In addition to cheat bans, players can get banned for use of toxic language or behavior. Once banned, players do have the option to appeal their ban.