Capcom's Most Ambitious Project Yet
For years, fans have been clamoring for a horrifying Resident Evil game. Ever since Resident Evil 4 rebooted the franchise and took it in a more action/horror direction, the series has continued to lean more and more heavily on action rather than scares. With Resident Evil 6, Capcom promises even more action, but with the added doses of horror and zombies fans have been asking for since 2005. This isn't just Capcom's biggest and most ambitious project to date—with three separate campaigns set all over the world, local and online multiplayer, and a team of over 600 people working on it—this is arguably one of the biggest projects of this generation. Here's everything you need to know about it.
Resident Evil 6 takes place in 2013, where President Adam Benford has just revealed the true cause of the Raccoon City incident to the American people. Unfortunately, a bio-terrorist attack transforms the President into one of the all-too-familiar undead, forcing Leon Kennedy to put him down. At the same time, Chris Redfield is in China fighting bio-terrorists who plan on turning the city into a wasteland brimming with the undead. Under constant threat of attacks, with no country safe, the world is united by a common fear that there is no hope left.
One of the most exciting things about this game is its three separate campaigns, set in America, China, Russia, and more. They start in different places and can be played in any order. This is similar to Resident Evil 2, which had Leon's campaign on one disc and Claire Redfield's on the other. Leon's story takes place in Tall Oaks, a fictional U.S. city that's very reminiscent of Raccoon City. He and his partner Elena must fight to survive in an outbreak that's eerily like the one that started it all fifteen years ago. Ingrid Hunnigan will also return in a supportive role much like she was in Resident Evil 4.
Chris' story begins in China, where he and his partner Piers Nivan are trying to protect Lanshiang from bio-terrorists. Whereas Leon's campaign is focuses more on tension and horror, Chris' story is similar to the action and gunplay of Resident Evil 5.The final campaign centers on a mercenary named Jake Muller and his partner Sherry Birkin, daughter of William Birkin, who was responsible for creating the G-Virus for the Umbrella Corporation in Resident Evil 2. It was just revealed at Capcom's annual Captivate event that Jake is the son of Albert Wesker, and judging from his vicious melee skills the first trailer showcased, the apple doesn't fall far from the tree.
The idea of being Wesker's son would usually bring with it a ton of baggage, but because Jake was abandoned when he was very young, he never actually knew his father. Jake is central to the story, and a part of that is his immunity to the new C-Virus that's currently making its rounds all over the world. His blood is key to saving the world from total extinction, and because of this he's priority one for a lot of dangerous people and creatures.
Each campaign will play very differently, but the underlying controls and combat have been completely overhauled. You'll no longer need to stand still to shoot, because now you can strafe, and each character will have several unique abilities to help them dispatch the numerous enemies that will be thrown their way. Capcom's finally taken notes from the leaders of the third-person action genre, including Gears of War. The confidence of being overpowered because you have a rocket launcher, two different machine guns, and a wheelbarrow's worth of grenades is gone. Now you're fighting against hordes of enemies, and the ammo and weapons are more scarce.
While there are plenty of big changes and additions to the series in Resident Evil 6, there are few minor tweaks as well. The combat for one has been more finely tuned. You'll have more hand-to-hand abilities, firing from the ground, and a new cover system. The health system has also been tweaked so you can distill herbs into tablets that offer varying bonuses.
Like any good Resident Evil game, you'll come across some brand new enemies over the course of the three campaigns. This time around they're called the J'avo, and they're the product of the new C-Virus that gives them the terrifying ability to mutate randomly. Think of this as a more intimidating version of Resident Evil 4's Ganados or Resident Evil 5's Majini, because now they can adapt to the wounds you inflict on them. Blow off a zombie's arm and it can regenerate and form a blade, forcing you to quickly adapt as well. The basic enemies can also wield and throw melee weapons, and they can spawn from pods that can explode randomly, introducing new enemies to the fight.
Capcom may have found a clever way to make Resident Evil 6 the game everyone wants it to be. If you want a more horrifying experience, there's a story for you; if you want a more adrenaline-filled gun fest, there's a story for you as well. This is easily the most content-heavy Resident Evil to date, and there's a very good chance it'll manage the impressive feat of pleasing everyone. We won't know for sure until the game releases this October.
Game Features:
A brand new storyline featuring three playable characters in a world that's under constant threat of bio-terrorist attacks.

Experience the biggest Resident Evil yet, set across three campaigns located all around the world.

Multiplayer includes an all-new Mercenaries mode, drop-in/drop-out co-op, and split-screen functionality.
Three Games in One
Up until now, I was a bit skeptical about Resident Evil 6. It looked like the game was being pushed toward the action side of things, rather than the traditional survival horror that the franchise is known for. Well, today I had the privilege of getting behind closed doors for a session on Resident Evil 6 at the Capcom booth at E3, and I easily put all of my zombie-related fears to rest. Resident Evil 6 boils Resident Evil down to the core elements that make it the leader in survival horror today. It is simultaneously nostalgic and modern, and as such manages to appeal to just about everyone.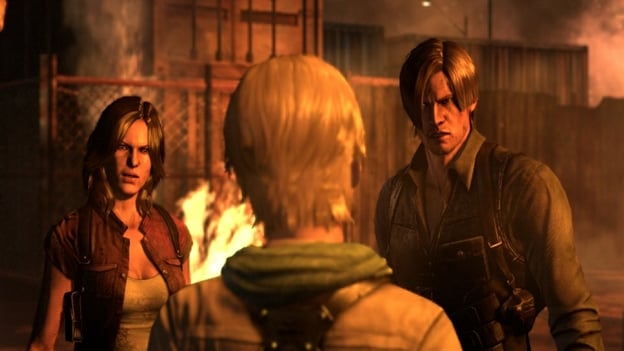 A while back we ran a speculation article which theorized that the three main characters, Leon Kennedy, Chris Redfield, and Jack Wesker—sorry—Muller, would all have their own unique and distinct styles of gameplay, and we were pretty much right. Each character focuses on a different aspect of the Resident Evil franchise. In fact, playing every character's missions is sort of like taking a trip through the past of Resident Evil itself. You can choose to play the characters' stories in any order, although they cross paths at times, and they all meet up at the end. It allows the player to choose the way they want to experience the game and as such gives every Resident Evil fan exactly what they are looking for.
Let's start with Leon. Leon's gameplay is the most similar to Resident Evil 1-2. He moves slow and is forced into dark and claustrophobic spaces. He isn't very well-armed, employing handguns most of the time, with the rare exception of bigger firearms like shotguns or uzis. Much of his gameplay involves solving puzzles and making his way through maze-like corridors, and it will feel a lot like exploring Resident Evil 1's mansion or Raccoon City in Resident Evil 2. Every character has his own special ability, and Leon's is the ability to dual wield certain firearms. Don't let this make you think that Leon is powerful, though. On the contrary, ammo is very scarce in Leon's missions. Dual wielding is more like a panic button, used to dispatch zombies that have crept up too close.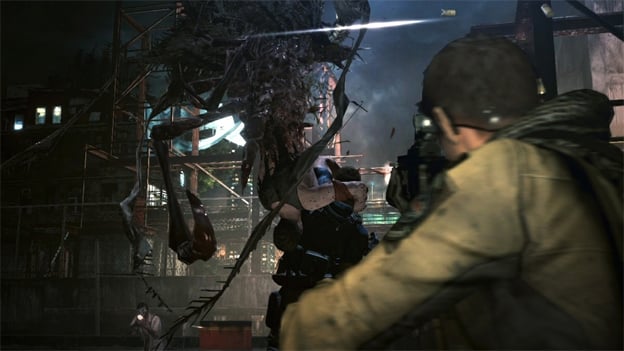 Speaking of zombies, that's Leon's primary antagonist: zombies caused by a viral outbreak in a small city. Seem familiar? Zombies are slow moving shamblers that only pose a threat when they reach close quarters. You can safely pick them off from afar, but the rarity of ammo means that big groups will pose a serious problem. Half the time it's better just to run from zombies, but since they pop out at the most unexpected times this isn't always an option. For example, at one point in the demo Leon saved a girl, but didn't know she was infected. Obviously she turned undead when the lights went out and immediately tried to eat his brains. This sort of dark loneliness coupled with jump scares easily encapsulates the solitary feeling of early survival horror games, and that's what Leon is all about.
Chris, on the other hand, reflects the action side of Resident Evil games. While Leon is all about exploration, puzzle solving, and inventory management, Chris is all about shooting up bad guys. Chris equips high-grade military weapons from assault rifles to sniper rifles and everything in between. While Leon goes through his missions by himself or with one partner, Chris is backed up by an entire squad of BSAA agents. Leon makes a habit of wandering around dark basement catacombs, while Chris leaps across rooftops and shimmies across ledges in his best Nathan Drake impression. While Leon faces the occasional zombie mob, enemies constantly come at Chris from all directions, forcing him and his teammates to put combat first and everything else second. While Chris has a smaller inventory than Leon, he also has fewer things to fill it with. While Leon is off collecting keys and parts of statues and what have you, Chris is just concerned with grenades, bullets, and the occasional health spray.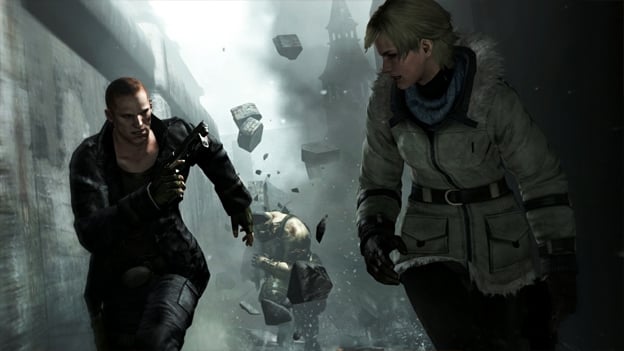 Chris's enemies are not zombies, but rather parasite-infected soldiers, much like the enemies from Resident Evil 4 and 5. Each of these enemies has mutated in some way to make them deadly. Some have huge bulky mutant arms, others have grown strange winged insects out of their body that allow them to fly, and still others are the familiar tentacle scythe heads we have come to know and love. Chris's enemies are not only far more powerful than Leon's, but also far more intelligent. They will act quickly to corner him and take him out and will ambush him while he is hanging off rooftops or ledges. Luckily, Chris has his squad to back him up and he can utilize cover better than any Gears of War character. Ammo flows like water for Chris, allowing him to take out the endless waves of enemies he faces. He also kills humans with guns as often as he kills the mutated undead. Overall, he is the character you want to play if you want to feel like a bullet god among frail rotting corpses.
Finally, there is Jack, whose sequences play out somewhat like Resident Evil 3. Jack is being hunted by something called the Unitank, a gigantic mutant cyborg zombie (you heard me right) that for some reason wants to squash his face with a vengeance. Yeah, he isn't going to kill that thing any time soon, and his inventory is even smaller than Leon's, with even fewer options for weapons, causing Jack to rely on his fists more than anything else. However, Jack won't have a lot of time to spend killing his enemies (which mostly consist of either unarmed or lightly armed humans) because he will constantly be running from the Unitank. Let it catch him and he's dead—it's just that simple. Not even his ability to activate Wesker-style time-slowdown can save him.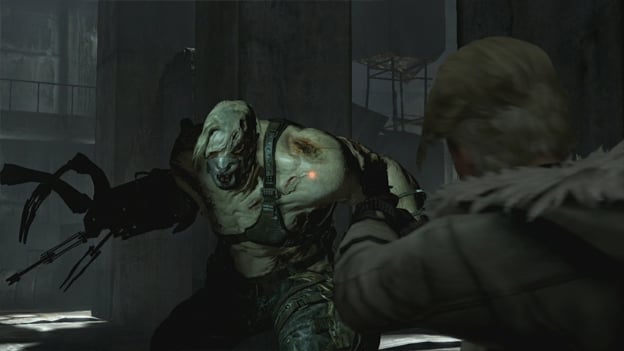 As I said before, Jack's main enemies are human soldiers and the Unitank that wants to either capture or kill him. Thus, Jack's sections are all about the "OH MY GOD I'M GOING TO DIE RUN RUN RUN" style of Resident Evil. Jack is by default better than most of his human pursuers, able to easily take them out with a few punches and kicks. He comes from the Wesker school of martial arts, so mere mortals are like so much paper to him. The problem is that fighting takes time, and wasted time allows the Unitank to catch up with him and eventually kill him in a one shot death.
Overall, Resident Evil 6 feels like a great new Resident Evil title. Capcom's team realized that they can't make one game that is everything to everyone, so they basically made three instead. I have always been a fan of games with multiple intersecting chapters that tie together different characters with different styles of gameplay, and Resident Evil 6 is a good example of this. Be on the lookout for the game when it releases on October 2 this year.
Game Features:
Three protagonists, each with their own unique playstyle.

Experience intersecting stories told from three different points of view.

New engine allows you to move while aiming.

Uncover some of Resident Evil's biggest secrets.