Do you know how well Playtonic's Yooka-Laylee has done? Let me enlighten you, in case you haven't been online since the Kickstarter launched on May 1. The developers were asking for $270,041. Within 40 minutes, the project was completely funded, and by 7pm that same day, over a million dollars has been raised. Which means we have to accept the fact that Playtonic Games is going to set Kickstarter records with Yooka-Laylee.
It doesn't matter that Playtonic Games hasn't made anything yet. The fact that it's an untested developer doesn't matter when former Rare staffers are involved. The fact that so many people known for delivering games like Banjo Kazooie and Donkey Kong 64 are involved are enough to inspire confidence. Chris Sutherland, Gavin Price, Jens Restemeier, Steve Mayles, Mark Stevenson, Andy Robinson, Steven Hurst, David Wise, Grant Kirkhope, and Steve Burke are all involved. Creative forces are in action, and they're all ready and willing to work.
There's a sense of professionalism there, and it extends beyond knowing there are a bunch of former Rare employees who know what they're doing. The Yooka-Laylee Kickstarter page feels like it exudes confidence. There's a detailed breakdown in the budget section of the game, explaining where everything will go. It even includes a promise that, had the game not been funded, Playtonic Games would still have made the sacrifices needed to get the game out in some shape or form.
More important, there's already a sense of accomplishment. Let's be honest. We don't get many good platformers anymore. If we do, they're niche, independent, or only available on Nintendo platforms. It's sad, because growing up doesn't mean you stop appreciating a game that's colorful, clever, and cartoonish. Not every adventure has to be dark and gritty. Sometimes, we want a title with a fart bubble attack. Playtonic Games seems to understand that already with Yooka-Laylee , and people are responding to that. We're being given something we've wanted. Of course funding will happen.
Especially since Yooka-Laylee is a multiplatform product. As I mentioned a paragraph before, Nintendo has become the default domain for platformers. But, that doesn't mean Sony, Microsoft, or even PC gamers don't also crave such experiences. The funding levels achieved already prove that people are 100% behind this project.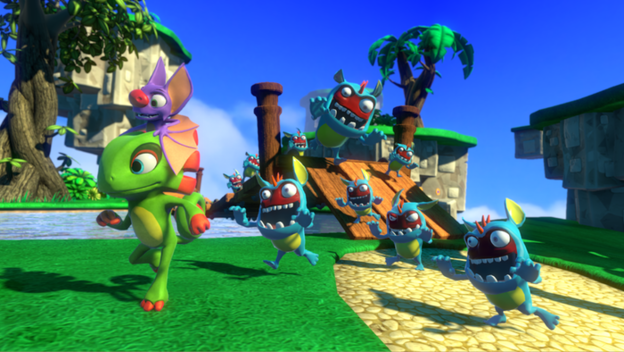 The stretch goals help too. Multiplatform day one releases, boss battles, transformations, new areas, and cooperative and competitive multiplayer make a huge difference. People want these on the three major consoles. They want to enjoy it with friends. It's no wonder people have guaranteed enough funds already to assure every one of them happens.
Yooka-Laylee raised over a million dollars in a single day. It has a capable, reputable group of people behind it. It even has an October 2016 release window, which sounds more than reasonable. With 45 days left, Yooka-Laylee is going to raise an unprecidented amount of money. That $3.3 million Double Fine, $3.8 million Comcept USA, and even $4.1 million inXile entertainment raised are going to look like nothing compared to Playtonic Games' Kickstarter come June 16, 2015.