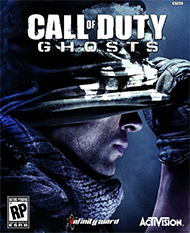 System: PS3*, Xbox 360, PC, PS4*, Xbox One*
Dev: Infinity Ward
Pub: Activision
Release: November 12, 2013
Players: 1 (2+ Online)
Screen Resolution: 480p-1080p
Blood, Drug Reference, Intense Violence, Strong Language
All Hail Riley!
by Angelo M. D'Argenio
A few weeks ago, Activision flew us out to a Call of Duty review event to get some quality hands-on time with Call of Duty: Ghosts. The latest COD title from famed developer Infinity Ward feels like it's trying to be a mixtape of Call of Duty's greatest hits. It has the grand scope of prior Infinity Ward titles but with the claustrophobic, ground based, and tense person-on-person battles of the Black Ops titles. You'll notice lots of Call of Duty classics showing up in new ways. You can now be a juggernaut with a knife as a Killstreak reward; quick scoping has turned into its own weapon class, and, of course, who could forget Riley, the Call of Duty dog. Aside from a few incredibly exploitable and/or random mechanics, these greatest hits play well together to create a new and interesting Call of Duty experience that is still recognizable for series vets. So whether you are a noob tuber or a skilled sniper, this Call of Duty has something specifically for you… also dogs.
Let's start with the game's single-player campaign, which is fun but is one of the least believable Call of Duty campaigns yet. After the world's supply of fossil fuels dries up, the first-world nations that depend on them weaken In response, and all of South America unites under the banner of "The Federation." Then, for no real reason whatsoever, The Federation decides to attack America by hijacking a missile-firing space satellite and raining down terror on all of the USA's most populated cities. Now a near post-apocalyptic wasteland where Americans live in slums behind huge defensive walls, America has to fight back against these invaders, without the use of the overwhelming force and high-tech gadgets that it normally has. There is only one band of elite soldiers crazy and determined enough to keep America safe: the Ghosts… and you just so happen to be the son of a secret commander for the Ghosts who seems to be warring against another Ghost who has gone insane from torture… or something.
The single-player campaign plays like something out of one of Michael Bay's dreams. The very first scene in the game allows you to float through the vastness of space, firing a sub-machine gun at foreign invaders, before blowing up a satellite and burning up with it on re-entry. Yes, it's that crazy. The set pieces are phenomenal and come at you in rapid succession. By the end of the game, you'll swim through underwater ruins, run through missile strikes and survive, fight off a pack of wolves, drive up stadium bleachers in an armored vehicle, and do more wacky stuff that likely comes from a brain that receives regular injections of pure adrenaline through the eyeball.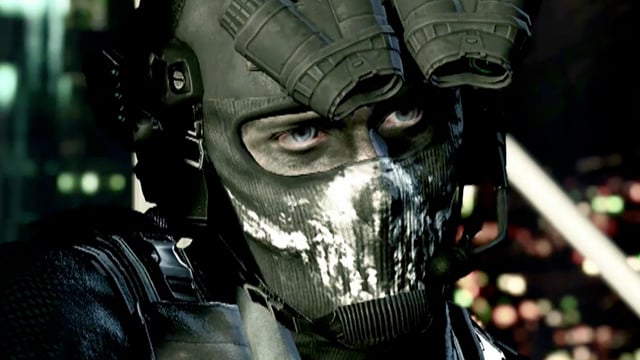 Unfortunately, the Reconquista plotline feels forced, unbelievable, and a little socially unaware. The missions feel barely related to each other. It's like Activision just strung a bunch of cool scenes together and said, "Uhhhh… the evil South American federation did it! Kill them!" There's no payoff whatsoever. We never find out why The Federation formed, why they are attacking America, why your former Ghost commander turns evil, why America even has a space-based nuclear missile silo, or what the heck the rest of the world is doing during this conflict. To have the optimal experience, it's really best just to forget the plot altogether and lose yourself in the shiny lights and gunfire.
Oh, and Riley, the Call of Duty dog, is everywhere. Every character knows him and is more concerned for his fate than the fate of their commanding officers. You even get to control Riley via "synching up" with the camera on his back, which doesn't make a lot of sense, but hey, stealth-dog kills are fun! It's clear Activision knows who the star of this game is.
But let's be honest here. You aren't buying Ghosts for its single-player campaign. You are here for the multiplayer, and it's as addictive as ever. Gun selection has been decoupled from levels and instead tied to Squad Points, which are a new take on COD points. You can also use Squad Points to buy new Killstreaks, unlock perks early, and buy new characters and costumes.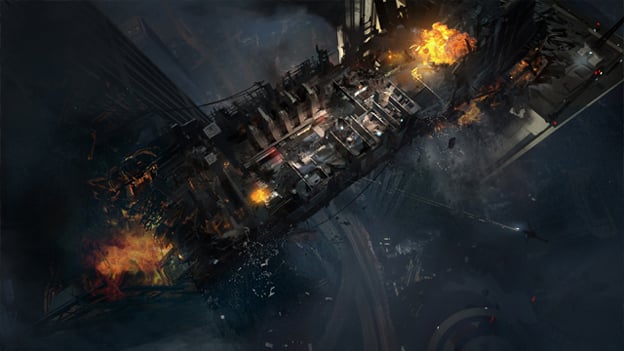 Map design in Ghosts is very interesting. Maps feel bigger, on the whole, than most Call of Duty maps do, but they are also filled with buildings, tunnels, gates, and all sorts of other doodads that change the map makeup. As a result, games never feel slow, and you never feel like you are forced to run out into the open like an idiot. All the maps have that close, intense person-on-person feeling that Black Ops maps have while still being far larger and more interactive.