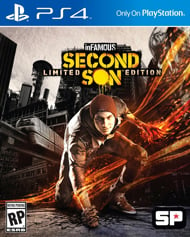 System: PS4
Dev: Sucker Punch
Pub: Sony
Release: Q1 2014
Players: 1
Screen Resolution: 480p-1080p
inFAMOUS: Second Son Visits the Pacific Science Center
by Jenni Lada
When you come to a convention like E3 2013, you have to have a certain kind of conviction and passion. The lines are long for the biggest games, and only the strong and resourceful will survive to see or play the actual game. That is the situation anyone interested in inFAMOUS: Second Son faced. Since its debut at the PlayStation 4 announcement, it's been the game everyone interested in Sony's new console has looked to as a harbinger of things to come, and one I had to learn more about on the show floor.
It's no wonder why. inFAMOUS: Second Son is from Sucker Punch Productions, which has already proven itself more than capable of creating remarkable and memorable games, thanks to the Sly Cooper and inFAMOUS series. It's also proving to be an intricate, open world game carrying on the legacy of a series we love, while touching on concerns we all have in this post 9/11 world.
Case in point. While I was at E3 2013, I picked up a little, metal keychain shaped like Cloud's sword from Final Fantasy VII. It wasn't until I was packing to go home that I realized my dilemma. It was a centimeter thick and dull, but it looked and was shaped like a knife. In this post 9/11 world, that could be enough for some people to consider it a weapon. If I were Delsin, however, it wouldn't be a problem. I'd just use my magic Conduit powers to somehow send it home safely.
Of course, Conduits don't have it as easy as that in inFAMOUS: Second Son. The game is set seven years after Cole MacGrath's victory over the Beast in New Marais. Time changes things, and though Cole was heroic eight years prior to Second Son, all people seemed to have learned is that Conduits have the potential for evil. This conduit suspicion is why the government has formed the Department of Unified Protection to isolate, capture, and deal with these "bioterrorists."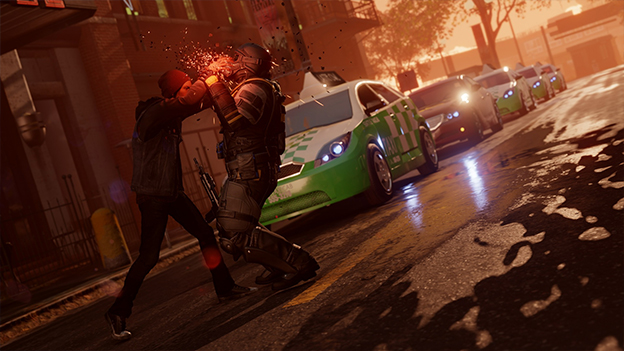 Delsin discovers he is a Conduit and goes from sullen graffiti artist who's unhappy with the state of the world to someone who actually has the ability to do something about it. Though Sucker Punch has said that Delsin will have the ability to use multiple Conduit abilities, the E3 demonstrations only showed his smoke-based abilities. There were three primary abilities shown during convention. One was offensive and had him shooting balls of smoke and energy. Delsin's other two abilities helped him get around by either teleporting in a puff of smoke or using the smoke to hover.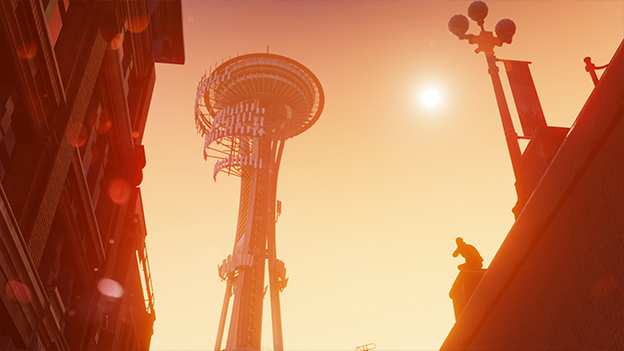 Don't take all those strong abilities the wrong way, though. Sure, Delsin wants to upset the status quo, but it's more because he's a free spirit that wants equality for normal people and Conduits, and he hates the Department of Unified Protection. He doesn't seem to have truly malicious tendencies. Admittedly, there was collateral damage during one of his proudest and flashiest moments. Delsin was fighting DUP and their Conduits near the Pacific Science Center. He shot up into the sky and plummeted back down for what was dubbed an Orbital Drop. He took out all the members of the DUP below with a blaze of glory and a smile on his face, but he also caused substantial damage to the area. It happens.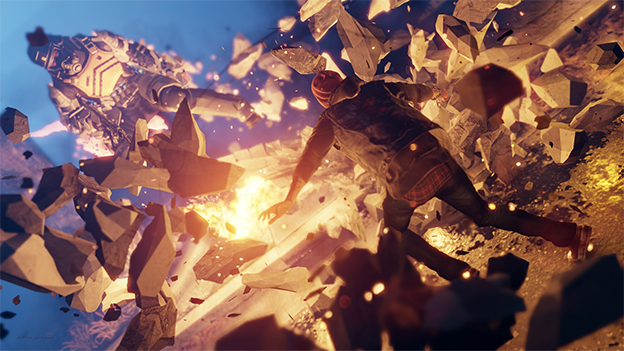 If you're ready to become a supercharged force to be reckoned with, inFAMOUS: Second Son is certainly looking like the game to go for in the next generation. At the very least, it should prove pretty cool have Delsin fly to the top of the Space Needle and look over a virtual Seattle. Me? I'll be playing it for Troy Baker. (I've got my priorities in order!)
By
Jenni Lada
Contributor
Date: June 21, 2013
Game Features:


Seven years after inFamous 2, help an all new Conduit take on the Department of Unified Protection.

Delsin begins with the ability to control smoke, but his real power is to use those of other Conduits.

Use Delsin's power and abilities to explore Seattle and drive the DUP out of the area in an open world adventure.