The Witcher 3: Wild Hunt is a pretty serious game. There's a lot of mature content there, as well as situations that could make some gamers squirm. Yet, at the same time, CD Projekt Red wants to make sure people are having fun in this open world adventure. The developer went out of its way to also include some lighthearted and entertaining moments for people to enjoy, and these are seven good ones that reference other video games. After all, video games obviously inspire one another. May as well go ahead and call out the game you're referencing.
Arrow to the Knee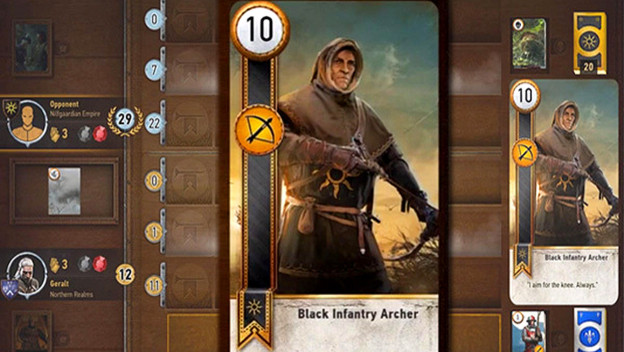 The most famous meme to come out of The Elder Scrolls V: Skyrim is, "I used to be an adventurer like you, then I took an arrow in the knee." Most guards say it if the Dragonborn takes the time to chat. In The Witcher 3, The Black Infantry Archer card in Gwent's flavor text says, "I aim for the knee. Always." Guess we know who ended that Skyrim guard's career.
Power Overwhelming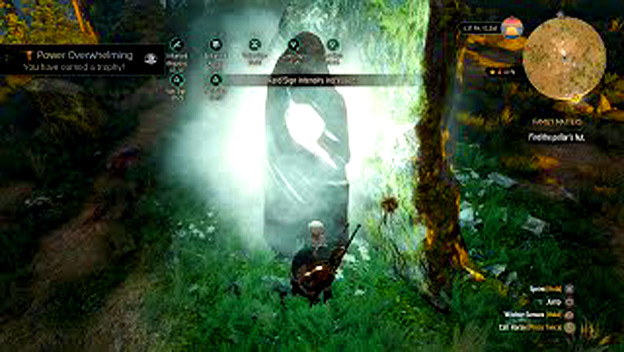 In StarCraft, the archon uses the phrase. "Power overwhelming." If someone enters that same phrase as a cheat, it turns the game's God Mode on or off. In The Witcher 3, Geralt can visit places of power. Stopping by adds a buff to one of his five Signs and, if it's the first time he's been there, also gives him an Ability Point. If a player can visit five places of power and buff all five Signs at once, it's kind of like turning on God Mode for the character. To acknowledge that, CD Projekt Red named the trophy tied to that, "Power Overwhelming."
Killer Instinct vs. Primal Rage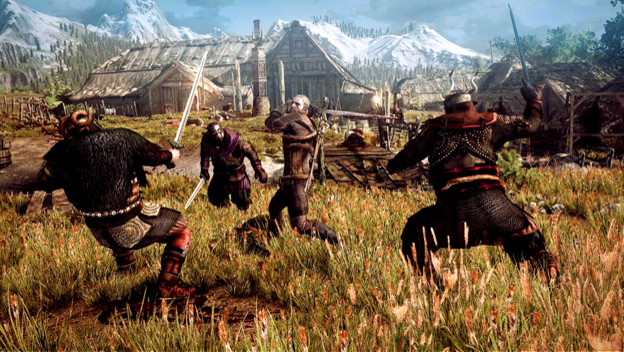 Sometimes, Geralt can't go it alone. He has to hire some "friends" to help him along his way. Friends meaning, of course, brutal thugs who'll only join you for money or after being beaten up. If you choose to fight them to try and earn their loyalty for free, their leader will say, "It will be a grand fight, Killer Instinct versus Primal Rage" This is, of course, a reference to two fourth-generation console fighting games. The real question is, is Geralt Killer Instinct or Primal Rage?
"War Never Changes."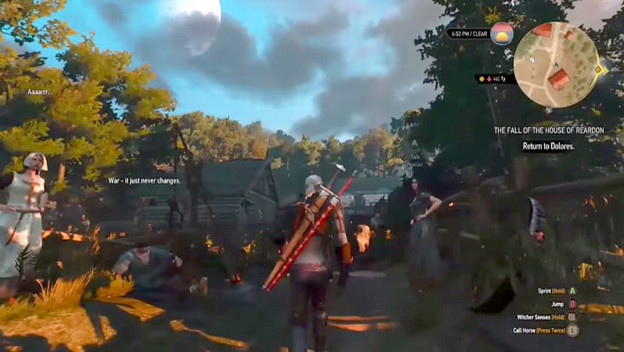 Know what never changes in Bethesda's Fallout games? The fact that there's always someone talking about how "War never changes." Well, you'll find villagers in The Witcher 3 going on about how "War – it just never changes," too. Everybody's got it rough.
Silver Pantaloons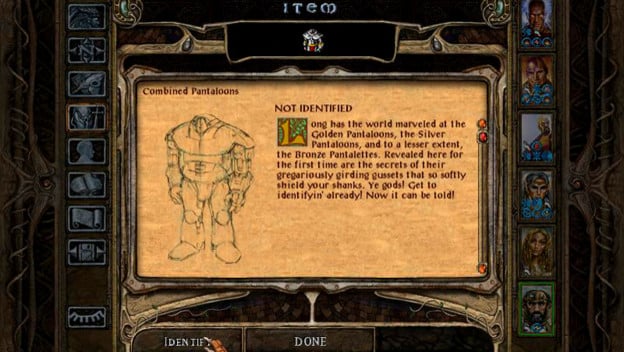 In the Baldur's Gate games, people who keep the same character throughout the series can find Golden Pantaloons, Silver Pantaloons, and Bronze Pantalettes and combine them into the Big Metal Unit, the Big Metal Rod, and its associated ammunition. It's a big deal to collect all three, but Geralt keeps finding Silver Pantaloons all over the place in The Witcher 3.
Tomb Raider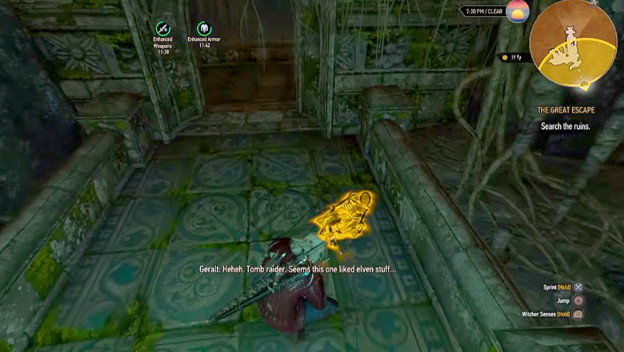 Lara Coft looks for many supernatural artifacts in tombs and ruins, hence the name Tomb Raider. I mean, she's looked for Excalibur, Atlantis' Scion, and has even (accidentally) let loose the Egyptian god Set with the Amulet of Horus. Geralt finds himself in a lot of similar places, and during "The Great Escape" happens upon a body of a fellow treasure hunter. When he sees it, he says, "Heheh. Tomb raider. Seems this one liked elven stuff." Lara Croft would like elven treasures, right?
DRM and GOG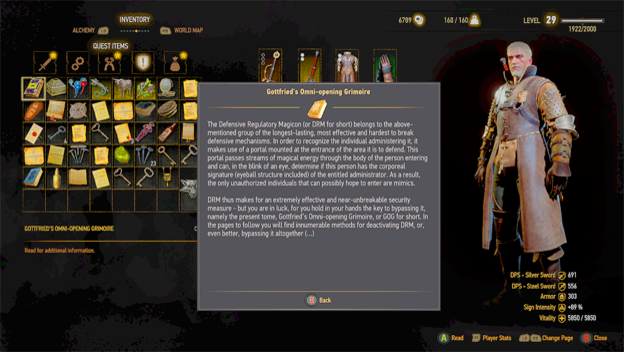 GOG, formerly known as Good Old Games, is an online digital distributor of DRM-free games owned by CD Projekt Red. Which of course means the company is going to mention it in their own game. If you find the Gottfried's Omni-opening Grimoire (GOG), you'll hear about the horrors of the Defensive Regulatory Magicon (DRM) and how GOG helps a person bypass it.