In 2014, Amazon announced its intentions to start developing games with its new subsidiary, Amazon Game Studios. The company's motto is certainly ambitious, stating that "we believe the evolution that began with arcade communities a quarter at a time, growing to the live streams and esports of today, will continue to a future where everyone is a gamer and every gamer can create, compete, collaborate and connect with others at massive scales. Our game teams in Seattle and Irvine are developing games that harness the power of Amazon Web Services and Twitch to create bold, new game experiences." Keeping streamers in mind while designing a game isn't entirely a new idea, as it can be argued that Bethesda is a strong advocate for such an audience. However it is new to focus completely on game streamers. Since Amazon owns Twitch, there's an obvious incentive for it to do so.
But is this a really good idea, and will Amazon succeed? Before we answer that, we should take a look at the three new titles Amazon has announced. The first of these is called Breakaway , a four on four team brawler/hero action game. At first I thought it was going to be another Overwatch clone, but the mechanics are very different. Breakaway is capture the flag, only with a ball. Its focus is on "Buildables," which are objects players can produce during the game. These Buildables have an area-of-effect and one of their features, according to the ten minute gameplay preview, is to increase or decrease the health of the team. In addition, Breakaway has full Twitch integration, which in includes instant replays, customizable real-time stats, polls, game invites, and Stream+. Here's where it gets even more interesting: Stream+ is brand new form of currency that can be used to bet on matches. It is acquired by watching and playing Breakaway (and likely other Amazon games as well). No details about the currency have been released yet, so we don't know whether or not you can purchase Stream+ with real money, or what the rules of this gambling will be.
The second title is Crucible , sounds a lot like the Dungeons & Dragons version of a death match. Only one player can survive in this game against other players and the hostile alien world. Just as with Breakaway , there are quite a few heroes to choose from, which are customizable to player's preferred combat style. In addition, players can form alliances to survive, though with every intention of betraying that alliance to win. There is even a Dungeon Master, in the form of one additional player who can trigger events, live-stream the battles, and interact with viewers. If Stream+ is involved in this game as well, I can see this getting both popular and bloody.
Last but not least, New World is a massively multiplayer game set in a supposedly cursed land. It is quite the open world, and judging by the preview video, quite beautiful. But it all looks like concept art, and generally most concept art looks more fabulous than the end work. Nonetheless, you can choose however you want to play in this world. Whether you want to be a soldier, farmer, or an adventurer, it's all up to you. Like a lot of MMOs, you can "band together to reclaim monster-haunted wilds and build thriving civilizations, or strike out on your own, surviving in the face of supernatural terrors and murderous player bandits." Sounds like your average World of Warcraft wannabe, except this is set during colonial times and every supernatural superstition the early US colonists had actually exists in this world. Furthermore, New World has just as much Twitch integration as the other two with player created events, achievements, and rewards.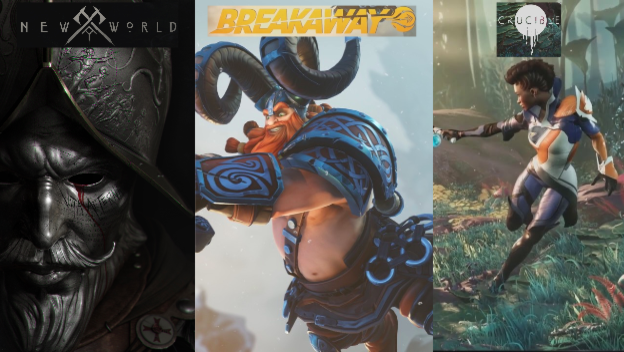 These three games certainly seem entertaining, especially New World , and larger, more successful publishers have come out with worse ideas. However as Amazon's debut, these games make clear what its intentions are: unifying Twitch and gaming in a way competitor YouTube can never dream of. If these games succeed, Twitch is going to be an even larger part of the gaming community than it already is. Still, whether or not Amazon Game Studios will succeed is up to the audience. All three games are designed to be solid AAA titles with equally solid developers behind them, so there's no reason people wouldn't want to at least try them out. So for now, let's take Amazon Game Studios for a spin and see how we like it.